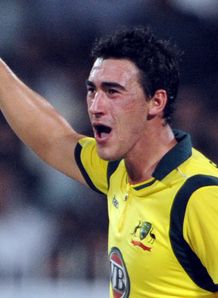 Right - now to sum all that up. Australia are through despite that heavy defeat, while Pakistan's win means South Africa are out. The last semi-final place will now be between Pakistan and India, who must beat South Africa and finish with a better run rate
OVER 20 AUS 117/7 (HUSSEY 54 STARC 1): Hussey cuts Gul uppishly for four to bring up 50 and put his side in the semi-finals! Starc gets away with a miscued hook first up and survives unbeaten as Pakistan win by 32 runs
OVER 19 AUS 110/7 (HUSSEY 48 ): WICKETS! Ajmal's skidder beats Wade all ends up as he looks for a leg-side paddle, and he finishes his spell by trapping Cummins in front first ball! The brilliant Ajmal ends with 3-17 and Australia still need two to make sure of a semi-final spot. Assuming they get those runs, it'll be between India and Pakistan for the last place
OVER 18 AUS 105/5 (HUSSEY 46 WADE 11): Finally Hafeez turns to pace in the shape of Gul, who's straight into the groove with his yorkers. Pakistan are going to win this, surely, and put South Africa out in the process. Australia, for their part, need seven off two overs to go through
OVER 17 AUS 101/5 (HUSSEY 43 WADE 10): Afridi will bowl out now, and his last over isn't his best as Hussey eases him straight for four and then tickles a quicker ball fine for another boundary to bring up three figures. Australia need 49 off three to win, 11 to be sure of a last-four place. Pakistan are aiming to win and hope for the best
OVER 16 AUS 90/5 (HUSSEY 33 WADE 9): Wade flat-bats Ajmal to the midwicket fence - that's the first four he's shipped, by my reckoning - and eight come off the over
OVER 15 AUS 82/5 (HUSSEY 31 WADE 3): Half a sniff of a run out, but Hafeez is slow off the mark. And Hussey cashes in, swatting Malik through midwicket for four and following up with a slog-sweep for six. Australia right back in it now, with 68 needed to win and jsut a run a ball to be sure of a semi-final spot
OVER 14 AUS 68/5 (HUSSEY 19 WADE 1): WICKET! Hasan has been excellent and he's rewarded with a second scalp, Maxwell's massive mow ending up in the hands of Hafeez at point. Hasan finishes with 2-14 off his four - impressive stuff
OVER 13 AUS 63/4 (HUSSEY 16 MAXWELL 3): Maxwell starts sensibly as he and Hussey rotate the strike, taking five singles off Afridi's over. The asking rate for victory is up above 12, but the Aussies will have half an eye on that 112 needed to qualify
OVER 12 AUS 58/4 (HUSSEY 14 MAXWELL 0): WICKET! Hafeez returns to bowl out and a full toss first up is a rare loose one. White flips it for two to bring up 50 and suddenly he's in the mood, clearing the cow corner rope. But he sends a second swipe high into the ether, and Nazir keeps his eye on it to take the catch
OVER 11 AUS 48/3 (HUSSEY 13 WHITE 3): Aussies all over the show here, and White sums up their current showing with a scoop into his own grill as Hasan returns to the attack. Hussey then fresh-airs an ugly reverse sweep. Testing times
OVER 10 AUS 45/3 (HUSSEY 13 WHITE 1): WICKET! Bailey survives a monster shout second ball and fails to heed the warning, heaving across the line again. Ajmal hits him bang in front and Bailey has to go! Australia need 150 to win, 112 to qualify - both look a distance away just now
OVER 9 AUS 43/2 (HUSSEY 12 BAILEY 15): Bailey beaten in the flight by Afridi but gets away with it, and Hussey's even luckier not to nick the googly as Pakistan keep on the pressure. Bailey releases the valve, though, clearing the midwicket rope in style off the last ball
OVER 8 AUS 34/2 (HUSSEY 10 BAILEY 8): Malik into the attack and immediately paddled fine for a couple by Hussey, who's the first Aussie into double figures
OVER 7 AUS 29/2 (HUSSEY 6 BAILEY 7): Hafeez is after wickets here as he throws it to Afridi. Nothing doing, though, and Bailey cuts behind square for four as the Aussies enjoy their best over yet
OVER 6 AUS 21/2 (HUSSEY 4 BAILEY 1): How will the Aussies do without their star duo then? They have Ajmal to contend with now, and Hussey survives a huge shout before a misfield lets Bailey off the mark. Australia 10 runs down after the powerplay but - remember - 112 will get them through even if they fail to reach their 150 target
OVER 5 AUS 19/2 (HUSSEY 2 BAILEY 0): WICKET! Here's Hafeez again with his jerky delivery - like a John Aldridge penalty - and it does the job as Warner struggles to pierce the infield before he, like Watson, goes lbw slog-sweeping
OVER 4 AUS 16/1 (WARNER 7 HUSSEY 1): WICKET! Now then! Watson is hit on the back leg slog-sweeping and Hasan has done for the danger man. Hussey off an running immediately, but it's a smashing over for Pakistan
OVER 3 AUS 13/0 (WATSON 7 WARNER 6): Watson misses out on a full toss, for once, as Hafeez smuggles in another over on the quiet. A good one, at that, just two from it and a more-than-decent lbw appeal against Warner turned down. Poor decision
OVER 2 AUS 11/0 (WATSON 6 WARNER 5): More spin in the shape of Raza Hasan's slow left-arm. Great start for the kid - four dots - but Watson forces a quicker one through point for four
OVER 1 AUS 7/0 (WATSON 2 WARNER 5): Hafeez takes the first over himself and drops horribly short to Warner, who pulls for four. Otherwise respectable, but Pakistan could do with an early wicket or two
END OF INNINGS: Mohammad Hafeez wanted at least 150 and he so nearly got it, but it was a stop-start effort from Pakistan. All Group Two permutations still open, but you'd have to think Australia are through and it's two from the other three now. Confirmation coming through that, no matter the result, Australia will qualify if they score 112
OVER 20 PAKISTAN 149/6 (U AKMAL 9 MALIK 4): WICKET! Afridi doesn't do sighters at the most circumspect of times, and he wallops Starc for a straight four before losing his leg stump next ball. Hello and goodbye. Great effort from Starc, who finishes with 3-20
OVER 19 PAKISTAN 140/5 (U AKMAL 9 AFRIDI 0): WICKET! Razzaq's has been an erratic innings, and now it's over. He makes room to clump Cummins for four over cover but follows up with a complete miscue to Watson running back from point. Umar Akmal's thick edge runs for four to redress the balance a little with one left to bowl
OVER 18 PAKISTAN 130/4 (U AKMAL 4 RAZZAQ 17): Watson bowls out, and in decent style too as a couple of dots help restrict Pakistan to six, Umar Akmal surviving a decent run-out chance along the way
OVER 17 PAKISTAN 123/4 (U AKMAL 1 RAZZAQ 14): Game comeback from Cummins after the bit of clout he took earlier. Razzaq's ragged and - twice - almost run out, but he times one last ball and sends it over the long-off rope for six
OVER 16 PAKISTAN 114/4 (U AKMAL 0 RAZZAQ 6): WICKET! Starc's second spell, like his first, begins with a wicket as Kamran Akmal lashes a wide half-volley straight to cover. Razzaq doesn't muck about, pulling his second ball for four, but it's Australia's over
OVER 15 PAKISTAN 108/3 (K AKMAL 32 U AKMAL 0): Doherty, bowling out, opens with a wide and serves up a succession of low full tosses which go unpunished. WICKET! Jamshed (55) then takes aim at a length ball and picks out long-on. Australia needed that
OVER 14 PAKISTAN 103/2 (JAMSHED 52 K AKMAL 31): Hogg has bowled decently for little reward, and Jamshed gets away with an uppish skew into the off side. No messing two balls later, though, a flat-batted four over Hogg's head bringing up his 50 from 41. Akmal then slog-sweeps for six and Pakistan are into three figures
OVER 13 PAKISTAN 89/2 (JAMSHED 46 K AKMAL 23): Bailey asks Watson to stop the rot but Jamshed's eye is in and he lofts the golden boy for a straight four. Akmal's approach is a bit more primitive, but he's ticking along nicely too
OVER 12 PAKISTAN 79/2 (JAMSHED 41 K AKMAL 19): Doherty on, Jamshed on one knee, ball miles over the midwicket fence. the 50 partnership is up off 36 later in the over, and that's 38 off the last four
OVER 11 PAKISTAN 70/2 (JAMSHED 32 K AKMAL 19): Jamshed's been ultra-cautious, but he picks up one back of a length from Cummins and pulls a first maximum of the innings. Akmal's bristling now, to boot, Pakistan upping the aggression
OVER 10 PAKISTAN 60/2 (JAMSHED 25 K AKMAL 16): That's more like it from Akmal, nimble footwork and a thud to the cover fence bringing up 50. An awful moment then for Maxwell, who follows up his earlier dropped catch by allowing a Jamshed trickler through his grasp for four more. Hogg ain't happy
OVER 9 PAKISTAN 49/2 (JAMSHED 20 K AKMAL 10): Spin at both ends as Doherty returns, surely expecting more stick than he gets. Eight milked off the over, in fairness, but it's all lacking a little urgency
OVER 8 PAKISTAN 41/2 (JAMSHED 16 K AKMAL 6): Old man Hogg into the attack with his chinamen. Touch of timidity about Pakistan, just now, as Jamshed is happy to clip a waist-high gift for one. Another over drifts by almost unnoticed
OVER 7 PAKISTAN 37/2 (JAMSHED 14 K AKMAL 4): Maxwell sends down an over of neither-her-nor-there off-spin, Pakistan trot singles, not much else to add
OVER 6 PAKISTAN 31/2 (JAMSHED 11 K AKMAL 1): WICKET! Dearie me, no wonder Watson is stockpiling man-of-the-match baubles if this is the help he gets. Nazir toes a mouth-watering full toss to Bailey at mid-off, and there's just three off the over. Poor powerplay - Pakistan's lowest of the tournament
OVER 5 PAKISTAN 28/1 (NAZIR 14 JAMSHED 9): Bailey continues to mix it up, but this is a gamble he doesn't land as Cummins struggles with his line. Nazir clips four off his pads and rocks back, Viv Richards-style, to club another through cover
OVER 4 PAKISTAN 15/1 (NAZIR 3 JAMSHED 8): Starc on the money again, and only a thin inside edge saves Nazir from a close lbw call. Pitch looks sluggish and the powerplay's going Australia's way
OVER 3 PAKISTAN 12/1 (NAZIR 1 JAMSHED 7): Watson's on for Doherty and gets away with a floaty full toss first ball. The rest is spot on until Jamshed seizes on a bit of width and belts four through cover
OVER 2 PAKISTAN 8/1 (NAZIR 1 JAMSHED 3): WICKET! Dream start for Starc, who swings one back into Hafeez's pads first up and raps the Pakistan captain right in front. Easy call for the umpire. DROP! Jamshed should go second ball, too, but a simple slip chance is spilled by Maxwell
OVER 1 PAKISTAN 5/0 (HAFEEZ 4 NAZIR 1): Doherty gets thrown the cherry and is pretty much on the button from the first ball. Nazir makes his intentions plain with a big heave - lucky to get away with an ugly miscue
ANTHEMS Pakistan's sombre yet stirring number takes it on Duckworth/Lewis from Advance Australia Fair - admittedly belted out with gusto by the Aussie players. Anyway, the pre-match rituals are out of the way and it's on with the show...
TOSS George Bailey calls correctly and opts to put Pakistan in after naming an unchanged team. Pakistan bring in Abdul Razzaq for Yasir Arafat, and Mohammad Hafeez reckons anything better than 150 would be a decent target. We'll see...
MORNING and welcome to coverage of Australia's Super Eights game against Pakistan in Colombo. So England's title defence is over, but there are plenty of sixes still to be smashed so stick with us.
What's what in Group Two then? Australia are all-but through to the semi-finals - only a heavy defeat and a thumping India victory over South Africa can meddle with their progress. As for Pakistan, nothing is guaranteed until both games are finished but defeat would almost certainly mean the end of the road. Their immediate aim is clear enough - win and worry about the rest later.
Sky Bet Odds:
Click Here for Your Free Bet