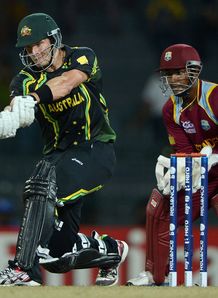 End of innings Well, that was emphatic. After the earlier match between Pakistan and South Africa, we all thought India's 140 was around par and that their spinners would trouble Australia. That really wasn't the case. There was really nothing to challenge Warner and Watson, who must be easily the best opening pair in Twenty20 cricket. I do hope you've enjoyed my commentary today, and please join us again for tomorrow's Group One games between England and New Zealand, and Sri Lanka and West Indies. Goodbye!
Over 14.5 - Aus 141/1 (Warner 63, Maxwell 4) Ashwin administers the last rites, Maxwell working him around for a couple before driving the winning runs through cover.
Over 14 - Aus 138/1 (Warner 63, Maxwell 1) WICKET! Yuvraj offers Warner a gentle full toss, which the left-hander gleefully thumps over wide long on for his third six. The spinner then lobs up a long hop at Watson, but this time he gets a wicket as the right-hander cracks it straight to sub-fielder Tiwary at short extra cover. That doesn't worry Warner, of course, and he takes Australia to within one hit of the win with a scything slog-sweep to midwicket.
Over 13 - Aus 124/0 (Watson 72, Warner 50) Warner eventually follows Watson to fifty, bringing up his own milestone from 37 balls with a drive to long-off. With Rohit Sharma bowling, Watson takes the opportunity to hurry Australia's win along with a well-timed flick through midwicket. Australia are going to take a hugely positive net run rate away from this.
Over 12 - Aus 112/0 (Watson 64, Warner 46) Warner is dropped by Dhoni! Yuvraj got one to rush straight on, and the ball took a thin edge. Dhoni couldn't hold onto the chance, and Warner gets another life. It probably wouldn't have made any difference to the outcome of this match anyway, but that'll simply deflate the Indians further. To his credit, Yuvraj manages to keep the batsmen to just two from the over.
Over 11 - Aus 110/0 (Watson 63, Warner 45) A desperate MS Dhoni turns to Kohli's unheralded medium pace, and Watson responds with a gunbarrel-straight six down the ground. That's his seventh of the innings! Australia need under four an over to win from here, and India are raising the white flag.
Over 10 - Aus 100/0 (Watson 53, Warner 45) Oh my, these Australian openers are on the rampage! Watson has come from behind to beat Warner to fifty, swinging two gentle short deliveries from Pathan into the stands on the leg side. Huge. He then reaches the mark with an angled glance past the short fine leg fielder, and brings up the Australian 100 to end the over. This won't take much longer.
Over 9 - Aus 81/0 (Warner 45, Watson 34) Not to be outdone, Warner has a go at Harbhajan and nails two violent slog sweeps into the leg side. Carnage. India have wilted completely, but they will know that if these two are separated then Australia's brittle middle order will be exposed.
Over 8 - Aus 67/0 (Watson 33, Warner 32) Well, the Indian spinners are leaking runs here. Chawla's first over is bookended by two massive Watson sixes - a long-hop (yes, another one!) punted over midwicket, and a floater slammed down the ground - and Australia are flying now. These conditions were meant to favour India's bowling attack, but they're coming unstuck. To whom can Dhoni now turn?
Over 7 - Aus 53/0 (Warner 31, Watson 20) Dhoni brings Harbhajan on but he, too, bowls much too short and is cracked through midwicket by Warner, on the pull. He darts them in flat and fast, not really looking for turn, and does well to keep the openers to just six from the over.
Over 6 - Aus 47/0 (Warner 26, Watson 19) Warner is very lucky indeed to survive an adjacent lbw shout by Zaheer, who is kept on for a third over by Dhoni. The ball dipped in to his pads, and in fact replays suggest he should've been given. Perhaps there was some doubt in Umpire Kettleborough's mind as to whether that would've scooted down the leg side. The Australian punishes the bowler with two boundaries through cover point, but Zaheer isn't done yet and ends the over with another big lbw appeal against Watson. This time the not-out call is the correct one, as it pitched outside leg.
Over 5 - Aus 38/0 (Watson 19, Warner 17) I guess you could say that Watto is, in a sense, responding to the abuse he copped from Kohli in the last over. Ashwin makes things easy for him by looping down a couple of long hops, but Watson certainly makes the most of the offerings and dispatches both for big sixes on the leg side. This is not what Dhoni was hoping for from his premier spinner. Time to bring Bhaaji on?
Over 4 - Aus 22/0 (Warner 16, Watson 5) Warner has wrists like Christmas hams, and uses them to force a boundary through point off the back foot. Zaheer's riposte consists of an away swinger and then an inducker that spits off the pitch to strike the batsman in the belly. He ends the over with a huge lbw shout against Watson, who is saved only by an inside edge onto the pads. Kohli offers him some batting advice, and Umpire Dharmasena has got to step in and convince everyone to put their handbags away.
Over 3 - Aus 17/0 (Warner 11, Watson 5) India are doing really well to keep control with a couple of tight overs. Warner is looking to get after Ashwin, but his variations - and a pause-and-deliver that I swear he learned from Ray Price - are enough to deny the big-hitting left-hander a boundary. Just eight runs have come from the last two overs, and the required rate has crept up above seven.
Over 2 - Aus 13/0 (Warner 8, Watson 4) Watson is surprisingly circumspect against Zaheer Khan. I expected the Australian openers to get after him, but his first over is seen off for just four runs - and one of those a wide.
Over 1 - Aus 9/0 (Warner 8, Watson 1) Warner's not the least bit worried about the short rainbreak, and re-boots his innings with a cultureless club down the ground from the first ball after the resumption. Ashwin still looks likely to get him sooner rather than later, drifting the ball in from round the wicket.
Over 0.3 - Aus 5/0 (Warner 4, Watson 1) Dhoni opts to open the bowling with Ashwin, but he's a little too full and wide to Warner and is crunched through the covers for four. The drizzle then starts to come down, however, and the players are pulled off as the covers come on. It's not heavy, and this should be a short break.
Feedback "Absolutely fabulous comeback from Pakistan today!" adds Javed Mohammed. "But let's not kid ourselves, they were very lucky.... Bringing Sehwag back will depend on the outcome of this match... I honestly don't think it would of made any difference though... Aussies got stuck in straight away...!" True, although if Viru had been playing at least we wouldn't have been treated to the indignity of watching Maxwell open the bowling. Do you reckon India will turn to their spinners early on?
End of innings India's middle order stumbled against the pace of Cummins and Starc and Watto's wobblers, but the lower order rallied and they've reached what I suggested might be a par score earlier - 140. There was a big cloud of dust as the pitch was swept during the interval, and India's spinners will be vital to their defence. Warner and Watson will look to get after any pace offered to them early on, and Dhoni would do very well to get Bhaaji and Ashwin on early. Join us in a few minutes for the chase.
Over 20 - India 140/7 (Ashwin 16, Harbhajan 1) Raina begins the final over, bowled by Watson, with a brace of boundaries into the leg side - one off a full toss, the other off a leg-stump half volley. He then targets the off side but can only get as far as Maxwell at long off, and Watson keeps Bhaaji and Ashwin to just singles from the remainder of the over
Over 19 - India 129/6 (Raina 18, Ashwin 14) A superb over ends Cummins' spell, with just three runs off the bat and two byes thanks to an errant Wade shy and some shoddy backing up by Hogg.
Over 18 - India 124/6 (Raina 16, Ashwin 13) Ashwin's merrily swinging the willow out there! Starc fires down a bouncer, but Ashwin responds with a hook right out of the middle, the ball sailing over the boundary. He then gives the bowler the charge, and misses completely, prompting a few friendly words of advice from young Starc. Goodness me, there's spittle-flecked invective flying around all over the place. That's what the kiddies come to see. Oh dear, that's not spittle, it's drizzle! The groundstaff have gathered round the boundary, readying the covers. It's not too heavy yet.
Feedback "That's what I'm hoping for, a Aussie victory!" writes Javed Mohammed. "That should really set the tone for Sundays game between Pakistan and India!" That's going to be a huge, huge game Javed. Would you be supporting Pakistan then? Did you see their stunning fightback earlier? I must admit that Ajmal hitting the winning runs off the edge did bring a smile to my face. Do you think India should bring Viru back for the Pakistan clash?
Over 17 - India 115/6 (Raina 15, Ashwin 5) Christian cops some tap from both Raina and Ashwin, and India are still ticking out there. Raina took the lead, lifting a length ball straight over the bowler's head. It was inches away from being a six. Ashwin then crunched a wide, length delivery through point for four more. Poor bowling at this stage, you've got to say. Giving the batsmen just the length to have a go at.
Feedback "Can't understand Inda's tactics to leave Sehwag out!" writes Abid Hussain. It is a little odd to bring in a makeshift opener and drop someone with so much experience, I agree. But there's also no escaping the fact that Viru's looked horribly out of nick for some time now. Is he not just riding on past glories at this stage?
Over 16 - India 104/6 (Raina 9, Ashwin 0) WICKET! Cummins has been the pick of the Australian bowling line-up today, and his third over provides another example of exuberant fast bowling. He keeps Dhoni pinned to the crease with a series of back-of-a-length deliveries, and then offers up a full, wide slower ball that is slapped straight into Bailey's hands at short extra cover. It's now basically up to Raina and the tail to get India up to a competitive total.
Over 15 - India 101/5 (Dhoni 13, Raina 8) A mixed final over from Brad Hogg. He's hit for four straight through his legs by Raina after floating one a little too full, and spins one way down the leg side to give up five wides with Dhoni on strike. In between times, he beats the Indian captain with an unreadable googly, and follows that with two more that Dhoni's lucky to lay bat on.
Over 14 - India 91/5 (Dhoni 13, Raina 3) Watto's had some luck with the short ball so far today, but that's not the case now as he sends down a short one at Dhoni and is bludgeoned to the midwicket boundary. Dhoni hit that with the power of a lumberjack, and all the grace of one too. Watson switches to a fuller length, and gives away just two more singles from the over. Just to let you know, you can find me on Twitter - my handle is Gomorezvidinha. I'd also love to publish some feedback from anyone tuning in to this commentary. Please send your comments to liambfreelance@gmail.com
Over 13 - India 85/5 (Dhoni 8, Raina 2) Another absorbing over from Hogg. Neither Dhoni nor Raina seem to be able to pick his variations, and the Indian captain has a moment of luck when Hogg's wrong 'un finds the outside edge but the ball flies wide of White at slip and bounces down to third man for four. A moral victory for the bowler, but India will happily take the runs however they come.
Over 12 - India 78/5 (Dhoni 3, Raina 1) WICKET! India are in real trouble now. Starc is brought back and immediately fires a .50 caliber thunderbolt through Sharma's defences, making a mess of the stumps. Beaten for pace. MS Dhoni comes out to bat, with his team in desperate need of a fightback.
Over 11 - India 74/4 (Sharma 1, Raina 0) WICKETS! Watto with the double strike! First to go was Yuvraj, who perished to the short ball. There's no great pace behind the delivery, no pace at all really, and in fact Yuvraj is too early into the pull and slices a high chance out to Maxwell in the deep. Watto's celebration is a little timid, which is odd. He usually kicks up a real hullabaloo when he takes a wicket, yee-hawing and whatnot. He makes up for it with his celebration at Pathan's demise, the batsman clipping a cross-seamed delivery to White inside the circle at midwicket. Canny bowling, the ball having held up off the surface. Watto screams his joy, and has his coiffure ruffled by his happy team-mates.
Over 10 - India 70/2 (Pathan 28, Yuvraj 8) Maxwell's back into the attack, and he somehow manages to keep the batsmen to just four from the over despite the fact that he's just bowling straightbreaking darts. To be fair, his lines are very good and he varies his pace well. There's even a muted lbw appeal after he rushes one on past Pathan's bat, but he's coming round the wicket and it was almost certainly heading down leg.
Over 9 - India 66/2 (Pathan 26, Yuvraj 6) They're not quite coming out right for Hogg just yet, and Yuvraj biffs a high full toss out to wide long-on where Christian slides to stop the ball ... but lets it past him! Hogg's not happy, but does well to concede only a further two singles off the over.
Over 8 - India 60/2 (Pathan 25, Yuvraj 1) WICKET! Cummins' pace has proved too hot for Kohli. The young quick rattled Kohli's splice with a short one, and followed that up with another lifter that Kohli tried to heave to leg. It was onto him before he'd even got into the shot, and a swirling top edge was very well caught by Christian, running back from mid-off. Yuvraj Singh is greeted to the crease with a fizzing bouncer. Smell that!
Over 7 - India 56/1 (Pathan 22, Kohli 15) Not the greatest start to his spell from the aging, Gecko-tongued left-arm leggie Brad Hogg, who fires one down the leg side and is swept for four. He recovers well, however, and his fourth ball brings a wild-eyed hallelujah of an appeal, legs akimbo. It's not given, and was probably sliding down leg. The next delivery prompts another appeal for lbw against Pathan, but again the ball is sliding down leg.
Over 6 - India 50/1 (Pathan 17, Kohli 14) Christian almost gets Kohli! Having milked the bowler around for four singles, Kohli tried to lash one through the covers, and did so - but it went in the air and just past a leaping cover fielder. He survives, and the boundary makes it eight from the over.
Over 5 - India 42/1 (Pathan 15, Kohli 8) Well, an Indian batsman has gone on the attack against Watson's medium pace, but it's Pathan rather than Kohli. He starts with a glorious straight hit down the ground for six. Watto, looking like a puppy who's just been caught with his nose in the bin, trudges sadly back to his mark but Pathan's not done yet, and laces the final ball up and over point after charging down the track.
Over 4 - India 29/1 (Kohli 6, Pathan 4) Kohli's certainly in some decent touch. He's off the mark in style, leaning into a square drive that has the beating of the point fielder and rolls away for four. India are doing a good job of getting one boundary an over here, but there's been nothing explosive so far. Ah, what's this? Shane Watson has the ball in his hands, and will bowl the next over. Kohli v Watto could be incendiary ...
Over 3 - India 21/1 (Pathan 2, Kohli 0) WICKET! Cummins' fancy footwork gets the breakthrough for Australia. Gambhir had just shown that he isn't too bad off his legs either, clipping the fast bowler neatly to the fine leg boundary. A single brought Pathan on strike, and Gambhir called him through for one as an inside edge settled at the batsman's feet. Cummins raced Gambhir to the other end, kicking the ball into the stumps before the bat was grounded across the line!
Over 2 - India 15/0 (Gambhir 12, Pathan 1) Gambhir's playing like a dream through the off side so far. Starc offers him some width outside off and is caressed through cover point, the diminutive left-hander riding the bounce and getting his wrists right over the ball. Irfan, I'm not convinced by just yet.
Over 1 - India 8/0 (Gambhir 7, Pathan 0) Surprisingly, it's Glenn Maxwell's offspin that opens the match. A floated half volley is cracked through the covers first ball, and Gambhir was clearly expecting it to go for four as he barely ran. It slowed up on the outfield, however, and they had to settle for a scuttled two. Three deliveries later, Gambhir made sure to give the ball a real hard thump, and collected four through the covers. Not much spin for Maxwell, but then there never really is. He's a slow right-armer rather than a spinner.
Pitch and conditions Given how the track played during the South Africa v Pakistan game, India have done the right thing by picking all their spinners. A par score will be around 140, and attacking the hard new ball will be vital. Australia don't have quite the riches in the spin department that India do, and so Brad Hogg's contribution will be vital. Now that the sun's set, at least the heat won't be as much of a factor as it was earlier.
Team news The big news of the day is that India have left out Virender Sehwag, and instead opted to play an extra spinner. Kevin Pietersen has apparently expressed his sympathy for Viru. Here's the India XI 1 Gambhir, 2 Kohli, 3 Raina, 4 Yuvraj Singh, 5 Rohit Sharma, 6 MS Dhoni, 7 Pathan, 8 Ashwin, 9 Zaheer, 10 Harbhajan, 11Chawla. This is what the Australian XI looks like: 1 Warner, 2 Watson, 3 Hussey, 4 White, 5 Bailey, 6 Maxwell, 7 Wade, 8 Christian, 9 Hogg, 10 Cummins, 11 Starc.
Toss MS Dhoni has won the toss, and India will bat first in Colombo.
Greetings Hello and welcome to our over-by-over commentary of the World Twenty20 Super Eights Group 2 clash between India and Australia at the R Premadasa Stadium in Colombo.
Sky Bet Odds:
Click Here for Your Free Bet