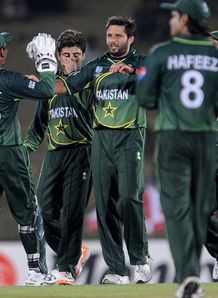 Pakistan win by 11 runs It's hard to believe it but Pakistan have won this by just 11 runs. Sri Lanka looked down and out when Sangakkara was dismissed with 1089 still required but the tailenders have put up a good showing; on another day, Pakistan may have been made to pay for some lapses in the field. Int he end the hard work was done by Misbah and Younus with the bat, with Afridi shining with the ball.
Over 50 Gul 0-1-4-0-W-lb 266-9 - Herath needs to get Kulasekara onto strike but he can't do so on the first ball, that could be costly. Herath scrambles a single to short fine leg to bring him on strike with 17 needed from four. He goes for a big heave and the ball flies off the edge and to the third man fence! It wasn't where he wanted to go but none of the Sri Lankans will be complaining! That should be it as Gul follows Kulasekara as he moves down the leg side and it's a dot ball. Kulasekara heaves the ball down the ground but he just can't get enough on it and Umar Akmal takes the catch at long on. It ends with a leg bye and Pakistan win by 11 runs.
Over 49 Hafeez 1lb-1-1-1-1lb-6 260-8 - Interesting stuff from Afridi as he calls for Hafeez to bowl the penultimate over. He does the job though, preventing the batsman from getting any room to crack the ball away, firing it in. That is until the last ball though when he ends with a rubbish full toss that is thumped into the stands behind midwicket. Eighteen from the last over!
Over 48 Akhtar 0-1b-1-1-2-2 249-8 - Akhtar to bowl his last over. And he starts with a single, just what Sri Lanka didn't need! Some great full bowling is restricting the batsmen here, Akhtar is showing his class. Kulasekara manages to loft the final delivery into the deep but he can't find the fence, it's just two.
Over 47 Rehman W-1lb-4-0-0-2-1 242-8 - Wicket! Kamran at last gets a stumping! Silva comes down the track and tries to heave a wide one over cover but he can't get to it (it was that wide!) and the 'keeper collects and whips off the bails. Sweetly played by Kulasekara as he waits till the last moment before guiding the ball past the 'keeper and to the third man fence. A bit of comical fielding in the deep as one man slides in and flicks the ball back to his team-mate, the only problem being the fielder was nowhere near where the ball was thrown! 36 required from 18 balls now.
232-7 - Five overs to go, 55 runs required! Interesting stuff as Silva comes back for a second and it's a tight one, umpire Harper doesn't call for the third umpire but Kamran is certain he should be doing so. Pakistan have no reviews left though so there is nothing that can be done. No matter though, Silva was in anyway. Four more to Silva as he monsters the ball in front of midwicket! Perera flicks the ball around the corner, Younus running back gets a hand to it but can't take the catch. Wicket! Shoaib gets his man! Full and straight and Perera is beaten as he looks to heave the ball over midwicket.
Over 45 Gul wd-4-1-0-1-1-4 222-6 - Short and Silva is onto it on a flash, hooking behind square with aplomb. Perera struggles to get the ball away, Sri Lanka really can't afford any dot balls. Silva picks up a single to bring up his fifty, it's been a hard grafting knock but probably won't be enough. No mistake from Perera this time though as he hammers the final ball of the over down the ground.
211-6 - It's time for Afridi's final over. The flurry of boundaries continues as Silvaopens the face of the bat and guides the ball past Gul at short third man. Wicket! Afridi gets another one! Mathews looks to go over long off but can't get enough elevation, depositing it down the fielder's throat.
Over 43 Rehman 1-4-4-1-1-4 203-5 - A bumper over for Sri Lanka as Silva gets down on one knee and helps the ball round the corner for four. It's two on the trot as Rehman again strays on leg and with fine leg in the circle it's an easy boundary. Silva picks upa thir for the over as he heaves the ball wide of midwicket.
Over 42 Afridi 4-0-0-1-1-1 Some consolation for Sri Lanka as Mathews get a four and there is even a light moment as Silva tries to sweep but loses his bat in the process, it goes flying towards the umpire who had to duck to save his head.
Over 41 0-1-0-1-1-1 182-5 Just singles now, Sri Lanka aren't even trying anymore. It would be interesting to see whether Pakistan can build some momentum and pick up a few more wickets.
Over 40 Afridi 0-1-1-1-1 178-5 Just singles off the over. Sri Lanka need 100 more off 60 balls to win. That's not going to happen, they're just trying to save themselves from too much embarrassment right now.
Over 39 Rehman 1-1-0-0-1-2 171-5 Err, a bit daft the way players have used the referral system today. The keeper goes up and appeals for the caught behind, but there is no snicko, no hot spot in this World Cup so all the umpires can do is look at the replays and since there is no conclusive evidence, the decision stands. Silly.
Over 38 Afridi 0-0-0-2-W-0-0 167-4 And what do you know? Afridi is into the attack. There's an appeal for leg before, but that pitched a mile outside, okay not a mile, a foot. It pitched a foot outside. It's reviewed, perhaps more out of desperate frustration. Decision stands. WICKET! Ah, there goes Sanga and that is Afridi's 300th wicket in one-dayers. He spun that away outside off, Sanga came chasing after it and mistimed it. Shehzad takes the catch as he comes running in from the long on fence.
Over 37 Rehman 1-1-1-0-nb-2 167-4 A more subdued over compared to the excitement of the previous few. Time for Afridi to return to the attack? The batsmen must be pretty frustrated by now, Afridi like cashing in on that.
Over 36 Gul 0-1-1lb-1-6-1 1594 Pakistan trying their hardest to help Sri Lanka get back into this game. Gul gets a little bit of extra bounce and ends up edging it to Rehamn at midwicket, he settles underneath it but fluffs it. That's more like the Pakistan we all know. Sanga adds six of the penultimate ball of the over, outsideoff and the edge goes flying towards third man. Afrida now with his usual arm-around-his-men-to-encourage-them.
Over 35 Rehman 0-1-0-1-2-0-wd-4 149-4 Running between the wickets continue, before Kamran misses another stumping chance. Sanga came forward, missed it by a mile, as did Kamran. That was wide to rub salt in the wounds of the bowler. Sanga ends the over with a lucky four, goes for the sweep and gets a bottom edge that goes fine and to the fence.
Over 34 Gul 1-1-1-1-1-1 136-4 Ah, finally. The batting powerplay has been taken, but singles still seem to be at the order of the day. Sri Lanka are trying to lose this game as slowly as possible.
Over 33 Hafeez 0-1-1-1-1-0 134-4 Hafeez is into the attack now, still now sign of the powerplay being take. Sanga and Silva are content with the singles, it seems. Has anybody told them what the run rate is sitting at? Silva sweeps wildly towards backward square leg but all he'll get for that is a single. Pakistan have been really good in the field today.
Over 32 Gul 0-0-0-1-1-0 130-4 Things creeping along at a snail's pace for Sri Lanka. They need to become more positive and take the powerplay. The required rate is at 8.22 per over and SL are scoring at 4.06 an over. Drinks are on the field now, maybe that'll help wake them up.
Over 31 Rehman 5wd-0-1-1-1-1-0 Oh dear, what a chaotic start to the over. Sanga gets lucky again, he comes down the track but misses and the ball goes sailing past Kamran for four, and it's wide. A couple of singles follow and the run rate is edging closer to eight an over now. Sri Lanka are scoring at just around five.
Over 30 1-0-0-2-0-0 117-4 Change of bowling as Gul is brought back into the attack. Sanga starts off the over with a single, tucked away to fine leg. Silva then takes a couple towards midwicket, half a run out chance there, too. U Akmal collects and fires the ball towards the stumps, replays show Sanga would've been gon had he hit. He kicks the turf to show his frustration.
Over 29 Rehman 0-0-0-0-0-0 Sri Lanka need 162 to win andd the run rate is starting to creep up slowly, although, it's still gettable. They need to be cool and calm and not lose thier heads now. The batting powerplay is also still available, perhaps it's time for the Lankans to consider taking it?
Over 28 wd-0-1-0-0-1 116-4 Afridi starts off te over with a wide and the players rotate the strike a couple of times to keep the scoreboard ticking over. The home side are quite far behind Pakistan at this stage.
Over 27 1-0-0-1-0-0 111-5 Sanga starts off the over with a single and there is a huge appeal for leg-before. REVIEW! Umpire Harper says it's gone, but the Lankans ask for a referral. Turns out, the ball was hitting outside off and it would ahve gone on to miss the stump. The decision is overturned. A single towards backward square leg follows.
Over 26 Afridi 1-0-0-0-0-0 110-4 Afridi continues his good work, just a single from the over and it goes to Sangakkara who pushes it towards the point region and trotts through for one.
Over 25 Rehman 1-1-0-0-1-0 109-4 - Abdur Rehman is into the attack for the first time and finds plenty of turn from the start, Sangakkara surprised by one which turns sharply back into his pad. The Sri Lankan skipper has had to be watchful with wickets falling around him and he steers for another single. With the run-rate fast creeping towards seven-an-over he'll have to start upping the tempo soon however.
Over 24 Afridi 1-0-0-1-0-0 106-4 - Afridi needs just one more wicket to become only the third Pakistan player to take 300 ODI wickets - Wasim Akram and Waqar Younis the only players to have achieved the feat. Only two singles are available with Afridi's figures a tidy 2 for 9 off 4 overs.
Over 23 Akhtar 0-4-1-0-1-0 104-4 - Shoaib Akhtar has already bowled seven overs, but Afridi smells blood and he's going to continue with his strike bowler. After nearly committing suicide with an attempted single to cover - he was sent back by his partner - Sangakkara blasts a cut to the fence for four! A single gets Silva off the mark and Akhtar then tries one delivery at Sangakkara from around the stumps, fetching no more than a dot ball.
Over 22 Afridi 0-W-0-1lb-1-0 98-4 - A stunning leg-spinner, absolutely perfect - drifts, dips and then turns away from Samawareera before Kamran Akmal whips off the bails. It's sent upstairs and duly given out but the tv umpire. Question marks have been asked about this Sri Lankan middle to lower order and here's a real test against some fantastic bowling from Pakistan. Afridi is now up to 299 ODI wickets.
Over 21 Shoaib 0-W-0-1-0-0 96-3 - BOWLED! Akhtar has done exactly what his skipper brought him back to do, he's broken the stand and dismissed key man Mahela Jayawardene with a magic delivery which jagged between bat and pad and smashed into middle stump. Jayawardene gone for just two to a ball which cut back off the seam beautifully. He produces another to Thilan Samawareera who's inside edge gets him off the mark. A potentiall pivotal over from Akhtar ends with two dot balls and the Colombo crowd has suddenly gone rather quiet.
Over 20 Afridi 1-0-0-1-0-2 95-2 - Pakistan's options from here include seven more overs from Umar Gul, Afridi will be expecting better from him later on. Abdur Rehman is also yet to have a go with the ball. Sangakkara and Jayawardene each pick off a single before the captain clubs a cut shot clean away for a couple.
Over 19 Shoaib 1lb-1-0-0-1-0 91-2 - This is obviously the key partnership for the home side and Afridi has brought back his strike bowler in an attempt to break the stand early. Shoaib raps Sangakkara on the pad first up, is picked off comfortable for one by Jayawardene, and then strays onto the Sri Lankan skippers pads but it's only a single with deep square leg in place.
Over 18 Afridi 1-1-W-0-0-0 88-2 - An interesting battle on the cards now as Shahid Afridi - with 397 ODI wickets - comes into the attack. Dilshan immediately goes on the offensive, his skipper far more circumspect in clipping away for one. BOWLED! Dilshan's gone to cut a straight delivery, been cramped for room and chopped onto his stumps! Afridi celebrates in customary fashion and Dilshan has to go for 41 after a less than fluent knock. Mahela Jayawardene is the new man and he is unable to get his first thre Afridi deliveries away for any runs.
Over 17 Hafeez 1-2-0-1-0-0 86-1 - Dilshan takes two by way of a cut shot and then sweeps fine for a single - a diving stop by short fine leg preventing the boundary. Sangakkara then checks a drive with the ball dropping tantalisingly short of cover.
Over 16 Razzaq 1-0-1-1-1-0 82-1 - Razzaq goes too straight to either batsman and is picked off for a couple of singles before Afridi concedes one more with a misfield. The Pakistan captain also misses a shy at the non-strikers end but Dilshan would have been just about home.
Over 15 Hafeez 4-W-1-0-0-1 78-1 - Tharanga, fantastic! He guids a cut shot right out of the middle of the bat and passed point for four! OUT! But his innings is all over with the very next delivery driven straight into the safe hands of Shahid Afridi at extra cover. Tharanga tried to manufacture a stroke from nothing there and pays the price - he's out for a well played 33. Skipper Kumar Sangakkara is the new man and gets off the mark immediately with a single.
Over 14 Razzaq 2-1-0-0-0-1 72-0 - An aside, if Sri Lanka chase successfully here then it'll be the fifth highest winning chase in World Cup history. Gul is replaced by bdul Razzaq and starts short with Dilshan pulling in front of square for two. A hoick then yields a single to mid on - it's either a full go or nothing at all for the right-hander who might have a few more if he was prepared to work around a few singles. A full go from Tharanga brings a single from the last ball of the over.
Over 13 Tharanga 0-0-0-4-0-0 68-0 - After looking comfortable against the seamers Upul Tharanga now has a challenge on his hands with Hafeez extracting some handy turn. The over contains five strangled dot balls and a contrastingly confident and comfortable beat over mid on for four runs.
Over 12 Gul 4-0-0-4-nb-5wd-0-2 64-0 - Too short, and too wide from Gul as Dilshan takes advantage with a boundary - a cut shot racing passed point. After two dots balls Dilshan again goes hard, slashing fine for four more! The amount of runs which the Sri Lankan opener scores through that area with that shot is ridiculous. Gul's over gets worse with a no ball for overstepping and the free hit is a wide which bounces over Dilshan's head and runs away to the fence for five extras. The eventual free hit yields a dot ball but the couple of runs from the last delivery means that it's an over worth 16 runs.
Over 11 Hafeez wd-0-0-0-0-wd-0-4 48-0 - This is a key moment in the game right here, the spin of Mohammad Hafeez introduced and this is often the time when a wickets falls. Tharanga is untroubled by the first delivery - a wide - and besides a second extra the over is a tidy one until the final delivery which is too short and Tharanga collects a boundary with a late cut taking him to 1000 ODI runs!
Over 10 Gul 1-1-4-0-1-0 42-0 - Two singles and then boom - Tharanga cuts for four off the middle of the bat! This is now the highest opening stand for Sri Lanka against Pakistan in World Cup cricket. Gul responds well to the boundary with a delivery which takes off past the outside edge. There's not too much clean hitting going on but the batting pair have still been able to pick up singles - Tharanga the latest to chop into the turf for one.
Over 9 Shoaib 0-1-0-1-4-0 35-0 - Dilshan is beaten with the first delivery and forces the next away for one - he's still battling to find his touch - and after getting the strike back through a scampered single he edges away for four fine of thirdman.
Over 8 Gul 0-0-0-1-0-0 29-0 - Pakistan would really fancy a wicket at this stage and it's a well timed bowling change that brings Umar Gul into the attack. It's a great start for the tireless seamer who concedes just a single to Dilshan.
Over 7 Shoaib 0-1-0-0-0-1 28-0 - Akhtar gets in another useful over that yields just a single for each batsman. Sri Lanka are yet to really get going but will be happy as long as they've got ten wickets intact.
Over 6 Razzaq 0-4-4-0-1-1 26-0 - Akhtar has a hosts of slips while for Razzaq Afridi is employing a man catching at leg slip and a short cover. Dilshan's hands though have him piercing the off side field for four, great stroke! With no second slip in he then gets away with a thick edge to fine thirdman for another boundary. Afridi is clearly uncertain about his field and he's now got two men catching on the leg side. After a single two close-in fielders on the off side are used. Tharanga drops into the leg side though and only a wayward shy at the bowlers end has him escaping a run out.
Over 5 Shoaib 1-0-0-0-1-1 16-0 - Dilshan turns to square leg for one, finally a measure stroke from him. Tharanga is looking extremely good at the moment and times a couple into the covers before guiding a Shoaib slowerball down to thirdman for one. His partner's lucky streak then continues with a leading edge looping over the head of point, much to the frustration of Akhtar.
Over 4 Razzaq 0-0-1-4-0-0 13-0 - Dilshan tries to hit the cover off the first ball of the over but misses, and then flashes a top edge down to thirdman for one - always exciting when Dilshan's at the crease. Tharanga is far more graceful against Razzaq, with an elegant punch finding a gap at cover before running to the fence.
Over 3 Shoaib 4-0-1-0-1-0 8-0 - A dangled bat fetches four runs over the slips cordon for Tharanga at the start of the over. A more controlled stroke to third man then brings a single before Dilshan gets off the mark with a vicious cover drive which is too hot for Shahid Afridi to handle.
Over 2 Razzaq 0-0-0-0-0-0 2-0 - Pakistan again opt for Abdul Razzaq with the new ball instead of Umar Gul and the allrounder will be under pressure with Dilshan expecially likely to target the medium pace offering. The Sri Lankan opener tries to force the issue but is unable to get the ball away in a very well bowled maiden over.
Over 1 Shoaib 0-1-0-1lb-0-0 2-0 The atmosphere is electric and Shoaib Akhtar is steaming in, his first delivery right up there at 144km/h. Tharanga gets off the marks with a thick edge to third man and Dilshan is lucky to get away with a wild swing to his first ball. Just a single and a leg bye from the opening opener with Akhtar looking threatening and charged up.
Go time in Colombo Shoaib Akhtar to Upul Tharaga, here we go in what promises to be the first real cliffhanger of the World Cup. This is a real test of the Sri Lankan batting line-up, especially under lights.Three slips to start for Akhtar...
Sri Lanka require 278 for victory We have an enticing chase on our hands then with Sri Lanka needing a 278 runs to win in Colombo in front of a lively home crowd. Contributions up front from Mohammad Hafeez (32) and Kamran Akmal were followed by a crucial 108-run stand between Misbah-ul-Haq and Younis Khan. Younis fell for 72 and Misbah ended unbeaten on 83 and Pakistan might feel a little disappointed at not having scored more given the solid platform laid by the experienced pair. Muttiah Muralitharan was superb, stalling the rate in the batting powerplay, as he ended with figures of 1 for 35 off his ten overs. Fellow spinner Rangana Herath also did a tidy job with 2 for 46 in his quota. Join us again in half-an-hour for what promises to be a thrilling chase.
Over 50 Perera 1-2-wd-1-4-1-W 277-7 - The highest run-chase at this ground was India's 271 for 2 back in 2002. Sri Lanka will have to beat that if they are to win here today after a wide from Perera takes Pakistan level with that total. Razzaq finds two to long off and then a single, with Misbah pillaging four to square leg. Perera strays again with the final ball of the over but his full toss is is top-edged by Razzaq and the Pakistan allrounder is out! A wicket and more importantly a dot ball from the last delivery of the innings.
Over 49 Mathews 4-0-1-2-W-0 267-6 - A haul of 36 runs and one wicket came from the powerplay, helped by that previous over. Misbah gets a full bunger first up from Angelo Mathews and he helps himself to four with one bounce to the square-leg fence. OUT! After a single down the ground and two more scampered runs Afridi clips straight to Dilshan who takes a tidy catch at point. Boom Boom goes for 16 from 12 balls and is replaced by the equally dangerous Abdul Razzaq. Mathews drifts the final ball of the over wide to him but it's not called wide by the umpire. Mathews finishes with 1 for 56 in his ten. Just one over to go...
Over 48 Perera 4-1-4-0-4-2 260-5 - Fine leg is up, so is square leg and Misbah effectively targets the area with a shuffle to the off side before flicking through the inner ring for four! Only three fielders allowed out of the ring of course in the powerplay - this is the final over of that - and Sangakkara has now opted for three men in the deep on the leg side. Misbah uses his feet in the crease once again but this time's it's just one to mid on - he's on to 73. Afridi sweetly times over extra cover for four, then has a wild swing-and-miss with his head to the heavens. A rocket along the ground finds the fence wide of mid off and Afrida then collects two more runs which a powerful drive back passed the bowler which is well fielded on the fence - 15 runs coming from the over.
Over 47 Kulasekara 0-1-0-0-0-4 245-5 - It's a fantastic atmoshpere in Colombo with the noise and excitement rising all the time towards the end of the innings, this is what the World Cup is all about. Muralitharan by the way finished with great figures of 1 for 35 from his ten. Kulasekara meanwhile produces a collection of yorkers and slowerballs that have Afridi tied down and frustrated before the Pakistan captain latches onto the last ball of the over - hitting a overpitched yorker wide of mid-on for four! Beauty of an over despite the final delivery.
Over 46 Muralitharan 1-0-W-1-0-wd-0 240-5 - The powerplay has conceded 13 runs off two overs, 11 from that previous one from Kulasekara. WICKET! Murali drops slightly short but Umar Akmal can't clear Dilshan at deep midwicket and he's perished on the shorter side of the ground. Boom Boom has arrived, and gets the crowd buzzing, but he's experienced enough to respect Murali with a defensive stroke which brings a broad smile to the Sri Lankans face.
Over 45 Kulasekara 1-1-4-1-0-4 237-4 - Kumar Sangakkara continues the his approach of chopping and changing his bowlers with Kulasekara brought back on. Misbah bashed down the ground for one and then clears his front leg to clear over midwicket for a boundary, the third of his innings. Akmal sees out a dot ball before finding his touch with a square drive for four off an attempted yorker which is just slightly overpitched.
Over 44 Muralitharan 0-1-0-0-1-0 226-4 - Powerplay time! And Murali's back too. He's flighted up to Akmal to start the over and beaten his outside edge with a beauty. It's superb from the experienced Sri Lankan spinner who concedes just two from the over despite only having three fielders outside the ring.
Over 43 Mathews 1-0-1-0-0-4 224-4 - Not sure what's happened to Misbah but he's now got a runner, Ahmed Shehzad doing the shuttles. Angelo Mathews meanwhile is still mixing it up with fantastic control. He can do nothing about a straight drive off the final delivery however, as Misbah whallops an attempted yorker away for the 17th four of the innings.
Over 42 Kulasekara 1-1-1-0-0-2 218-4 - So Murali is given just one over with his final two saved for later, possibly the powerplay. Nuwan Kulasekara has been somewhat expensive but he's back on and settles into a decent rhythm against the new man at the crease who can only cut fine down to thirdman for two. Akmal looked to change his position at the crease and jumped down the track, and interestingly the umpires have warned him against jumping on the middle of the wicket!
Over 41 Herath 1-2-0-1-W-0 213-4 - Pakistan took their batting powerplay in the 44th over against Kenya, we might see the same again today. Misbah claims two to midwicket to reach his fifty from 65 balls. He then bullishly charges down the track and finds one from a miscue. OUT! A top-edged sweep brings a tame end to Younis' tidy knock. He's out for 72 off 76 balls - Herath's second wicket. He doesn't get a third despite a referral from the Sri Lankan skipper who thinks there's a chance of lbw despite Umar Akmal's thick edge onto the pad. Herath ends his ten overs with figures of 2 for 46. As you will have gathered, no Boom Boom just yet.
Over 40 Muralitharan 1-wd-1-2-1-0-0 209-3 - Murali slips a wide down the leg side which brings up the 100-run partnership. Misbah's reverse-sweep brings a single and Younis' drive down the ground brings a couple. Ten overs left to play. Sri Lanka of course don't have their death bowling weapon Lasith Malinga who is out injured, and Muralitharan has only two overs left.
Over 39 Herath 1-2-4-2-1-0 203-3 - Rangana Herath begins his ninth over and is swept fine by Younis for a couple of runs before the Pakistan number four launches into an attractive punch over extra cover for four! That was a neat stroke, using the turn and Younis stands and admires. He then grabs a couple more to midwicket as Pakistan go passed the 200 mark. Time for the batting powerplay perhaps. Sri Lanka are looking a little flat at the moment, they badly need a breakthrough.
Over 38 Mathews 1-1-0-2-1-3 193-3 - Angelo Mathews is back and mixing it up as always. A couple of single are followed by the first shot in anger for a long time, Younis Khan pulling straight and into the deep for a couple. Mathews then throws in an slower bouncer before being tickled away for three runs to fine leg, Misbah shuffling inside the line and using the off-cutter to his advantage.
Over 37 Herath 1-1-0-2-3b-1 185-3 - A slap away to deep square leg takes Younis to 53 which is his highest World Cup score. Herath then bowls a beauty which goes straight on with the arm and it sneaks passed Misbah, but also past both the stumps and Kumar Sangakkara who is guilty of some tardy keeping there - three byes added to the score.
Over 36 Perera 0-1-0-0-1-1 177-3 - Perera is tidy as he zeroes in just back of a length, not allowing Khan any room to manouvre for runs. He eventually gets a single away and then Misbah uses some unconventional footwork which yields one more, Khan having to scamper to make his ground.
Over 35 Herath 1-0-1-0-1-1 174-3 - 50! Just 32 runs in eight previous World Cup innings, and now Younis Khan has two consecutive fifties as he steers Rangana Herath to the leg side for a single to reach the mileston eoff 56 deliveries. Three more singles in the over. Pakistan are in control, but now it is time for them to capitalise with plenty of fire-power still to come and 15 overs left to face.
Over 34 Perera 0-0-1-0-4-1 170-3 - Kumar Sangakkara has decided to bank Murali's three remaining overs for later, and has called Thisara Perera back into the attack. The lively seamer is one the money with a tight line and a solitary single from the first four deliveries, but then strays down the leg side and is clipped away for four by Younis, only the fourth boundary of this partnership of 65 runs. And, it's drinks.
Over 33 Herath 0-1-0-1-1-1 164-3 - The experience of Misbah and Younis has made such a massive difference to the Pakistan batting line-up, remember their frail efforts last year in England. Four more singles, including a nifty reverse sweep from Misbah.
Over 32 Muralitharan 1-0-0-1-1-1 160-3 - Misbah chooses to go down the ground for a couple of ones, Younis goes to square leg for the same and it's four from the over. The partnership is worth 55 and Pakistan are still edging it at this stage. It'll be interesting, with three wickets in hand, to see when they decide to take the powerplay and up the tempo. There's no reason to take too many risks against Murali right now though.
Over 31 Herath 1-0-0-0-1-0 156-3 - Two spinners in tandem now, Rangana Herath with his left-armers does the job to stem the tide for now, just two singles coming from the over.
Over 30 Muralitharan 1-1-0-1-1-0 154-3 - Such a great atmosphere at the ground with plenty of Pakistan fans around too. Sangakkara needs some inspiration badly and he's turned to his most dependable source with Murali back into the attack. Younis and Misbah are well aware of his threat however and happy just to pick off more singles.
Over 29 Mathews 0-1-1-4-1-1 150-3 - A feature of the partnership so far between these two experienced campaigners has been the running between wickets and there is more great communication and neat singles all around the wicket. Add in four for Younis, flicked down to the fine leg fence and that's a very healthy over of eight runs for Pakistan.
Over 28 Dilshan 4-1-2-1-1-1 142-3 - Dilshan becomes the third spinner used by Sri Lanka today and he's greeted by a reverse sweep from Misbah which runs away for four. A couple plus four easy single takes ten from the over and Sri Lanka really need to find another wicket now to stem the flow of runs.
Over 27 Mathews 1-1-1-1-0-1 132-3 - Angelo Mathews is back into the attack and picked off for singles by both batsmen despite his mixture of cutters and slowerballs. The rate keeps ticking over with five easy singles for the Pakistan pair.
Over 26 1-1-1-1-0-0 127-3 Solid as rocks, these two. The spinners will have to do something a little bit different if they want to gain the upper hand.
Over 25 Herath 0-0-2-1-2-1 123-3 Misbah and Younis are doing a really good job here. Squeezing out the ones and twos and keeping the scoreboard ticking over steadily.
Over 24 Murali 0-1-1-1-0-1 117-3 Misbah and Younis still content with with singles here and there. If they keep this up for the next ten or so overs, they'll be in a very good position in the latter half of the innings.
Over 23 Herath 1-1-0-2-0-0 113-3 Slow stuff from Herath, 85km/h just about. Misbah and Younis making light work of the spin, though. Sri Lanka will have to be clever here if they want to gain the advantage here.
Over 22 Muralitharan 1-1-0-0-0-1 110-3 Just three singles form the over, spin is is doing the job here, but Younis and Misbah are experienced, they won;t be too fussed.
Over 21 Herath 0-W-0-0-0-1-0 105-3 Yep, spin in tandem and it's proven to be effective. That was poor shot selection by Akmal. Herath comes around the wicket, and Akmal comes prancing down the track, the ball turns away and Sanga does the rest. Misbah is the new man out and he is off the mark with a single. Very good over for Sri Lanka.
Over 20 Muralitharan 1-1-1-0-0- 105-2 Murali is back into the attack and the Pakistani batsmen are happy to take the singles and rotate the strike. Just three from the over. Time for spin in tandem?
Over 19 Mathews 0-1-4-2-1-2 100-2 Younis takes a single and Akmal adds four more, that was a poor ball from Mathews and it's sent to the fine leg fence. A couple more follow and a single towards long on brings up the 100 for Pakistan.
Over 18 Herath 0-1-0-1-1-0 92-2 Spin into the attack again now, but it's Herath this time and just three singles come from it.
Over 17 Mathews 1-1-4-0-1-0 89-2 Khan takes a single towards deep midwicket to start off the over and Akmal adds one towards long on. Khan gets his first boundary of the innings, opens the face of the bat and gets an edge past a diving Sanga.
Over 16 Kulasekara 0-1-0-0-1-1 81-2 Kulasekara is brought back into the attack right after drinks, and he does much better this over. Just three singles coming from it. Pakistan are being much more careful after losing their second wicket.
Over 15 Mathews 0-1-0-0-0-0 79-2 Things are just slowing down a little after that mess. Pakistan take just a single from the over and it's Khan who drives to mid on and calls Akmal through early. And that'll be drinks.
78-2 WICKET! Chaos here, a comedy of errors. Hafeez tucks the ball around the corner, and Akmal decides to take a single. The ball is returned by the fielder, but goes over Murali's head. The fielder then collects, and throws at the striker's end, where both batsmen are standing. Hafeez then decides to try and make his ground, but it's far, far too late. Now both batsmen are standing at striker's end, nobody knows who is out. It goes upstairs and Hafeez is sent packing. Akmal is now on strike and defends a couple before rotating the strike with a single to long on and Younis is off the mark with one down to backward square leg.
Over 13 Mathews 1-1-0-1-0-0 79-1 Just three singles from the over, Akmal and Hafeez are doing well to pick up the singles when the boundaries aren't flowing freely. Sri Lanka need to do something to pick up a wicket here.
Over 12 Kulasekara 4-0-wd-1-0-1--0 73-1 Kulasekara continues after changing ends and it's more of the same. Akmal gets forward and smashes it through mid off for four. He follows up with a dot and Sanga comes up to the stumps after that so Kulasekara decides to test his keeping and bowls one down the leg side, a wide, in fact. A couple more singles follow to make it another good over for Pakistan.
Over 11 Mathews 0-0-0-0-1-0 66-1 Change of bowling as Mathews is brought into the attack. He starts off well. Akmal manages a mere single off the backfoot to long on.
Over 10 Perera 0-0-0-4-0-2 65-1 Three dot balls start off the over before Hafeez adds four more, to fine leg this time. They're in no mood for running today, it seems. A dot ball follows and a couplde down to deep midwicket finishes off the over.
Over 9 Kulasekara 0-0-4-3-1-4 59-1 Four more for Akmal, low full toss and sent wide of cover this time. He's pulling out all the stops. He nearly adds four more off the next ball, but Silva does well to pull it back on the fence. Hafeez takes a single and Akmal finishes the over by sending a half volley square and to the fence for four more. He's ona roll.
Over 8 Perera 0-0-4-0-0-1 46-1 Akmal defends the first two balls before playing it off the front foot and over midwicket for four. Cracking shot. Last ball of the over gets a top edge to it and it lands in the third man region, but the man is deep, so no risk involved. It's looking pretty festive in Colombo, lots of dancing and cheering fans in and outside of the stadium.
Over 7 Kulasekara 1lb-0-6-4-0-0 42-1 Akmal gets off strike first ball, thanks to a leg bye. Hafeez defends before adding six to the total. Tremendous shot, lofted over deep midwicket. Four more added off the next ball, to fine leg this time. The fielder chased, but to no avail. Hafeez keeps his cool and defends the final two balls of the over. Good work by Pakistan.
31-1 Perera starts off the over with two dot balls, good line and length. WICKET! He's got his man, that'll do his confidence the world of good. Pitched on the seam, turned away and Sanga takes a good catch. Here's Akmal. He's off the mark straight away, opens the face of the bat and get's three.
Over 5 Kulasekara 1-2-0-1lb-0-4 28-0 Fuller from Kulasekara and Hafeez takes a single by steering down to thrid man. Shezad adds two more towards deep extra cover. Pakistan are getting off to a brisk start and they'll be hoping that one of these opners can bat straight through. Hafeez ends the over with a magnificently timed four down to deep backward point.
Over 4 Perera 0-4-0-2-1-0 20-0 Hafeez takes four with a glorious shot through the covers before defending a slower one from Perera. Two more two deep square leg and a single to mid off follows, Perera is struggling a bit today, it seems.
Over 3 Kulasekara 0-0-0-0-0-0 13-0 Kulasekara tidies up Parera's mess with a very tidy over at the other end. That's a maiden over, Shehzad could only defend.
Over 2 Perera 0-wd-4-2-1-0-0 13-0 Perera into the attack form the other end and his second ball is a wide. Next one sneaks away for four, there's just one slip in place so the edge runs away to the fence. The second slip now comes in, and Shezad takes two to backward point this time. Parera is getting some decent pace, he's bowling between the 141km/h and 145km/h mark. Perera makes up for his mess, somewhat, with two dot balls to finish off the over.
Over 1 Kulasekara 0-0-0-4-0-1lb 5-0 First ball is left alone and Shezad wafts at the next one but misses. Some good signs for the bowler first up. Fine leg is quite square and third man pretty wide. Shezad is off the mark off the fourth ball of the over. Comes down the pitch a little and drives through deep extra cover for four. The last ball of the over deflects off his thigh pad and the batsmen take a legbye.
AND OFF WE GO Clash of the Titans in Colombo, and we're ready to roll. Hafeez and Shezad are out in the middle and Kulasekara will open the bowling.
Pakistan Mohammad Hafeez, Ahmed Shehzad, Kamran Akmal(w), Younis Khan, Misbah-ul-Haq, Umar Akmal, Shahid Afridi(c), Abdul Razzaq, Abdur Rehman, Shoaib Akhtar, Umar Gul
Sri Lanka :Upul Tharanga, Tillakaratne Dilshan, Kumar Sangakkara(w/c), Mahela Jayawardene, Thilan Samaraweera, Angelo Mathews, Chamara Silva, Nuwan Kulasekara, Thissara Perera, Rangana Herath, Muttiah Muralitharan
TEAM NEWS No Malinga and no Mendis for Sri Lankaa. Pakistan have stuck to three specialist bowlers, in Shoaib, Gul and Rehman
TOSS The news from the middle is that Pakistan have won the toss and they will bat first.
Greetings Pakistan have the chance to test their World Cup creditials today against a well drilled Sri Lankan side at the RPS in Colombo with the game set to kick off at 14:30 local time (09:00 GMT). Great to have you with us today and we'll take you through all the action with our over-by-over commentary.
Sky Bet Odds:
Click Here for Your Free Bet