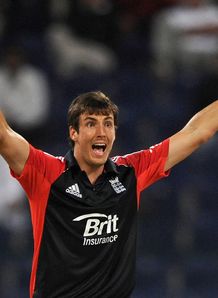 Close So that's it for game three of this series in Dubai - England have won at a canter, Kevin Pietersen the star turn with 111 not out, his first ODI ton since November 2008. Cook also played his part in a superb opening stand of 170, while Morgan enjoyed some useful time in the middle towards the end. However, let's not forget the part of the bowlers earlier in the day, Finn once again the leading light as Pakistan were held to 222. Thanks for your company today, please join us again on Tuesday for the final match of this one-day series.
Over 38: Cheema 0-4 226-1 - Fittingly it's Pietersen who hits the winning runs, a mistake by the cover fielder allowing a well-hit drive to go through him and away for four runs. Not only have England won this match by the small margin of nine wickets with 76 balls to spare, they've also wrapped up the series with a game to go.
Over 37: Afridi 1-0-4-0-2-4 218-1 - Morgan hurries England towards the finishing line, driving gloriously through the covers for four and then lifting Afridi with ease back over his head, the straight hit beating both men out in the deep. It's a single to seal a 3-0 series lead for the tourists, who on Earth expected this a week ago?
Over 36: Cheema 1-0-0-2-4-1 211-1 - After two dot balls Pietersen finally gets through to his eighth ODI century with a typical flick off his hip for a couple of runs. It's his first ton against Pakistan in 50-over cricket and his first for England since November 2008. He celebrates the milestone with a dimissive slap down the ground for four. A single off the last to third man means he keeps the strike, England now needing just another 12.
Over 35: Afridi 4-0-0-1-0-1 203-1 - Pietersen gets four with a lovely back-foot cut that goes in between the men at mid-off and cover. A single down the ground takes him along to 99, though he'll have to wait a little for his chance to get to three figures as Morgan has stolen the strike with a run from the final delivery of the Afridi over. The fat lady is warmed up and ready to come on stage...
Over 34: Cheema 0-0-0-0-2-0 197-1 - England take the batting powerplay, resulting in Morgan hitting the majority of the deliveries in Cheema's over straight to fielders. He does manage to pull away a couple of runs, leaving England requiring a further 26. Pietersen, however, needs just six more for a long-awaited one-day century.
Over 33: Ajmal 1-0-0-0-1-2 195-1 - DROPPED! Ajmal sees a chance go down off his bowling, wicketkeeper Akmal spilling a relatively routine outside edge from Morgan's blade. Pietersen also twice gets away with thick outside edges, the spinner simply having no luck today. He's finished his work, figures of 10-1-40-1 being quite impressive considering the efforts of his colleagues. England need another 28 to win this match and the series.
Over 32: Gul 0-4-0-0-4-1 191-1 - Pietersen picks up a pair of boundaries during the over, albeit in rather differing circumstances. The first comes courtesy of a thick edge that goes right where a slip would have been. The second, however, is a glorious cover drive on the up, resulting in one of my colleagues suggesting it was 'Lancaster-eque'. It was good but I'm pretty sure I've hit better, though perhaps not off a bowler quite so quick as Umar Gul.
Over 31: Ajmal 0-6-2-0-0-0 182-1 - Morgan shows he's not come out to win this games in singles and twos, thumping Ajmal for a huge six over long-on. He then sweeps the next ball out for a couple, though he has to get a move on after calling KP through for a second run. What England's efforts here in their run chase have proven is that 270-280 was a par score on this true surface.
Over 30: Gul 2-1-0-0-0-1 174-1 - Nasser Hussain on commentary duty makes a good point about Morgan's rather flamboyant trigger movement. While it's always looked a little outrageous, it does seem in this series that the left-hander is stooping down even lower as he prepares to face. Of course, such things creep into your game when you're struggling for runs, because you start thinking too much about all the little bits of your technique. Anyways, he's off the mark with a single off the final ball, meaning he will be on strike after DRINKS.
Over 29: Ajmal 0-W-0-0-0-0 170-1 - WICKET! - Cook's seemingly serene journey to yet another century comes to a rather abrupt end, Ajmal getting one to turn enough to flick the outside edge. Pakistan congratulate the bowler but they know it's too little too late in terms of this match, as well as the series. What a shame for the England skipper, he just never looked like getting out up until that point. There's a bit of a surprise at three as Eoin Morgan comes out instead of Jonathan Trott. He sees out a wicket maiden, meaning England still need another 53.
Over 28: Gul 1-0nb-4-0-0-0-1 170-0 - Another no ball from Gul, whose having more problems with his feet than when the Elephant Man tried to buy a pair of shoes. Cook capitalises on another free hit, stepping back to slam a short delivery away for four well in front of square. Another seven come from an over from Gul, leaving his figures at 5-0-45-0. Perhaps he's thinking of becoming a batting all-rounder after his efforts with the willow earlier in the day.
Over 27: Ajmal 2-1-1-2w-0-1-0 163-0 - Now the most interesting thing about this match is the race to three figures. There's no doubt Pietersen intends to get there rather faster than Cook, though as well know the tortoise still beat the hare. Either way, there's plenty of time for them both to get the runs they require. There'd be nothing worse than Cook left high and dry on 90 not out when he could create a bit of history with a third straight ODI ton.
Over 26: Afridi 2-2-1-0-1-0 155-0 - An easy six off the over for England's opening pair, the first two runs bought up the 150 with the last half-century coming from 52 deliveries. England now need another 68 and there are still another 24 overs remaining.
Over 25: Gul 1-4-1-1-0-4 149-0 - Pietersen is on the charge now, flicking four wide of long-on with ease and then finishing the Gul over with a superb drive on the up, sending the ball past mid-off for another boundary. This is now the record opening stand for England against Pakistan, beating the 147 that Robin Smith and Mike Atherton managed in Karachi back in 1996.
Over 24: Afridi 1-1-1-1-0-1 138-0 - Singles come with ease as this partnership keeps pushing England along to an emphatic victory. Pakistan are perhaps going to try and do something about that now, bringing back Umar Gul. He can't do any worse than his first spell - his opening three overs cost him the small matter of 28 runs.
Over 23: Hafeez 4-1-1-0-1-6 133-0 - Pietersen brings up 4,000 runs in ODI cricket in fine style, lamping Hafeez's off-spin straight down the ground for his second six of the day. He only needed one to reach the milestone, but where would be the fun in doing it with a single? With Cook having pulled away the first ball of the over for four, England now need only another 90 for victory in Dubai.
Over 22: Afridi 0-1-0-0-0-1 120-0 - Pakistan have two choices here - either die a slow, painful death with the fielders all spread across this lovely outfield, or bring men in, try to take some wickets and see if they can put some pressure on England. Having watched Misbah captain his team throughout this tour, I'd reckon he's thinking the former - I can only think he enjoys suffering.
Over 21: Hafeez 1-0-0-1-0-0 118-0 - This is Pietersen's second 50 in his last 12 one-day innings, the last one coming in Mohali during the series against India at the end of 2011. Have to say I like him in this role at the top of the order, he compliments Cook nicely and, when he gets a surface like this, can be dangerous during that first powerplay.
Over 20: Ajmal 2-0-3-0-1-0 116-0 - Pietersen flamboyantly goes to his 50 with a pair of runs flicked over the top of the keeper with a paddle-sweep. It's his 24th ODI half-century and a very timely one too, considering he laboured badly in his role at the top of the order in Abu Dhabi. The pitches there were low and slow however, here in Dubai he's looked much better with the extra pace and bounce. That's the end of the bowling powerplay - England picked up 27 without loss in the five-over period.
Over 19: Cheema 1-1-0-4-0-0 110-0 - Cheema isn't even close to being quick enough to test these two England openers out with some short stuff, yet he's refusing to pitch anything up. Pietersen actually gets through a pull shot too early, meaning he only gets a single for it, but Cook gets his right out of the middle, sending it in front of square for another boundary. England require 113 more.
Over 18: Ajmal 0-1-0-0-0-0 104-0 - Cook wins the race to 50, it's his 11th in one-day cricket for his country. He's also now halfway towards becoming the first England captain to hit three successive centuries in the 50-over format. Anyone still think he shouldn't be in the team? I'll admit I will have to eat some humble pie - I'd like it heated up with some cold custard please.
Over 17: Cheema 5-1-1-1-2-0 103-0 - Akmal decides to have a shy at the stumps when KP sneaks a single to extra cover and although the throw hits the woodwork, the deflection sends the ball away to the mid-wicket fence for four 'buzzers', as David Lloyd likes to call them. The five runs helps bring up England's century without any losses - the first 50 came from 52 deliveries, while the second was at exactly a run-a-ball rate. A wicket should have gone down in the over, though, with Ali grassing KP out at deep square leg. It was a pull shot travelling at some speed, yet for some reason the fielder took a pace or two towards the ball. He's lucky it didn't hit him in the chest - it would have left a sizeable hole.
Over 16: Ajmal 0-0-0-4-0-0 93-0 - Pakistan do decide to take the bowling powerplay, with Ajmal to bowl the first over in it. There's five dots but also a boundary, Cook picking up the length quickly to rock back and pull away to deep mid-wicket. England go to DRINKS in Dubai in great shape.
Over 15: Afridi 1-1-1-1-3-6 89-0 - Boom Boom has just been boom boomed down the ground for six. KP takes a pace or two along the track and although there is a man stationed out at long-off, is now feeling confident enough to lift the ball over the top for a maximum. The fielder did circle underneath it, but unless he was on stilts there was no chance of a catch. Cook had nailed a cut shot from the previous ball to pick up three more and with 13 from the over, England need another 134 for victory.
Over 14: Hafeez 0-0-0-1-0-1 76-0 - Cook keeps the strike with a single off the last ball of Hafeez's fourth over, Pietersen having also picked up a run during it. The 'hosts' have to consider whether to take the bowling powerplay after the next over, though right now they might just be best sitting in and seeing if England might make a mistake or two. For now, this is a coast for the tourists.
Over 13: Afridi 0-0-1lb-1-0-1 74-0 - Afridi gets all excited when Pietersen misses an attempted cut, though it's all for nothing as there's no outside edge. The same batsman had also got in a bit of a tangle earlier in the over attempting to sweep the googly, resulting in a scampered leg bye. England need another 149 runs to win this match and clinch the one-day series with a game to spare.
Over 12: Hafeez 0-1-1-1-1-0 71-0 - Four singles off the Hafeez over, though England's run-rate has now dropped below a run-a-ball. Remember you can send in an e-mail to Rob.Lancaster@bskyb.com or a tweet to @SkySportsLanny. Be good to know why you're reading on this afternoon.
Over 11: Afridi 0-4-1-1-1-0 67-0 - Afridi is drafted into the attack but he's unable to stem the flow of runs (another over, another Cook cut, though this one was a little more delicate as he steered it to the right of short third man). Pietersen and Adnan Akmal have words at the end of the over, the England batsman giving him a lengthy stare to go with a verbal volley. He had patted the ball back to the wicketkeeper, who then tried to flick it onto the stumps while KP was still out of his ground. Interesting situation if that throw had been on target - is that in the spirit of the game? Probably not.
Over 10: Ajmal 0-1-0-0-4-1 60-0 - Ajmal comes over the wicket to Pietersen, then beats him all ends up with a wonderful 'doosra' that straightens to beat the outside edge. He's back around the wicket when Cook is on strike, though that packed off field still can't stop the left-hander getting another cut shot away to the boundary rope. England end the opening powerplay on 60 without loss, comfortably their best start in the series so far.
Over 9: Hafeez 4-0-1-0-0-0 54-0 - Pietersen gets the sweep out to bring up the 50-stand between England's openers, depositing the ball into the vast spaces at backward square leg for four. This is the third successive half-century stand in this series between Cook and KP. Only once have England's one-two combination at the top of the order managed the feat in four straight games. The pair in question? Graeme Fowler and Chris Tavare, way back in the 1983 World Cup.
Over 8: Ajmal 1-0-0-0-0-0 49-0 - Good over from Ajmal, with the field well set for Cook. There's a slip, short extra cover, point and short third man, meaning on three occasions the left-hander fails to get a cut stroke through the infield. He also has a rather lazy-looking drive at one tossed up, though Akmal behind the stumps couldn't hang onto the ball anyway.
Over 7: Hafeez 0-4-0-1-0-1 48-0 - Don't. Bowl. Short. To. Cook. It's that simple. Hafeez should have learned that lesson by now, yet still he drags one down in his first over, allowing the England skipper to pick up his third four already, as well as that six off the free hit. England are going along now at a run-rate of 6.85.
Over 6: Ajmal 1-0-0-0-1-0 42-0 - With his seamers disappearing to all parts, Misbah turns to his top tweaker. The problem for Saeed Ajmal is that England are well ahead of the run-rate, meaning they don't have to take any risks against him. Gul's second over took no less than nine minutes to complete - technically one delivery went for 12!
Over 5: Gul 0w-0nb-1-0nb-4nb-6-0-0-0-0 40-0 - An interesting over to say the least. Gul starts with a wide and then serves up three no balls. Pietersen fails to make the most of his free hit, swinging it straight to mid-wicket for a single, but Cook cashes in. The first freebie is driven on the up through the covers and, seen as that is also a no-ball, he gets another go. Guessing it might not be pitched up again, the England skipper takes a step back in his crease, allowing him to pull a shortish delivery for just the third six of his ODI career. In total the over goes for 15, meaning England are rattling along here,
Over 4: Cheema 3-0-1-0-4-1lb 25-0 - KP whips a full ball away, sending it just wide of the diving fielder at mid-wicket, to get three more for England. He also gets a boundary in the over, though that comes from a top-edged pull that goes straight over the top of the wicketkeeper and slip, plugging like a pitching wedge near the rope before gently rolling into it. England require a further 198 runs, if you want to get in touch send an e-mail to Rob.Lancaster@bskyb.com, or alternatively via Twitter @SkySportsLanny
Over 3: Gul 0-4-0-1-2-1 16-0 - Gul foolishly serves up Cook something both short and wide, allowing the England skipper to get out his favourite cut shot. He tries to repeat the trick later in the over, only the time the ball is a bit tighter to his body. In the end he's fortunate that an inside edge misses the stumps and goes down to fine leg for a single. The over finishes with an Afridi mis-field at mid-on, meaning Pietersen gets a bonus single to keep the strike.
Over 2: Cheema 0-1lb-0-0-0-2 8-0 - Pietersen is again on the march, this time getting down the pitch at Cheema. He slaps one drive straight back to the bowler, but then works the last ball of the over wide of mid-on for a couple of runs.
Over 1: Gul 1-0-0-4-0-0 5-0 - Cook gets off the mark immediately, putting Pietersen on strike. It doesn't take long for him to make his intentions clear either, the right-hander hammering his third ball away on the up through point for four. This pitch should suit him, the extra pace and bounce meaning the ball will come on nicely. He follows that up with a 'flamingo' shot that goes straight to square leg - it appears KP isn't going to die wondering today.
Run chase Cook and Pietersen head out to the middle ready to begin England's pursuit of 223 - the former is looking for his third successive century in one-day cricket, while the latter just wants to make it to 50.
So England are left to chase 222, just below the average first-innings score at this ground. Akmal and Afridi did well with half-centuries after Pakistan had slipped to 50-4 and then 97-5. Join us shortly to see how the tourists get on in their run chase.
Over 50: Broad 0-1-1-3-2-1 221 - WICKET! - Cheema is run out off the last delivery of the innings, Gul deciding not to risk going back for a second after he slips at the non-striker's end. Still, Pakistan get seven from the final over to give their bowlers something to work with. Broad, who was ticking after seeing Morgan put down a steepling catch running back towards the point fence from the penultimate ball, ends with 10-2-42-3.
Over 49: Anderson 2-1-1-W-1-4 214-9 - WICKET! - Anderson goes full and straight, meaning when Ajmal misses his furniture is ruined. He could have been out twice before that, firstly lobbing an outside edge just over the head of Morgan at point before then going through for a suicidal single to mid-wicket that would have seen him out by a mile had Swann's throw been on target. Last-man Cheema gets a single to put 'The Guldozer' on strike. We expect a big hit, but instead get a thick outside edge that beats Kieswetter and runs away for four useful runs. Anderson ends his bowling stint with figures of 2-52.
Over 48: Finn 0-0-W-0-1-0 205-8 - WICKET! - Wicket No.11 for Finn in the series, Adnan Akmal his latest victim when his bails are trimmed backing away to leg. The poor wicketkeeper had got himself in a right old pickle with the previous two balls, not knowing whether to stick or twist. In the end he did neither, meaning he made just nine runs from the 22 balls he faced out in the middle. Finn, meanwhile, ends with quite wonderful figures of 3-24.
Over 47: Patel 0-1-1-6-0-0 204-7 - Pakistan's 200 comes up in style, Gul launching Patel well over the rope at long-off for his second maximum of the day. Patel has now gone for 37 from his eight overs, and with Anderson, Broad and Finn each with an over left up their sleeve, he won't likely bowl again today.
Over 46: Finn 0-0-0-0-0-0 196-7 - The 46th over ends up being a maiden - could Finn be bowling any better right now? He's taken four wickets in the first two one-dayers of the series and today has figures of 2-23 with an over still to go. England must, MUST pick him for Test cricket when they go back to three frontline seamers. If they don't, I may protest outside Lord's.
Over 45: Patel 0-1-2-1-0-1 196-7 - A little more urgency now from this Pakistan pair, five runs coming relatively easy from the Patel over thanks to some neat batting and brave running between the wickets. I should have mentioned Swann is now finished for the day, his 10-wicketless overs going for 44 runs. Patel likely to bowl one more before the pacemen finish the innings off.
Over 44: Swann 1-0-0-6-0-0 191-7 - It's block, block, SIX, block, block from Gul in the over. It's always fun to watch him bat, he digs and looks unwilling to lift his bat up for nearly every ball he faces, then just suddenly launches into one that takes his fancy. Swann is on the receiving end of a gentle flick that clears the fence at deep mid-wicket by about 10 rows of seats.
Over 43: Anderson 0-1-0-0-0-0 184-7 - Excellent over from Anderson, England are so much on top at this stage of the innings that they are even able to post a slip. Gul twice comes close to feeding Swann too, flirting away outside at off stump and deliveries that swing away late.
Over 42: Swann 1-2-0-0-0-0 183-7 - Swann's back on, meaning Broad has one over still up his sleeve. Adnan Akmal gets a single through mid-wicket and there's a pair of runs from Umar Gul, albeit off the outside edge. The rest of the over sees the paceman play carefully - the key for Pakistan now is batting out their 50 overs.
Over 41: Anderson 1-1-0-1-0-W 180-7 - WICKET! - And now Afridi has gone too. Looking to whip Anderson away over mid-wicket he's bowled via a deflection off bat and then pad. Boom Boom departs for a sensibly-made 51, but now Pakistan - who had managed 20 runs for the loss of Umar Akmal in their five-over batting powerplay - are left hoping the tail can get them to 200 and beyond.
Over 40: Broad 1-0-0-0-W-1 177-6 - WICKET! - Afridi quickly follows his batting partner through to 50, his 33rd in one-dayers for his country (he also has six hundreds to his name). However, the sixth-wicket partnership is now over, Akmal going for an even 50 when a leading edge trying to work Broad through square leg is well taken by a diving Patel at mid-wicket. The fielder had to move forwards quickly to get his hand underneath the ball and after umpire Dar checks that the bowler hadn't over-stepped, Akmal is on his way. It's another Akmal who comes out at eight, wicketkeeper Adnan getting off the mark with a single from the final ball of the batting powerplay.
Over 39: Anderson 0-1-1-1-1-1 175-5 - Anderson takes over from Broad, yet still we see no yorkers from England's pacemen during this powerplay stint. Akmal gets through to his 13th ODI half-century with a single towards point - this is his slowest 50 in 50-over cricket, he should also thank Craig Kieswetter for dropping him behind the stumps when he had only 28 to his name. That miss is looking more and more expensive as this sixth-wicket stand goes to 79.
Over 38: Finn 0-1-0-0-4-1 170-5 - Akmal takes a nasty blow in the belly when Finn gets one to duck back in at the start of the over, proving again that there is some life in this surface if you're willing to bend your back. The third ball is even better from Finn, cutting poor Afridi in half with one that registers just over 90mph on the speed gun. The batsman's response? Pump the next ball, pitched much further up, back over the bowler's head for Pakistan's first boundary in 43 deliveries.
Over 37: Broad 0-1-0-1-0-1 164-5 - Excellent over from Broad, one that gave away only three singles. While this would seem the time for Pakistan to put their foot down, this pair are clearly under instructions to try and bat out the overs. The run-rate is at 4.43 but, crucially, England's best bowlers are running out of resources.
Over 36: Finn 1-1-1-0-1lb-0 161-5 - With fielding now restrictions in place during the powerplay, the outstanding Finn returns to the attack. Immediately he's back-of-a-length to Afridi, not allowing him to get his front foot down the track and swing from the hips. The final delivery of the over actually nips back and strikes Shahid on the thigh; he doesn't look so happy to be facing England's fastest bowler on a quick deck offering extra bounce.
Over 35: Patel 1-0-1-1-1-1 157-5 - The average first innings score in one-dayers played at this venue is 227 - at the moment Pakistan are on track for just about that. Five easy singles come from Patel's latest over, the last before the batting powerplay has to be taken. The highest ODI total in Dubai is the 317-5 South Africa made against Pakistan back in 2010.
Over 34: Swann 2-0-1-2-1-0 152-5 - Pakistan's 150 comes up with a sweep from Afridi for a couple of runs - the third half-century has taken 62 balls, just four slower than the first 50 they managed in the mandatory powerplay overs. It's time for DRINKS now in Dubai as we get set for the batting powerplay - that five-over period looks like it will make or break this Pakistan innings.
Over 33: Patel 2-1-0-1-1-1 146-5 - The two-over Bopara experiment is over - Patel instead coming back into the attack. A back cut from Afridi gets a couple out to deep point and four further singles make it six from the over. Pakistan are currenrly rumbling along at 4.42 an over, putting them on course for a total of 221. Six-an-over from here on out and they'd get to just under 250.
Over 32: Swann 1-2-0-0-1-1 140-5 - Lee wonders why Matt Prior isn't considered for the one-day team, particularly now Kieswetter is batting down at six instead of opening. How about an ODI average of just over 24 from 68 matches, in which he has managed just three half-centuries. I think Prior has had a good crack at 50-over cricket and hasn't made the grade. Bairstow, Buttler or Davies would likely be the main contenders to replace Kieswetter now.
Over 31: Bopara 0-1-1-4-0-1 135-5 - Afridi lofts Bopara back over mid-off's head for four more - this is clever batting from Pakistan's former captain. He knows that England's frontline seamers still have plenty of overs up their sleeve, so he's trying to make hay against the rest. It might also force Cook's hand to bring back someone a little quicker than Bopara, who so far has been too short in length. Still, the batting powerplay is now looming large on the horizon.
Over 30: Swann 6-0-2-0-0-1 128-5 - BOOM! BOOM! No, it's not an appearance from Basil Brush, just an almighty six from Afridi that clears the rope by a mile at long-off. There was so much bat speed with that strike that I'm pretty sure I felt the backdraft from here. Another aggressive stroke, this time lofted over cover, gets the all-rounder another couple of runs, before he finishes the over by casually pushing a single down to long-on. Good over for Pakistan.
Over 29: Bopara 4-1-0-0-0-0 119-5 - After 48 balls without a boundary Afridi gets a gift to put an end to the streak, a long hop from Bopara being pulled away through mid-wicket. The over is generally poor from Bopara, though he twice beats the bat of Akmal. Not really sure why Cook saw the need to even put him on, considering the frontline bowlers were doing a decent enough job already. Perhaps it's a sign the slightly wayward Anderson won't be bowling his full compliment of 10.
Over 28: Swann 0-0-0-1-1-0 114-5 - Pakistan's task now must be to bat out the overs. Adnan Akmal showed he could bat a bit in the Test series against England, so all hope isn't lost just yet. The worry for them is that this pitch looks much better to bat on than the one used in Abu Dhabi for the first two matches of the series. Here comes England's sixth bowler, Ravi Bopara taking over from Broad.
Over 27: Broad 0-0-1-0-0-1 112-5 - Broad has Afridi on toast in the over. There's an lbw shout to the first ball and then the bowler beats the batsman all ends up with a beauty that pitches just outside of off stump before moving away late. Afridi was attempting a huge drive at the delivery, but ended up getting absolutely nowhere near it.
Over 26: Swann 0-1-0-1-1-0 110-5 - Afridi's patience doesn't last too long (Boom Boom needs to be more Pat Pat right now). He charges at Swann but his attempts to hit a home run only result in a miscue out towards backward point, the ball landing safely in between three fielders. Pakistan are living on the edge right now, while England are smelling blood.
Over 25: Broad 0-1-0-0-1-2 107-5 - DROPPED! England miss a glorious chance to get rid of Akmal, Broad finding the outside edge but Kieswetter can't hang on. He had to dive low to his right but that is a catch that should be taken by an international wicketkeeper. Considering he's now batting down at six in the order instead of opening, it's even more crucial that his glovework is good in this series.
Over 24: Swann 0-1-2-1-0-0 103-5 - Afridi gets applauded for a two successive forward defensive strokes. But he's a bit like a game of 'Buckaroo' - you know it's going to spring into action at some stage, you just never know when. Pakistan need him now to play responsibly in support of Akmal, particularly with a fairly long tail to come.
Over 23: Broad 0-0-2-0-0-0 99-5 - England must now sense a chance to bowl Pakistan out inside the 50 overs. It appears Cook certainly believes that, bringing back Broad. There's no slip, however, when England can now really afford to attack. Not much to come after these two, and it's tough to trust Afridi to curb his attacking instincts for too long.
Over 22: Swann 0-3-0-W-0-0 97-5 - WICKET! - Akmal goes down to play a premeditated sweep and then changes his original plan when Swann drops the ball in short, instead opening the face to steer it just past Kieswetter's gloves for a trio of runs. However, just as this pair were steering the Pakistan ship into clearer waters, confusion over a run results in Shafiq departing. Perhaps panicked by England's appeal for lbw, he sets off for a single to short fine leg when there's never, ever one to be had. The under-arm throw allows the wicketkeeper to whip off the bails and although he is back with a dive, Shafiq's bat has bounced up in the air. Hard luck for the youngster after he'd battled so hard, and now Afridi is the new man out in the middle.
Over 21: Patel 1-1-1-0-1-1 94-4 - With the fielding restrictions relaxed, Cook again pushes back plenty of men onto the rope. It allows Shafiq and Akmal to pick up five easy singles, taking this partnership now along to 44 already.
Over 20: Anderson 1-4-0-0-0-4 89-4 - Well Anderson seems keen to make a game of this, giving Shafiq the chance to free his arms with a rank long hop well outside the off stick that takes the top edge and goes away for four. Cook has been a little careless in his field placings - both third man and fine leg don't want to be too wide on a pitch offering pace and bounce. The bowling powerplay finishes with another boundary, this time Shafiq cutting imperiously backward of point. Anderson now has figures of 0-34 from his six overs.
Over 19: Patel 0-0-0-0-0-0 80-4 - There's a polite round of applause for Patel after he gets through a maiden, Shafiq only managing to hit the fielders with a series of drives off the front foot.
Over 18: Anderson 2-0-4lb-1-1-0 80-4 - Anderson continues to struggle with his line - he's cut away for two at the start of the over and then, just two deliveries later, is too straight, meaning a deflection off a thigh pad results in four leg byes. England are just allowing Pakistan to breathe again - this is the part of the one-day game that really gets my goat, when teams simply allow their opponents to recover. Wouldn't happen in Test cricket, so why do it just because you're wearing pyjamas?
Over 17: Patel 0-1-1-0-0-1 72-4 - Singles, just more singles. It's like a Tuesday night in the bars of York. Patel does get excited about an lbw shout against Shafiq, but the batsman has come at least two strides down the pitch. It would be harsh for any umpire to give that out, even though 'Hawk Eye' shows it was going on to hit the stumps.
Over 16: Anderson 1-0-1-0-0-1 68-4 - The bowling powerplay is taken, meaning Anderson returns to the attack. There's no slip in place, allowing both players to steer deliveries down to third man with little danger. Pakistan's run-rate has now slipped to 4.25, it was at one stage just above seven.
Over 15: Patel 1-0-2-0-1-1 65-4 - It's spin from both ends with Patel joining his Nottinghamshire team-mate in the attack. He's bowling with men posted out in the deep on the leg side, as well as a long-off and a long-on. England are giving away runs here when there's no need to - Pakistan are the team under pressure, not them. Captain Cook has to realise this is a time to be aggressive, they've a chance here of bowling their opponents out cheaply. Hopefully he'll ponder that over DRINKS in Dubai.
Over 14: Swann 0-1-0-0-1-0 60-4 - Finn takes a break after getting through six mighty fine overs, his opening burst seeing him pick up 2-14. Instead it's spin in his place, Graeme Swann coming on. He starts with an over that gives away just two singles. I'd like to see England be a bit more aggressive here, there's no need to think about just rattling through overs while Pakistan are trying to rebuild.
Over 13: Broad 0-0-0-0-4-1 58-4 - Akmal gets off the mark in glorious fashion, slapping Broad over the top of mid-off for a welcome boundary for Pakistan. The bowler isn't happy about how far Akmal is batting out of his crease, resulting in him pushing a fielder back at deep square leg. Sure enough, he finishes the over with a short delivery that Umar does well to ride, sending it down to fine leg for a single that means he will keep the strike.
Over 12: Finn 0w-1-0-0-0-0-1lb 53-4 - Finn starts the over with a wide down leg but the first legal delivery could well have bought about another wicket, Shafiq calling through for a suicidal single that would have seen him on his way with a direct hit at the bowler's end. There's a chance here for two of Pakistan's younger batsmen to stand up and make a mark on this series. Their country needs them, because they can't fully trust what is left to come in the order.
Over 11: Broad 0-0-0-W-0-0 50-4 - WICKET! - Misbah's gone fishin'. Having left alone the previous two deliveries, Pakistan's captain is tempted to have a waft at the next, though all he does is provide Swann with a simple catch at first slip. The home side's out-of-sorts skipper is heading back to the hutch and his team are in trouble. Umar Akmal - complete with bright green lips - is in at six. He sees out the rest of the over, meaning Broad has now registered two wicket maidens on the spin.
Over 10: Finn W-0-1-0-0-0 50-3 - WICKET! - And another one bites the dust. Finn continues to get his rewards for pitching the ball up, this time trapping Hafeez on the crease with one that came back in slightly. Umpire Taufel agrees with England's lbw appeals and, after consulting with Shafiq at the other end, Hafeez decides not to bother referring it. He was right not to - it was an umpire's call with the ball striking the outer half of leg stick. Pakistan's 50 does come up, but their top order has again failed to fire.
Over 9: Broad W-0-0-0-0-0 49-2 - WICKET! - Broad pitches it a little further up and, hey presto, Azhar Ali nibbles away outside off stump, providing Kieswetter with his second catch of the day. Asad Shafiq is the new man in at four (Younis is missing today due to illness) and immediately gets beaten, groping away at a full ball that Broad sends down cross-seam. After a first over that cost 16, Broad's second is a wicket maiden. Richard, you can forget about getting that coursework out now.
Over 8: Finn 0-0-1-0-0-1 49-1 - Richard is furious at that first over from Broad, suggesting that "if this continues I might just switch off and do my coursework." Steady now Richard, there's no need to take such drastic measures just yet. Meanwhile, at the other end, Finn continues to impress. He's conceded comfortably less from his 24 legal deliveries than Broad did in his first over of tripe. Good start this for Pakistan, though they've been given plenty of gifts.
Over 7: Broad 4-0-0nb-4-4-3-0 47-1 - No surprises as Anderson makes way after three fairly poor overs. However, England's Twenty20 captain starts with a rank long hop that gets spanked away by Hafeez over the top of backward point. Another short ball looks to have got him an early wicket when the same batsman slaps him straight to Morgan, only for everyone to then notice umpire Aleem Dar has his right arm outstretched. The free hit for the no ball is pumped over point, rubbing salt in the wounds. Hafeez, with his tail up, gets four more with a drive on the up through the covers, while only a desperate dive from Bopara stops him making it back-to-back boundaries. Bad, bad start from Broad - 16 from his first over.
Over 6: Finn 0-0w-0-0-1-0-1 31-1 - Just a couple of singles off the bat and a wide from the Finn over - he's currently got good figures of 1-9. It's a shame his fellow new-ball bowler is letting him down at the other end. James has sent a tweet - he's stuck in work with only me and the scorecentre to keep him company. I feel your pain James; I don't even really like my own company, so this could be a long Saturday for you.
Over 5: Anderson 0-1-1-0-0-2 28-1 - Given a pitch that will offer bounce and with a new white ball in his hand, Anderson should be bowling better than this. His line is all over the shop and he's allowing both batsmen to play the majority of deliveries off the back foot. A half tracker from the final ball of the over could well have gone for four more had Pietersen not produced an acrobatic dive in the deep. He's holding his leg when he gets up, but it saved his team two runs. No pain, no gain.
Over 4: Finn 2-1-0-W-2-0 24-1 - WICKET! - Finn's at it again, getting Farhat fishing away outside of off stump. The edge duly arrives and wicketkeeper Kieswetter does the rest, moving across in front of first slip to take a comfortable catch. Azhar Ali - the man who batted just short of nine hours in the second innings of the third Test at this venue - is in at three and off the mark immediately, tucking a straight ball through square leg for a couple.
Over 3: Anderson 0-0-1-0-4-4 19-0 - The Burnley Express is not quite working as normal here. A decent over becomes a bad one thanks to two stray deliveries to finish, both swinging into Farhat's hip to allow him to work the ball away to the fine leg fence. The fielder has no chance with the first but Pietersen will think he should have done better with the second, almost diving over the top of it.
Over 2: Finn 0-0-0-0-1-0 10-0 - Finn - England's bowling star of the series so far - starts his day by giving away just a single, and he also ends the over by getting Farhat to play and miss outside of off stump. There's some pace and bounce in this pitch, so Finn should fancy adding to his eight-wicket haul in the series.
Over 1: Anderson 1-4lb-0-0-1-3 9-0 - Hafeez is off the mark immediately with a cut down to the fielder at third man for a single, while the second ball of the match sees the opening boundary when a stray delivery from Anderson deflects off Farhat's thigh pad and away to the fine leg fence. With Hafeez slamming a half-tracker away for three to finish the over, Pakistan have gotten off to a rip-roaring start (yes, rip-roaring, that's how good it is).
Feedback If you've got nothing better to do than to read this, then send in an e-mail to Rob.Lancaster@bskyb.com to explain why. If you want to get in touch via Twitter instead, @SkySports Lanny is the name to direct your 140 characters at.
Teams England are unchanged. If it ain't broke, don't fix it. Pakistan, in contrast, have two fresh faces in their XI. I say fresh, but we've seen plenty of both Asad Shafiq and Adnan Akmal during this tour. They come into the line-up in place of the ill Younis Khan, who is a big loss for the hosts, and Abdur Rehman. Adnan will take over the gloves from his brother Umar.
Toss The news from the middle is that Pakistan have won the toss and, unsurprisingly, have decided to bat first. Seemed a straightforward choice for Misbah-ul-Haq considering his side has twice failed to chase totals in this series.
Good morning and welcome to over-by-over coverage of the third one-dayer between England and Pakistan. We're back in Dubai after a trip down the motorway from Abu Dhabi. News of the toss and teams shortly.
Sky Bet Odds:
Click Here for Your Free Bet