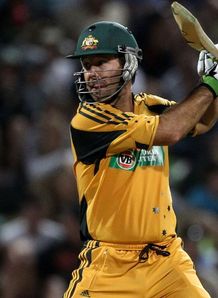 Related links
Teams
Also see
Ricky Ponting is expecting another tough battle against neighbours New Zealand when their Test series gets underway on Friday.
The Aussies are big favourites but they were pushed during their 30-2 victory ion the one-day Chappell-Hadlee series that preceded the Tests.
Skipper Ponting is not expecting the easy ride the bookmakers seemed to be, as he believes he will be involved in a tight tussle with Daniel Vettori's Black Caps.
"Both teams really like to play each other and I think that's been highlighted in our one day series and as long as I've been playing," he said.
"They've always been tight tussles and I'm sure it'll be the same over the next couple of weeks."
Wicket
In contrast to the ODI series, the Basin Reserve pitch looks to be bouncy and will suit the Australian quick bowlers.
Although Ponting was yet to have a close inspection, he felt it would be similar to the bouncy practice-wickets that the team has been training on.
"I haven't had a huge look at it yet," he said. "We trained here on Tuesday but I don't like looking at it [the pitch] that far out.
"The training wicket out the back has really surprised me with how much bounce there is though. When we were training there the other day it was like we were batting at the WACA.
"So that's encouraging for our guys because I know all our guys didn't want to leave the nets out there because they were so happy bowling."
Paceman Ryan Harris would relish the track on his Test debut, showed he pass a late fitness Test on the morning of the first day.
A side strain has left Harris a major doubt for the match after being called-up following a brilliant season in the shorter forms of the game.
"Ryan will play if he gets through as well as we want him to today and we'll wait and see how he wakes up in the morning," said Ponting. "That's going to be the important thing."