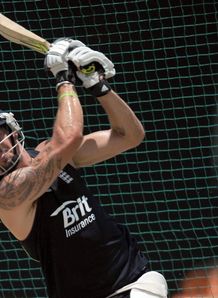 We'll have a team meeting tonight (Wednesday), but let me tell you I'm not going to come out with any rip-roaring speech.
Paul Collingwood
Quotes of the week
LIVE ON SKY SPORTS
Watch England v Sri Lanka live on Sky Sports HD1 and 1 and online with Sky Player from 4pm on Thursday.
SKY BET ODDS
Click here
for the latest betting on the ICC World Twenty20. England are 5/2 to win the tournament.
Related links
Teams
Players
Also see
England batsman Kevin Pietersen will have just 20 hours to overcome jet-lag before the ICC World Twenty20 semi-final against Sri Lanka, which starts at 4.30pm (BST) on Thursday.
Pietersen dashed home to witness the birth of his first child, a boy, after helping his adopted country to victory over the land of his birth, South Africa, on May 8.
Ravi Bopara filled in at number three for Monday's win over New Zealand as England claimed top spot in Group E.
The squad went through final preparations for the semi-final on Wednesday morning without Pietersen, whose flight was due to touch down in St Lucia later in the day.
But he is certain to return to the starting XI in what is likely to be the only change and skipper Paul Collingwood is confident Pietersen will be ready, both physically and mentally, to slot straight back in.
Mindset
"In this form of the game especially, your frame of mind is the crucial thing," said Collingwood.
"He's going to be in a great frame of mind. He's just had a baby boy; he'll be a happy man; he's had a little bit of a break, and it might do him the world of good just to come straight back into it.
"There's nothing technical he has to change. It's just his mindset, and I'm sure his mind is 100 percent right. He'll be a happy man, and raring to go.
"He put two man-of-the-match performances in before he left. The way he's playing at the moment, getting a player back like that is a great confidence boost for all of us."
Collingwood is equally convinced of his team's collective well-being.
There are no signs of big-match nerves in the camp, to the extent that the captain sees no point in stirring the players up with any extra motivational speeches.
"I don't need it. The guys are ready; they are excited," he said.
"If there was a feeling around the camp that the guys are nervous or anything like that then maybe something would have to be said.
"But the guys are so confident and focused on the jobs they've got to do, the roles they've got to play.
"We'll have a team meeting tonight (Wednesday), but let me tell you I'm not going to come out with any rip-roaring speech.
"We're confident that if we put similar performances in we're going to win.
"We're not going overboard because we've got to give Sri Lanka a lot of respect - they're a great Twenty20 side - but if we play anything like we can, we're confident we can win."
Harping
England's unbeaten Group E campaign is another reason for Collingwood's optimism - because he is an advocate of the concept that success breeds success.
"I know I keep harping back to IPLs and things like this, but we won three on the trot with Delhi and then kind of took our foot off the gas a little bit," he added.
"It is amazing how one defeat can turn the confidence. So it was crucial to go out against New Zealand especially, once we had made the semis, and put in another strong performance.
"I just had a real sense when we turned up, with the squad that we had, we made some great selections from the start - and they have really come good for us.
"We are confident but not too confident. The boys really do know their roles in the side - and I think that, keeping that same side, it has really helped everyone to help understand their own and each other's games.
"There was a real belief there from the start, and the boys can't wait to play tomorrow."
Sri Lanka, meanwhile, are considering a recall for spinner Ajantha Mendis as they bid to reach their second straight World T20 final.
Holders Pakistan, who beat Sri Lanka in the 2009 final at Lord's, meet Australia in the second semi-final on Friday.
England (from): PD Collingwood (capt), C Kieswetter, MJ Lumb, KP Pietersen, EJG Morgan, LJ Wright, MH Yardy, TT Bresnan, GP Swann, SCJ Broad, RJ Sidebottom, JM Anderson
Sri Lanka (from): KC Sangakkara (capt, wkt), DPMD Jayawardene, ST Jayasuriya, TM Dilshan, AD Mathews, CK Kapugedara, NLTC Perera, CU Jayasinghe, S Randiv, SL Malinga, T Thushara, BAW Mendis, KMDN Kulasekara