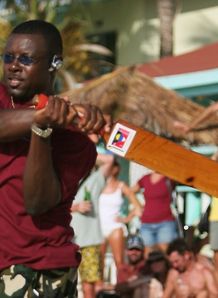 Related links
Teams
Also see
Ahead of the West Indies' World Cup match against co-hosts Bangladesh, team manager Richie Richardson has expressed optimism that his team can pull off a surprise in the tournament.
The Windies' stock has taken such a dive in recent years that they are not favourites to beat Friday's opponents in Mirpur and stand below them in the ICC one-day rankings.
Former West Indies captain Richardson, though, thinks a first World Cup success since 1979 is more than an outside possibility.
"To win every single match, that's my target. To win the World Cup," he said.
"I am very confident that we can win this World Cup. I am very positive. We are playing positive cricket, the guys are improving every day, and I am feeling very, very confident."
Richardson also insisted that his players do not fear anyone.
He added: "We are ready to tackle any opposition, any spin attack, any pace attack, any team. We are prepared to take them on. We are positive and intend to go out there and play positive cricket.
Not worried
"It's always difficult playing against a home team on their turf. Obviously they know the conditions really well, and they have the home support - we have beaten people all over the world, so we are not worried about that."
However, having so far achieved the same record as Bangladesh - one win and one defeat - so far in the tournament, Richardson did acknowledge the crunch group B match will not be easy.
"Every match is a challenge. Every team is difficult - we are not taking any team for granted," he said.
"Playing in Bangladesh is a bit tough, but we believe we have the ability, and we certainly have the belief now that we can beat Bangladesh."
Meanwhile Bangladesh spinner Abdur Razzak is hoping the wicket will suit the hosts after their spinners struggled in the opening games.
He said: "Hopefully we will get some turn on this pitch - we did not get enough in the first two matches. This one looks like it is going to turn, but then you can't say for sure before you actually play on it."
Razzak also said he is ready to face big-hitting West Indies opener Chris Gayle, adding: "I am absolutely ready to take on Gayle. There is no way you can take a step backwards or you could get pushed over. It does not help if you go on to the back foot."
World Cup. Click here to bet.