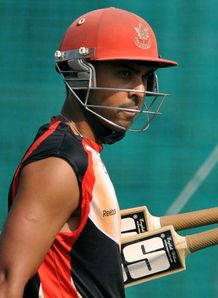 LIVE ON SKY SPORTS
3.55am, Mon, Sky Sports HD1, Sky Sports 1 and online with Sky Player
Click
here
to remote record
Related links
Teams
Also see
Canada captain Ashish Bagai believes the World Cup provides some of his younger players with a great chance to gain valuable experience.
Bagai leads his side against Zimbabwe in Nagpur on Monday knowing this will probably be as good a chance as they get of being competitive in their Group A campaign.
A 210-run defeat by Sri Lanka exposed Canada's shortcomings and Bagai will be looking to his players, with five Under 19s in their number, to make the most of every fixture.
"It is a great experience for my youngsters to be in this situation," said Bagai.
"All these youngsters are highly talented but they don't have the experience at this level.
"There are things you can coach, but it's all about having the experience and getting that belief that they can also compete against the top players.
"This experience they will definitely take to improve in the future. And the future for Canada is likely to feature Twenty20 prominently.
Growing
"Cricket is growing in Canada in a big way with lots of south Asians moving in there.
"Definitely in the T20 version we are going to do everything we can to build up a big team in time for the next World Cup."
Canada will look to the big hitting of Rizwan Cheema if they are to have any chance against Zimbabwe.
Bagai, John Davison and Henry Osinde played the last time Canada faced Zimbabwe, a 143-run defeat in Port of Spain five years ago.
For Zimbabwe wicketkeeper Brendan Taylor and Prosper Utseya both shone in that game and they are likely to feature on Monday where they will again rely heavily on spin bowling.
"Our spin department is our strength," said Zimbabwe coach Alan Butcher.