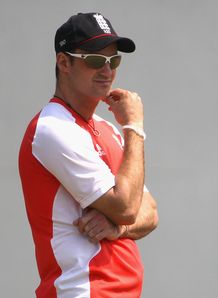 We are up for it. We are excited. There is a good vibe and buzz about everything out here at the moment. It is a massive event out in the sub-continent, and we want to do ourselves proud
Andrew Strauss
Quotes of the week
LIVE ON SKY SPORTS
Follow the Cricket World Cup live on Sky Sports HD, online and on mobile this spring.
Sky Sports HD
will show every ball of the tournament while
skysports.com
will provide up to the minute coverage including scores and text commentary, match reports, video interviews and highlights plus columns by Sky Sports commentators.
Click
here
to remote record
Related links
Teams
Players
Also see
England captain Andrew Strauss has warned that England could slip up against Holland if they are only slightly off their game in Nagpur.
Holland famously beat England at Lord's in the opening match of the 2009 ICC World Twenty20 and will be looking for another upset on Tuesday.
Many of the Dutch players are not full-time professionals, being able to fully focus on cricket only at major tournaments and when their day jobs allow.
However, Strauss says that they have the talent to pose a serious threat to his side - provided they play to the best of their ability.
"They are going to be a stern test for us. They have nothing to lose and they will come out and play with a lot of freedom." Strauss said.
"If we are 10 per cent off and they have a good day, we are in trouble - so we need to be right on our game."
Tiring
England come into the tournament after a tiring Ashes tour, which saw their performances drop off towards the end as they lost the one-day series 6-1.
But Strauss is confident that the squad will have no problems finding the motivation needed to get back on form for the World Cup.
He added: "It only happens every four years. If you are lucky, you might play in two or three in your career.
"You don't want to have any regrets at the end of it, so I don't think that's a problem.
"That was an accusation you could have levied at us in the one-day series against Australia, but not in the World Cup.
"We are up for it. We are excited. There is a good vibe and buzz about everything out here at the moment. It is a massive event out in the sub-continent, and we want to do ourselves proud."
Openers
Kevin Pietersen has been chosen to open the batting alongside the skipper, with Matt Prior shifted down to take up a middle-order role.
Graeme Swann is available and could be selected after joining the squad following the birth of his child while Jonathan Trott has recovered from a bruised finger in time to play.
Of Pietersen's promotion, Strauss said: "I am very excited about it. The indications are pretty good at the moment.
"Prior played brilliantly at six (in the warm-up) against Canada and had a nice little cameo against Pakistan as well.
"Kevin Pietersen, we have always felt, has the game to prosper at the top of the order on the sub-continent on these flat wickets, lower-bouncing wickets - that is perfectly suitable for his game.
"I think he could take a couple of the opposition teams by surprise, put pressure on them - and that is an important thing to do in the World Cup."