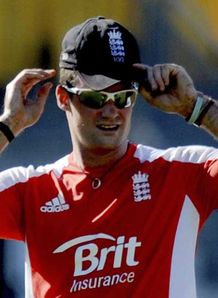 The most important thing is you retain belief in yourself. We haven't reacted as quickly as we'd like to these conditions - certainly with the ball
Andrew Strauss
Quotes of the week
LIVE ON SKY SPORTS
England v South Africa
Watch the action LIVE on Sky Sports HD2/2 from 3.30am on Sunday, or log on to skysports.com for interactive over-by-over coverage
Related links
Teams
Also see
Andrew Strauss insists England must now forget about their shock defeat to Ireland as they get ready to lock horns with South Africa in Chennai.
Wednesday's stunning reverse in Bangalore against the Irish means England now need two victories from their final three group games to be certain of progressing to the knock-out stages of the World Cup.
Their task is not made any easier as next up is a clash against table-toppers South Africa at the MA Chidambaram Stadium on Sunday.
But skipper Strauss has called on his players to look forward, rather than dwell on the past, as they look to get their campaign back on track.
Focus
"I think the first thing to say is the format of the World Cup means you have to put defeat to bed pretty quickly and move on," he said.
"We now have to focus on South Africa on this wicket, and that's the way it's got to be. I think it's the healthiest thing for a side anyway."
England's record of seven victories in their last eight ODIs against a team significantly higher than them in the world rankings is certainly a cause for optimism.
Strauss added: "We have had a certain amount of success against South Africa in the past, and we fully intend to come out strongly tomorrow.
"The great thing about this tournament is you have a chance to get back on the bike straight away.
"It's something as a side we've been very good at in the past - bouncing back when we've had a poor performance."
So far they haven't had any issues scoring runs, having twice made scores of over 300 already in the tournament, but saving them has been a problem.
England have dropped a plethora of chances while the bowling has also been a cause for concern; Strauss does not try to hide from the fact that so far his side have been found wanting in the field.
"It's been tough," he said. "Some of our bowlers have had an injury lay-off and are coming back in.
"None of them are happy with their form, but there's still an opportunity for us to win the World Cup and improve. We haven't done it so far; we need to do it pretty quickly.
"The most important thing is you retain belief in yourself. We haven't reacted as quickly as we'd like to these conditions - certainly with the ball.
"We need to react quickly, but I have a huge amount of faith in our players. They've shown time and time again they can raise themselves for the big occasions - and tomorrow's a big occasion."
Confidence
South Africa skipper Graeme Smith is hoping his batsmen - particularly the in-form AB de Villiers, who has been declared fit after a back problem stopped him from taking the field during the second half of the the victory over the Netherlands - can take advantage of England's fragility with the ball.
"We have a good idea of what to expect - so if we can lay the platform tomorrow, we can take advantage of that lack of confidence," he said.
"I think it's a fair reflection on the way they've (England) bowled so far.
"But they are quality bowlers. It's always difficult - and you can't get caught up in the way things have gone before."
The Proteas have had no such problems in the bowling department thanks to a balanced attack led superbly by paceman Dale Steyn.
The addition of leg spinner Imran Tahir has given them an added dimension, though the Pakistan-born bowler is far from an unknown quantity to England's batsmen having played plenty of county cricket.
South Africa have so far comfortably chased down a target of 222 against West Indies and then racked up 351-5 in a landslide victory over the Dutch.