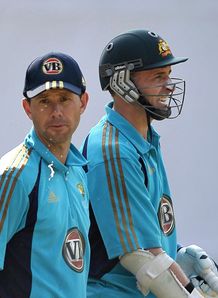 Mike has made an exceptional recovery. I've had a close look at him the last couple of days in training. He's striking the ball really well
Ricky Ponting on Michael Hussey
Quotes of the week
Related links
Teams
Also see
Ricky Ponting insists Australia will not be resting players against Kenya on Sunday, with Michael Hussey set to be recalled.
Australia are currently unbeaten in Group A but have played just three games so far; they cruised to victories over Zimbabwe and New Zealand before their clash with Sri Lanka was cut short by rain last Saturday.
Michael Hussey has since joined up with the rest of the squad as a replacement for injured seamer Doug Bollinger.
The batsman could be drafted straight back into the team with Ponting promising that the reigning champions will not be taking it easy against the minnows in Bangalore.
Enough rest
"We've had enough rest. We've had about a third of a game in the last 16 days," he said.
"We've trained really hard, so we're really keen to get out there and play some cricket so we won't be resting anybody.
"If, after training, we've got 15 fit guys to choose from, we'll pick what we think is our best team."
Hussey's recall could come at the expense of his brother David who has batted just once so far in the tournament, making 14 against Zimbabwe.
All-rounder Steve Smith is the other player under pressure for his place, with Australia's skipper facing a tough decision over who to leave out.
"If Mike pulls up well from training, there's every chance that he'll play, so we're just going to wait and see how he pulls up in the morning and that's when we'll finalise our eleven," Ponting said.
"Mike has made an exceptional recovery. I've had a close look at him the last couple of days in training. He's striking the ball really well.
"The physio forced him to do some quite intense running yesterday (Friday) out on the ground. He got through that particularly well and had another good hit today (Saturday)."
Tough decision
He added: "There is a tough decision to make. I think if you looked at two players that you'd have to single out, who are in the same sort of position as Mike plays, it's going to be unfortunately probably his brother (David) or someone like Steven Smith.
"With Mike Hussey's skills and experience available to come back in, it was real important we got him back in the group.
"He's the sort of player that can win you big games in big tournaments like the World Cup so to have him back is great."
Kenya have suffered four straight losses in Group A, the last of them coming at the hands of fellow associate nation Canada in Delhi.
They have so far yet to manage a score of 200 or above in the tournament and next come up against a fearsome Australian pace attack that looks certain to include Brett Lee, Shaun Tait and Mitchell Johnson.