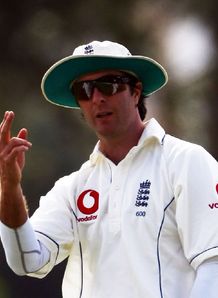 Related links
Teams
Also see
Michael Vaughan has admitted England are under pressure to perform against New Zealand after failing to live up to expectations in recent Test series.
England have won only three of their last eight series since winning the Ashes in 2005 and have lost their last two, at home to India last summer and in Sri Lanka before Christmas.
With the 2009 Ashes looming, Vaughan knows the team needs to build some momentum in the three-Test series against New Zealand starting in Hamilton on Tuesday (Wednesday morning in New Zealand).
"We have to look to develop a team now that can beat New Zealand here, beat New Zealand at home and beat South Africa and really progress towards those Ashes in 2009," said the captain.
"That is a long way off but the building blocks and the stabilisation of the team should be starting now if we're really going to have a chance of winning those Ashes next year.
"There's a pressure as a unit to try and get ourselves back to consistent cricket. We've got to be realistic and realise that if we don't start doing it now then questions will be asked because this is a great opportunity to play good cricket, hopefully win some games and get some series wins under our belt."
And Vaughan admitted that his own position is also under pressure.
Winning
"I don't think there's a day when you're not under pressure as an England captain," he added.
"I haven't felt under any more pressure than I've been under in the last few years but I think the team realise that we need to start playing some good cricket and winning the series will be very important to the development of this side.
"We're all excited and really focussed on starting well and trying to play a sustained period of good cricket not just in this series, but the home series against New Zealand and South Africa later on in the summer."
England's biggest problem since the Ashes success has been a constantly changing line-up and Vaughan admitted: "We do need to get to that settled side, which we had a few years ago but we haven't had it for a while. The sooner we get to becoming a settled side everyone will be happier.
"Results are very important because with good results you do become a settled side. We know there's a bit of pressure on and this is the time we have to try and deliver and make sure we start this series well and play good cricket throughout the series."
Street-wise
As for the challenge posed by the Kiwis, Vaughan added: "You know with New Zealand they're always going to be very street-wise.
"They do have some mature players in their ranks that can also be very dangerous.
"Their middle order can certainly be very dangerous and explosive and some of their players are in good form. It will be a tough series, but it's a series that I expect us to play well in."
England (probable): MP Vaughan (Yorkshire, capt), AN Cook (Essex), AJ Strauss (Middlesex), KP Pietersen (Hampshire), IR Bell (Warwickshire), PD Collingwood (Durham), TR Ambrose (Warwickshire, wkt), RJ Sidebottom (Nottinghamshire), MJ Hoggard (Yorkshire), SJ Harmison (Durham), MS Panesar (Northamptonshire).
New Zealand (from): DL Vettori (capt), MD Bell, J How, SP Fleming, RPL Taylor, MS Sinclair, JDP Oram, BB McCullum (wkt), KD Mills, IE O'Brien, CS Martin, GD Elliot, JS Patel.
Umpires: DL Harper (Aus) and SJ Davis (Aus)
3rd Umpire: BF Bowden (NZ)
Match Referee: Javagal Srinath (Ind).