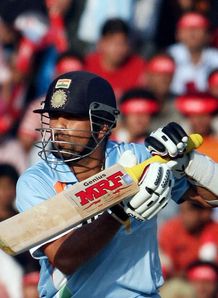 Related links
Teams
Also see
India have big worries ahead of the third and final test against Pakistan with doubts over both Sachin Tendulkar and Mahendra Singh Dhoni.
Legendary batsman Tendulkar has aggravated a knee injury, while wicketkeeper and one-day skipper Dhoni is troubled with an ankle problem.
The teams head into the third Test in Bangalore on Saturday with India 1-0 ahead, but they will desperately want two big players available for the crucial Test.
Captain Anil Kumble says that Gautam Gambhir has been called into the squad on stand-by, while Yuvraj Singh could finally earn a recall to the Test arena.
Injuries
"Sachin aggravated a mild knee problem from the ODI series while fielding in the Kolkata Test, " said Kumble
"A specialist opinion was sought immediately on arrival in Bangalore and, on that advice, an injection was administered.
"His condition is improving but if he fails to recover by tomorrow morning, we feel it would be wise to call a backup. We have called in Gautham Gambhir.
"Dhoni continued to play after getting his ankle strapped up. We were initially thinking of resting him for this game but after this new development with Sachin we aren't sure at this point.
"A decision on him will be taken tomorrow morning."
The injuries mean Yuvraj Singh could return to the Indian Test team for the first time since July 2006, having cut a frustrated figure on the sidelines with India's middle order plundering runs in the series.
Captaincy
For the tourists, Younis Khan will continue as Pakistan's stand-in captain, but insisted he does not want the role full-time.
"Whenever I've been given captaincy, I've been running away from it," he said.
"If you're a captain in an India-Pakistan series, your life is bound to get spoilt. You're judged on every performance. It's a tough situation to be in, captaining in an India-Pakistan series."
With both Pakistan's main strike bowlers Shoaib Akhtar and Mohammad Sami struggling for full fitness, Rao Iftikhar Anjum has been included for the third Test.