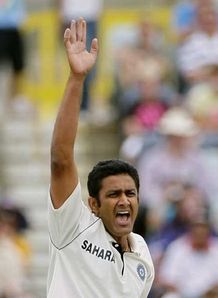 Related links
Teams
Also see
India captain Anil Kumble and Sri Lanka counterpart Mahela Jayawardene have welcomed the use of television replays during the three-Test series between the two sides, which starts on Wednesday.
In an experimental trial by the ICC, a batsman or fielding captain will be able request a review of any umpiring decision by referring it to the third official.
Each team will be allowed three unsuccessful review requests per innings and if one is successful they will get an additional appeal.
At the moment only the on-field umpires can determine if a decision needs to be passed on to TV officials.
"It will obviously be helpful for the umpires and the teams," said Kumble. "I can't really say much till it is experimented because it's something new. We're only looking at the positive things.
"It's meant for the errors that sometimes happen. We can look to negate that and not question the umpire's decision at every possibility. These kinds of referrals may matter and change the course of the game as well.
"I don't think we are saying that umpires are redundant. They are an integral part of the system. It's sometimes very difficult for the umpires in the heat of the moment and this is not taking something away from them."
Support
Jayawardene was inclined to agree, and is conscious of giving the umpires all the support he can.
"It is a very good system. What we are trying to eradicate is obvious mistakes that happen on the field," said Jayawardene.
"I think the umpires are in favour of that as well. It's going to be used for the first time so I am not sure how good it will be, but we need to support this because it will benefit cricket overall.
"We have to do it in a very respectful manner for the umpires because after all they are humans as well and they understand that sometimes they do make mistakes. We are just trying to eradicate that."
Sky Bet Odds:
Click Here for Your Free Bet