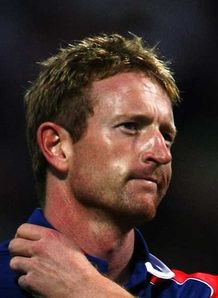 There's 11 very disappointed blokes in that dressing room.
Paul Collingwood
Quotes of the week
Related links
Teams
Players
Also see
England's players are 'devastated' by the 10-wicket defeat against New Zealand on Tuesday, said captain Paul Collingwood.
The result leaves them 2-0 down in the five-match one-day international series following two awful batting displays in Wellington and Hamilton.
And Collingwood admitted he was at a loss to explain the latest debacle, during which his side were bowled out for 158 either side of a rain delay.
New Zealand opening pair Brendon McCullum and Jesse Ryder then needed just 18.1 of the available 36 overs to knock off a revised target of 165.
Disappointing
"It was very poor, very disappointing," Collingwood told Sky Sports.
"All the blokes in the dressing room are devastated at that performance.
"We had a good start and when that rain came it really took the stuffing out of us in some ways.
"I don't know why, I wish I could pinpoint it but from that moment on really it was a very poor performance.
"When we came out after the break we didn't get ourselves in, we had another few run-outs, which was again disappointing because we didn't learn from the last game.
"It's not the standards that we like to set ourselves, and certainly with the bat, we're not getting the totals on the board to defend and obviously we've got to put the right pretty soon.
"We've got three days before the next game and we've got to work hard to do that.
"There'll certainly be plenty of talking done. What it comes down to now is what kind of characters we've got to bounce back from that kind of defeat.
"These defeats hurt a lot, and they should do. We've got to talk a lot, be honest with ourselves and see where we can improve.
"There's 11 very disappointed blokes in that dressing room."
Too aggressive
Collingwood defended the performance of his bowlers, who all took a pounding from the flowing blades of McCullum and Ryder.
"We possibly came out a bit too aggressive," he added.
"They're a young set of lads and they want to take wickets and win games for England. But they hit the ball beautifully well."
The England skipper still believes his side are capable of turning things around and winning the series. To do so they will have to win the final three game of the series starting in Auckland on Friday.
"It is a hard task," he acknowledged. "But it's do-able. The funny thing is with our game, if we play well we can play very well and you never know.
"Next game, if we come out of our blocks and get a good start, you just never know."
Sky Bet Odds:
Click Here for Your Free Bet