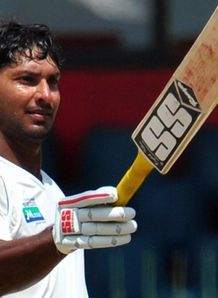 We thought about it, but losing a Test match was not something we wanted.
Kumar Sangakkara
Quotes of the week
Related links
Teams
Players
Also see
Kumar Sangakkara lamented the absence of Tillakaratne Dilshan with a broken finger after Sri Lanka were held to a draw in the third Test against Pakistan.
Sangakkara finished unbeaten on 130 as Sri Lanka batted throughout the fifth day to close on 391-4, 101 short of their victory target of 492.
Sri Lanka, who already held an unassailable 2-0 lead in the three-match series, took a defensive approach despite starting the final session on 338-4, requiring 154 runs from a possible 38 overs to complete the highest run chase in Test history.
Dilshan, the most aggressive member of Sri Lanka's middle order, was unable to bat after suffering his finger injury while keeping wicket earlier in the match.
"If Dilshan was fully fit, and if we had managed to score a few more runs after the tea interval, I think we would have gone for it," Sangakkara said.
"We thought about it, but losing a Test match was not something we wanted.
"I think the right decision was made in the end."
Sangakkara, in his first series since taking over from Mahela Jayawardene as Test captain, was nevertheless satisfied with the 2-0 series win, their first over Pakistan on home soil in six attempts.
Plan
"The plan was not to get out and not to lose too many wickets," he admitted.
"I played a good Test innings.
"Right through the series the batsmen have been in good form, but we haven't played a long Test innings like we did today.
"This performance augurs well for the future."
Sangakkara praised Angelo Mathews' performance but also said his side had missed off-spinner Muttiah Muralitharan, out due to a knee injury.
The 22-year-old Mathews made his debut in the first Test at Galle and finished the series with 191 runs at an average of 47.75.
"Angelo is really mature for someone that young," Sangakkara continued.
"I hope he keeps his focus and we will hear a lot more about him in the next 10 to 15 years.
"We missed Murali badly, but the new guys who have come in have shown a hunger for success.
"They showed a lot of character and they deserve a huge round of applause."
Slow pitch
Pakistan captain Younus Khan was disappointed with the defeat but praised Sangakkara's innings.
"They got a good start and then they had some good partnerships," Younus said.
"The pitch got slower, especially on days four and five and, at one stage today, we thought they would go for a win.
"We had a lot of half-chances, but just couldn't get better than that.
"The biggest lesson from this series was not to collapse and if you have a chance then go and get the job done."
Younus said he was hoping to do better in the five-match one-day series, starting in Dambulla on July 30.
"We have a good one-day team and we're looking forward to a good series," he added.
"A few of our batsmen have shown good form in the Tests. Hopefully they will carry the momentum forward."
Sky Bet Odds:
Click Here for Your Free Bet