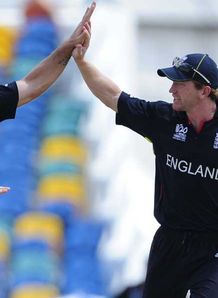 There were a couple of things that were a little sloppy towards end, we could have got the runs a little quicker, but delighted to win
Paul Collingwood
Quotes of the week
Related links
Teams
Also see
England skipper Paul Collingwood praised his side after they started their Super Eights campaign with a six-wicket win over Pakistan - but insisted there was still room for improvement.
After a sluggish start with the ball, England managed to restrict their opponents to 147 for nine on a quick track in Barbados.
Kevin Pietersen then led the way in their run chase, making an unbeaten 70 to see his team over the finishing line with three balls to spare.
Collingwood was delighted to kick off the second stage of the ICC World Twenty20 with a morale-boosting triumph over the defending champions.
Positives
"It was very good. One of the positives is that I think we can improve on that performance a little bit - but let's not get too carried away, we are delighted to get the win," he said.
"They got off to good start. One of our tactics on this wicket with a bit more pace was to bowl a bit shorter.
"It was probably more width than anything else that we gave them - they're areas we have to improve.
"But I'm delighted with the way we dragged back momentum in the middle there, we grabbed a few wickets and put them under pressure.
"There were a couple of things that were a little sloppy towards end, we could have got the runs a little quicker, but delighted to win.
"It was a great innings today by KP, he's come in and hit the ball really hard from ball one today."
Pietersen played fluently during his match-winning knock, his progress only being hampered by an ankle injury he picked up whilst playing a cover drive.
However he played down any concerns about his fitness, insisting the result helped ease the pain.
"The ankle is fine. When you win injuries you don't worry about - great win by the boys today," Pietersen said. "It's not an easy wicket, but I think our boys bowled really well on it.
"To go out there and perform on a day like today when it was crucial was great. It's two points for the boys and one more victory and maybe we can go to semi-finals."
Opportunities
England's cause was helped by a plethora of missed opportunities by Pakistan in the field - chances that their captain Shahid Afridi admitted they could not afford to waste having failed to fire with the bat.
They are now facing the prospect of having to win their final two games in the group - against New Zealand and South Africa - to reach the semi-finals.
"We missed our opportunities and you can't afford to miss opportunities," he said.
"They really played well especially KP. If we take our opportunities then there is a lot of chance to win this game.
"We are working hard but at right time I don't know why they are missing opportunities."
Sky Bet Odds:
Click Here for Your Free Bet