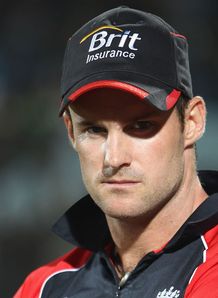 SKY BET ODDS
England are 9/1 to win the ICC World Cup after another dramatic win.
Bet now.
Related links
Teams
Players
Also see
Captain Andrew Strauss admits England will need more than just team spirit if they are to progress any further at the World Cup.
Strauss' side kept alive their hopes of making the knockout stages with a nail-biting 18-run triumph over West Indies in their final Group B fixture.
England will make the quarter-finals unless Bangladesh beat South Africa and West Indies secure at least a point against India in the final group games.
And Strauss said: "This shows the spirit of the side - it is a close-knit unit. But we have to get better, no doubt about it.
"We've been inconsistent. We haven't played as well as we would like. We have pulled out results when needed, but now we must wait on other results - hopefully we have done enough."
England's World Cup campaign has so far been marked by closely-fought, dramatic contests and Strauss admits that another exhausting effort was needed against the Windies.
"It was another very tough game to play in," he added.
Wicket
"It was a much better wicket than the game against South Africa (at this same venue), and we were probably 20 or 30 (runs) light.
"There was a lot of responsibility on the bowlers to pull us over the line. Clearly we were desperate to win and weren't going to leave anything behind.
"But we needed guys to take early wickets - Tredders (James Tredwell) did an outstanding job, getting (Chris) Gayle out in particular.
"But more than anything, I think it was the togetherness that got us through. We've been through some pretty tough times together this winter as a group - and we didn't want to be leaving this World Cup at this stage.
"I wish it wasn't as close as it was, but we're delighted to have won the game."
West Indies captain Darren Sammy admitted his disappointment after his side failed to chase down 243 at the MA Chidambaram Stadium.
He said: "I was quite happy chasing 243, although we could have restricted them for less. We should have chased down the target."
Sky Bet Odds:
Click Here for Your Free Bet