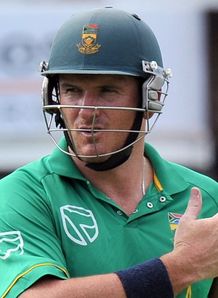 I thought he threw the game away for them at the end there...he hits the ball so sweetly.
Smith on Pathan
Quotes of the week
Related links
Teams
Also see
Graeme Smith praised India centurion Yusuf Pathan but felt he 'threw it away' as South Africa sealed a 3-2 one-day series win in Centurion.
Smith's side made 250-9 thanks to Hashim Amla's unbeaten 116 and Morne van Wyk's 56 before the bowlers then reduced the tourists to 119-8.
However, Pathan bludgeoned a whirlwind 105 from 70 to give his side hope but fell with 50 still needed and South Africa then went on to seal a 33-run win on D/L.
"I know his potential and he showed it again here today," said skipper Smith, who will stand down after the World Cup.
"I thought he threw the game away for them at the end there, though. He hits the ball so sweetly and once he gets on a roll he can clear the boundary so easily.
"I don't think we were aggressive as we wanted to be when he and Zaheer were going."
Lessons
However, Smith felt his side were well positioned to kick on at next month's World Cup.
"I think we learnt some important lessons in this series," he added. "We easily could have been 4-0 up coming into this game.
"We arrived in Port Elizabeth 2-1 down and we wanted to put in two good performances, we were the team under pressure and we needed to play well under that pressure.
"We were pretty good. We have a really good chance at the World Cup."
Strokes
Reflecting on his side's run-chase India captain Mahendra Singh Dhoni said: "It's always a difficult one. You want to take the opposition on and at times you lose wickets, like in this game.
"But at times it really works. Yusuf played his strokes, he can clear most cricket fields in the world. It came off for him today, but in the same way others tried and they got out."
And Dhoni said it was that failure by the batsmen throughout the series that cost his side dearly, with only Pathan and Virat Kohli succeeding.
"I think the whole tour was good for us, but the batting department didn't really do well for us in the ODIs.
"That was the main reason why we lost the ODI series.
"The biggest positive out of this game is when we go to the World Cup we will know that the last 10 overs, we can chase anything."
Sky Bet Odds:
Click Here for Your Free Bet