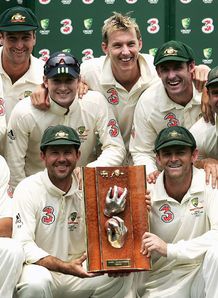 Related links
Teams
Also see
Skipper Ricky Ponting praised the smooth transition into a new era for Australian cricket after his side's series sweep of Sri Lanka.
A 96-run victory in the second match at Hobart secured Australia a 2-0 winning margin over the tourists.
It is also the 14th straight Test success for reigning world champions. They are now just two behind the record set by Steve Waugh's side in 2001.
Ponting was certainly delighted with the performance of his side in their first series since the retirement of legendary duo Glenn McGrath and Shane Warne.
Positive start
"It's been a really positive start for this new group of players," he said.
"It's been about players moving on and new guys coming in to the team and over the last couple of weeks I think we've seen how good some of the talent going around Australia is.
"Phil Jaques' start has been magnificent, while Mitchell Johnson has fitted into the team really well and a few of the old guys have stood up and done the job required as well.
"I'm looking forward to playing a lot more cricket with these guys in the upcoming years."
Ponting reserved special praise for man-of-the-match Brett Lee, believing he has benefited from playing alongside McGrath.
Now the senior seam bowler in the attack, the 31-year-old returned from a serious ankle injury with 16 wickets in the series.
Smarter
Ponting said: "The more you play the smarter you become and the more you understand what you have to do to be successful and that is where it is with Brett at the moment.
"He knows if he bowls enough balls in the right area and uses his skills - which are great pace, a great bouncer and some good outswingers with the new ball - then he will keep the batsman under pressure and give himself the best chance of taking wickets.
"That is what Glenn McGrath did over the years - he didn't do anything special, he just got the ball in the right area and took away a batsman's scoring shots and built enough pressure to force the batsman to play a bad shot."
Lee insists he is not attempting to replace McGrath, who bowed out after the Ashes whitewash over England with 563 Test scalps to his name.
"I will never try to fill Glenn's shoes - we are different bowlers and all I can do is try and lead the Australian attack as best as I possibly can," Lee said.
"I don't think my role has changed. With Stuart Clark and Mitchell Johnson I can just go about my business as per usual."
Sky Bet Odds:
Click Here for Your Free Bet