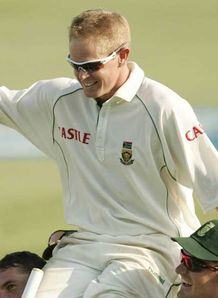 Related links
Teams
Also see
Graeme Smith paid tribute to Shaun Pollock following South Africa's victory over West Indies in Durban.
The win gave the Proteas success in the three-match series and also marked the final game for former skipper Pollock, who announced his retirement on Friday.
"He's an icon, he's up there with South Africa's greatest cricketers," Smith said after the hosts won the third Test by an innings and 100 runs on the third day.
"It's very important that people celebrate what he's given to South African cricket and what he has achieved as an individual.
"He has been unbelievably consistent. As a captain, to know what you're going to get from him on any given day is fantastic.
"We're all sad and emotional. When you win a Test series you are buoyant, but there are a few other emotions in the dressing room at the moment. He deserves to be celebrated."
Pollock took just one wicket in his final innings to take his tally to 421 in 108 Test matches, the most by a South African.
"He gave me incredible support right through my captaincy," Smith said. "You couldn't have asked for more from a senior player, and from a guy who had just lost the captaincy."
Sky Bet Odds:
Click Here for Your Free Bet