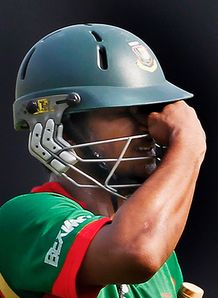 Related links
Teams
Also see
Bangladesh captain Shakib Al Hasan apologised to the nation after the co-hosts crashed out of the World Cup with a humiliating 206-run defeat against South Africa.
Another vibrant 25,000 fans packed the Sher-e-Bangla Stadium on Saturday whilst the majority of the 146 million population were glued to their TVs to watch Bangladesh's must-win clash with the Proteas.
However, the Tigers never got their claws out as South Africa first piled on 284-8 before running through the home side's batting order for just 78 to send them tumbling out of the tournament.
Mathematically they could still scrape through but it would take a uniquely massive defeat for the West Indies to get them into the quarter-finals, and Shakib could only apologise for his team's poor showing.
"Our fans deserved more," Shakib said after their defeat. "The expectations were high among our people because we had played so well over the past 12 months, but we let them down.
Sorry
"We have not played good cricket at the World Cup and I feel very sorry for our fans. They deserved much more that what we gave them.
"We have no chance of qualifying because our run-rate is so low. The way we have batted, we probably do not deserve to be in the quarter-finals."
Shakib was the only man to reach double figures as he scored 30 of their 78, and he said the pressure of the situation was too much for them to handle.
"There is no other reason for our failure than bad batting. We did not bat well throughout the tournament. We should probably have given away 20 runs less, but the match was over once we lost four wickets quickly. You can't find excuses once you are bowled out for 78.
"This was a pressure match for us. We knew we had to win. The team just could not take the pressure."
Expectations
Opposite number Graeme Smith is trying to keep expectations down after their emphatic win, made all the more impressive with it coming without Dale Steyn and Morne Morkel, who were rested.
With such a good squad many people will now fancy South Africa to go all the way, but they have failed in the past and Smith does not want to look too far ahead.
"We got to take a step at a time and with a bit of luck we shall get there (to the final)," Smith said. "We gave a few guys an extra two days to rest. It was exciting to see the new guys coming in and doing so well.
"Lopsy (Lonwabo) has been terrific for us. It was difficult to leave him out. Robbie (Peterson) has been playing really well for a while now. He is coming into his own now. The bowling unit is bowling really well."
Sky Bet Odds:
Click Here for Your Free Bet