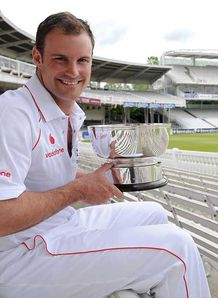 Related links
Teams
Also see
Andrew Strauss was delighted to finally enjoy the winning feeling again after England wrapped up a 10-wicket win over the West Indies.
England had not won a Test since August last year but finally came good in the opener of the two-Test series at Lord's.
Strauss told Sky Sports: "It was a tough winter and we felt like we played some good cricket but struggled to get over the line.
"It was important to get over the line here. We played the type of cricket we need to play in the summer and guys stood up when we needed them to, you saw Ravi Bopara when he was limping around in the first innings and that was a fantastic knock.
"There are still areas to work on but I'm delighted to come away with a win."
However with a little over two months to go until the start of the Ashes series, Strauss knows a single victory over West Indies will not be enough to convince anyone on its own.
Hard work
"When you go into a match you've got to win it and that's what we did well this week," he said. "But we've still got a lot of hard work to do and we're not going to get carried away."
Windies captain Chris Gayle believes his side had only themselves to blame after some poor fielding was followed by a batting collapse in the first innings.
"Give credit to England and Straussy, his team put on some good cricket all round, but we've only ourselves to blame," he said. "In that session after tea we dropped too many catches and that set us back a lot and it went from there.
"I thought we could utilise the conditions early and things were going our way but it was in that session where we crumbled. Credit to Fidel Edwards, he put us in a good position with the other bowlers, but we are lacking in the catching department."
Sky Bet Odds:
Click Here for Your Free Bet