The magnificent men
The Ashes Panel pay tribute to sky-high England and back the Ashes winners to fly further up the rankings.
Last Updated: 09/07/13 2:32pm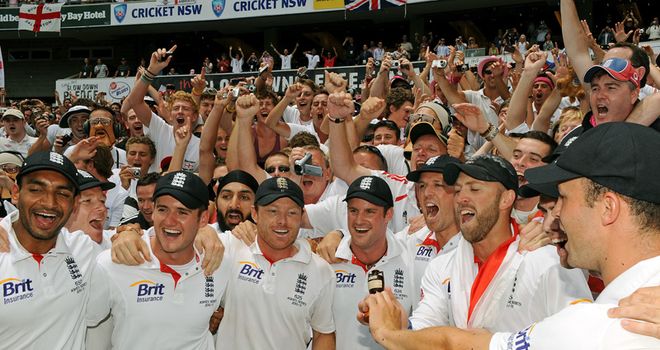 "The perfect finish to a perfect Ashes series."
So said David Gower after England romped to victory in Sydney to wrap up an emphatic 3-1 victory and beat Australia on their own patch for the first time since 1986/87.
Sky Sports' commentators David Gower, Sir Ian Botham, Michael Atherton, Nasser Hussain and David 'Bumble' Lloyd took a brief break from English celebrations to share their thoughts on a memorable series.
Beefy began by summing up England's epic achievement...
Beefy: It's been magnificent - it's 24 years since this last happened on Australian soil and I know exactly how the boys will be feeling and they deserve it because they've worked hard and tried to win every single game.
The only hiccup came in Perth but I think all of us felt they would bounce back from that and they have done in style; they've out-played and out-classed Australia. I believe that this side will go on from here and will eventually become No 1 in the world.
David: It was a stunning performance. Every department seemed to work at crucial times in the series.
Athers: The bedrock of the success was the batting. England scored nine hundreds to Australia's three and many of them were big hundreds - there were four individual scores of over 150. That meant that as a team they got past 500 twice and 600 on another two occasions and that gave their four-man attack a lot of respite and a lot of runs to play with.
Jimmy Anderson, the leader of the attack, took five wickets at 80 here last time and in the build-up to the series everybody was asking 'could he do it in Australian conditions, could he do it with the Kookaburra ball'? Well, he led the attack superbly and was backed up not just by the lads who started at Brisbane - Stuart Broad and Steven Finn - but also those who came in, like Tim Bresnan and Chris Tremlett.
David: Anderson (24 wickets) is very much at the top of the wicket-taking list, with Chris Tremlett (17) next - that's an extraordinary performance for someone who missed the first two games of the series before coming in at Perth on a good pitch at the WACA.
Swann (15) was predicted to do wonderful things here. He hasn't quite got the wickets that he was hoping to, but he has played a very important role.
Bumble: They all have. Tremlett has been an absolute sensation, while Anderson - who the Australians said he was weak the last time he was here - has led the attack superbly. Swann has played his part and done his job; no-body has really clattered him. Steven Finn (14), who played in the first three matches, has done wonderfully well.
It's been an exceptional performance from all these bowlers; they've been a strong unit. Let's be fair, this has been an absolute seeing-to for Australia - they are in shock.
David: If you read the papers this morning - and heaven knows what they will be like tomorrow - you will have seen Australia described as the worst side ever. I know newspapers especially in this part of the world and in these circumstances can go over the top, but that was a bit unwarranted, wasn't it?
Nass: It was a bit unwarranted and not what the Australian side wanted to see; it probably does not give England enough credit for what they've achieved either. While Australia are not the side they use to be, the reason they have been so bad is that England have not allowed them to play.
In contrast, Australia have always come up with a loose delivery, someone like Mitchell Johnson who will bowl you a four-ball; there has never been a high-quality spinner to give either Ricky Ponting or Michael Clarke any control whereas England have bowled as a unit and there has been no let up in the pressure.
In our day if you got wickets you were fine but with this set up it's not good enough if you are going for a few too many runs or are looking a little bit tired - just ask Steven Finn. They will try to improve on that and that's why Tim Bresnan came in. For me, though, the find was Tremlett; we thought he was good, but I don't think any of us thought he was that good. He's put in a really special performance.
David: Here at Sydney England's three-man attack swung the ball for almost all the way through the game; reverse swing is the key here. Beefy - are you surprised at how well they've used the old ball?
Beefy: Not at all and that's the big advantage they've had because they can keep pressure on other sides throughout the whole innings - there are no periods when you are waiting for the new ball, plus you've got Swann at one end giving you control. Bowling reverse swing is an art and these England boys have all got it - as have the guys who didn't play, so look out, because they all want to have a bite of the cherry.
Australia certainly couldn't pick Jimmy Anderson. The other evening Michael Clarke didn't know which way it was going and he nicked out in the end.
Athers: That reflects on England's attention to detail - picking the right people to look after the ball. They found that Cook and Collingwood don't sweat so they are the ones who grab hold of the ball because they don't want sweaty palms on it. As a result, England's ball was in a far better state to get swing than Australia's. You can then take that attention to detail further and look at the run outs; remember Jonathan Trott diving full length at Melbourne when he might have been run out and compare that with Phil Hughes, say, who didn't dive. These are little things that when added together make a big difference.
David: Let's look at the batting: Alastair Cook has had the most fabulous series with 766 runs; Jonathan Trott (445) and Kevin Pietersen (360) are up there too, split by Mike Hussey (570) and Shane Watson (435).
Bumble: It's been a run-fest for Cook and let's not forget that it's not very long ago that we were picking holes in his technique. Not now, because he's a complete player; he's got the temperament, confidence and stamina. He looks a complete opening batsman - something Australia didn't have - and he's thoroughly enjoying what he's doing.
David: You can see the confidence in his batting now and this enormous hunger to keep going too.
Bumble: This isn't a 33-year-old in his prime, this is a 26-year-old who is going to get better and better. He's formed a great partnership with Strauss at the top of the order and there's no comparison between England and Australia in the running between the wickets.
David: Talking about opening batsmen, we shouldn't forget Strauss' part. Remember that first Test in Brisbane when he was on a pair but went on to lead the resurgence; he deserves plenty of credit for that.
Athers: That was the smallest of England's hundreds but one of the most important because he gave off a real air of optimism and leadership. He played as if he thought Australia had no threat and that transmitted through to his players.
David: I know others made bigger scores at Sydney, but his innings at the start - 60 at a run-a-ball - sent a very similar message.
Nass: Number three has been a position that England have struggled with, especially in the 1990s, but now I think they have two No 3s available in Ian Bell and Jonathan Trott, who has been outstanding. He comes out, stays calm and even with all of his idiosyncrasies you forget about him - I think that's the biggest compliment we can give him. He just bats time and the situation and keeps Pietersen away from the new ball. Compare that to the Australian No 3, whether that be Ricky Ponting or Usman Khawaja, and England win hands down.
David: Ponting is one of the greats of all time - one of Australia's super-heroes in the art of batting - while Michael Clarke has a very good record against England but the two of them have been nullified in the series.
Nass: They've been exposed because one of the opener keeps getting out early. Ponting has come in early, under pressure and looked fidgety, going at the ball; he looks a little bit past his sell-by-date but that's still pretty good, though. Athers made a good point earlier when he said England have a lot of players at the right age going in the right direction whereas Australia either have young lads who we've never seen before - like Khuwaja, Doherty or Beer - or old ones like Ponting who are on their way out. The only one in the middle ground was Clarke, and he had a terrible series.

David: Pietersen looked back to his best in Adelaide, where he scored that double-hundred.
Beefy: By his standards he'll be a little disappointed he didn't get more big scores. He would have fancied it over here - he would have wanted another 200 runs in this series, I would have thought, at least and one more century.
Bumble: He still has a presence whether he's getting a shed-full or not; the presence of Pietersen is a threat.
David: Bell has to come up the order now; England didn't want to do it during the series because they had dear old Colly, who has now bowed out of Test cricket, stuck at five. Unfortunately for him he didn't produce the runs that he and the team wanted.
Beefy: I'm actually quite happy with Bell going up just one spot to five because I wouldn't want to move Jonathan Trott, who protects the rest of the order.
Nass: Just a word about Colly's retirement because it was a sad day today. I thought Colly handled himself very well; the interviews he has given to Athers and myself have been of a high-class person, which is exactly what he is. A lot of the discipline in this England side comes from certain individuals behind the scenes - Collingwood is one of those.
Beefy: There is one more person we should mention and that's Matt Prior, because he's been exceptional throughout this series; he keeps everyone going and has taken 23 catches, whereas Brad Haddin has had eight, which tells you all you need to know about the differences between the bowling attacks.
The final verdict