McCullum backs new skipper
Brendon McCullum has vowed to fully support new Black Caps skipper Ross Taylor despite being snubbed for the role.
Last Updated: 22/06/11 4:12pm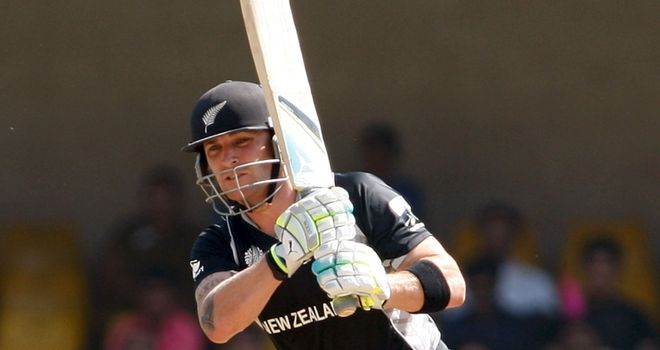 Brendon McCullum has vowed to give his full backing to new Black Caps skipper Ross Taylor despite being snubbed for the role.
Taylor was appointed this week to lead New Zealand in all forms of the sport after a lengthy process to find a successor to Daniel Vettori.
Vettori resigned the Test captaincy earlier this year and will no longer play ODI and Twenty20 internationals.
New Zealand Cricket came under fierce criticism for what some felt was an excessive delay in naming the new captain.
And the length of time taken to reach a decision only served to intensify speculation surrounding the rivalry between Taylor, who has played 30 Tests and 107 limited-overs internationals, and the more experienced McCullum.
Differences
But McCullum, a veteran of 57 Tests and 192 ODIs, moved quickly to dismiss the rumours after he was overlooked for the position.
The wicketkeeper-batsman admitted he was disappointed to miss out on the captaincy but insisted the pair remained good enough friends to overcome any differences.
"Obviously I was disappointed to miss out on something that I desperately wanted.
"But ultimately you've got to move on and I do wish Ross all the best and I definitely support him along that journey," McCullum told Auckland based Radio Sport.
"I had my opportunity to present my case and to show what I thought was the way forward for New Zealand Cricket.
Disappointment
"Ultimately they decided to go another route and you can't argue with that."
Black Caps coach John Wright remains hopeful that McCullum will accept the vice-captaincy under Taylor after the 29-year-old said he wanted to continue playing international cricket for five or six more years.
"Inside the first 24 hours when you suffer that disappointment you go through a range of different emotions and different thoughts," McCullum continued.
"It took me about 24 hours for everything to come clear and that I have a huge opportunity to contribute to this team. It is still for me about playing for my country. It always has been.
"There may be a misconception out there that I'm not like that but I'm incredibly passionate about playing for my country and that will never change."