Kieswetter glad to be back
Recalled England wicketkeeper Craig Kieswetter says he is well equipped to make a success of his second crack at international cricket.
Last Updated: 23/06/11 6:56pm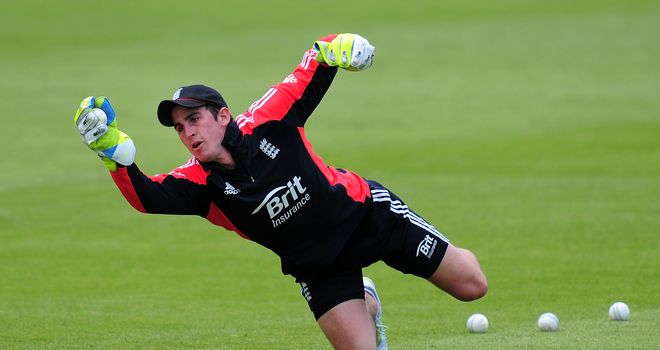 Craig Kieswetter is relishing his second crack at international cricket and feels he is better equipped to succeed this time after being recalled to the England squad for the limited-overs matches against Sri Lanka.
Kieswetter previously went from hero to zero status with England in the space of six months.
The Somerset wicketkeeper-batsman scored a century in only his third ODI appearance against Bangladesh in February 2010.
Kieswetter followed that up with a man-of-the-match performance in the final with 63 against Australia as England won the ICC World Twenty20 final three months later.
Plummeted
But he quickly plummeted from those heights, scoring only 121 runs in eight ODI innings against Australia and Bangladesh last summer and being dropped.
And two Twenty20 appearances against Pakistan in September at Cardiff - when he scored just six and 16 - were only a temporary reprieve.
Kieswetter learnt from those setbacks, working with batting coach Graham Thorpe and wicketkeeping coach Bruce French, when on England Lions duty last winter.
Now he is back in the picture to face the Sri Lankans when he will also be behind the stumps.
"I'm chuffed to bits to be back in the set-up after a bit of time out. It's the first day today and I'm really excited," he said.
"It was great to win the Twenty20 final but my performances against Australia and then Bangladesh at home didn't warrant me being in the side.
"In international cricket, if you don't perform, you get dropped. That is what happened to me.
"It was massively disappointing. I think once you get a taste of international cricket, to be dropped is a hard pill to swallow.
"But I think I've bounced back quite nicely. The winter has been good and it is great to be back in fold."
Kieswetter has tightened up his game but without dispensing with the attacking skills that will be required in the shorter versions of the game.
He added: "I worked really hard with Graham Thorpe and Bruce French on the Lions trip and I'm really happy to be back.
Weaknesses
"There have been a few things, a few technical issues and mental things I've worked on my batting with Thorpey and then with Frenchy on the wicketkeeping side.
"I am definitely seeing the positives from those sessions.
"With Thorpey, it was mainly about trying to work on four-day batting and trying to set good habits and good routines into my batting and they've fed through into the one-day stuff.
"I've been a bit more solid in defence because I know I've got the attacking game.
"Look, I'm not going to change myself too much. I'm going to continue to be attacking. That's my role, my natural game but I'm a lot more tighter, a lot more controlled with the way I play."