Gayle breaks silence
Chris Gayle has broken his silence on his falling-out with the West Indies cricket board.
Last Updated: 02/07/11 10:42am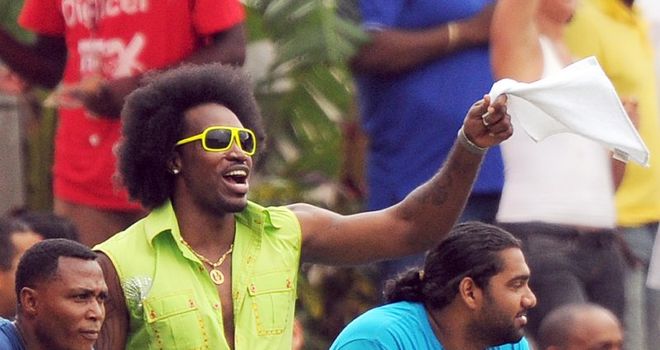 Chris Gayle insists he will not allow his career to come to a standstill while he remains frozen out by the West Indies Cricket Board.
The opening batsman has been dropped from the West Indies team for recent series amid claims of a strained relationship with WICB chief executive Ernest Hilaire.
The WICB were reportedly unhappy with a radio interview given by Gayle earlier this year, and his decision to play in the IPL at the expense of representing his country in a home series against Pakistan.
WICB directors recently met to discuss Gayle's future, although the player claims he has been left in the dark over what came of those talks.
In a strongly-worded media statement, Gayle hit out at the WICB's actions and insisted he remains committed to playing for the national side. He also dismissed talk that the ongoing dispute could lead to his retirement from international cricket.
Enough
"I have now reached the stage where I have to say that enough is enough," Gayle said.
"I understand that the WICB and the Jamaica Board met and my matter was discussed but nobody has told me anything and I can only assume without any positive feedback there has been no resolution.
"There is a disciplinary process in West Indies cricket. Yet the board is allowed to be the complainant as well as policeman, judge, jury and executioner in my case.
"My eyes are open, my heart is clean, my conscience is clear and the voice of reason is loud in my ears telling me that I should close this chapter in my life.
"I am not going to be the WICB's whipping boy.
"It is against this background that I have now decided not to wait on the WICB any longer but while I still have the time and the skills to explore the opportunities available to me elsewhere. I do it reluctantly but have no choice.
"I have people to take care of and cannot sit for months waiting on WICB CEO Ernest Hilaire and the board.
"Despite all that has happened I am still hopeful that good sense will prevail and I would once again represent my country and my region in near the future.
"I wish to make it abundantly clear that I have not yet retired from any form of the game and remain available for selection for both Jamaica and West Indies. However, this is entirely out of my hands."