Dravid avoids limelight
Rahul Dravid is now the second highest run scorer in Test history but still happy to leave the limelight to Sachin Tendulkar.
Last Updated: 23/07/11 9:34pm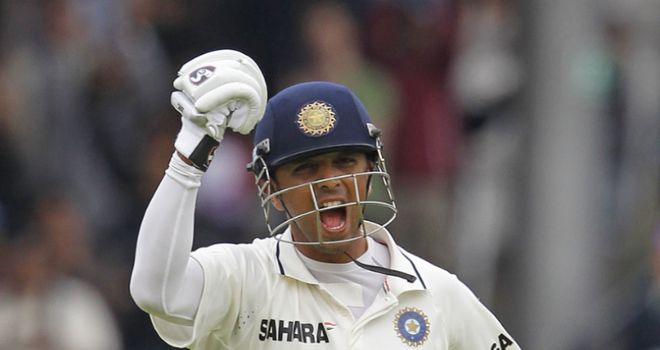 Rahul Dravid became the second highest run scorer in the history of Test cricket on Saturday but was still happy to leave the limelight to India team-mate Sachin Tendulkar.
Dravid hit a fine unbeaten 103 to fend off a rampant England on day three of the 2,000th Test and series opener at Lord's.
That was enough to take him past Ricky Ponting and on to 12,417 runs on the all-time batting list.
However, Dravid's moment was fleeting as Tendulkar, who has over 2,000 more Test runs and is seeking an unprecedented 100th international ton, then came to the crease.
He managed only 34, but Dravid was happy enough to avoid the pre-match hype.
"The talk is always about Sachin and rightly so," he said.
"He is a true legend of the game. To be on 99 hundreds...it was set up for him.
"It suits me, I suppose. I can slip by quietly, do my job and get on with business.
Longevity
"It's not really about about numbers for me but the longevity, for me to be playing after 15 years and making contributions, still being able to play the kind of knocks I want to for India makes me feel good.
"And it feels good to have my name on the honours board, which is the one most talked about by players around the world."
Now that Dravid can look forward to seeing his name go on the famous Lord's honours board for the first time, he is also hopeful that his long-time team-mate can join him in the second innings.
"He still has another innings and I think it will be an important innings," Dravid added.
"He was batting well today so I think there is a big knock from him in coming up in the second innings."