Mukund predicts India response
Abhinav Mukund is confident India will bounce back at Trent Bridge - with or without injury doubt Zaheer Khan.
Last Updated: 27/07/11 4:44pm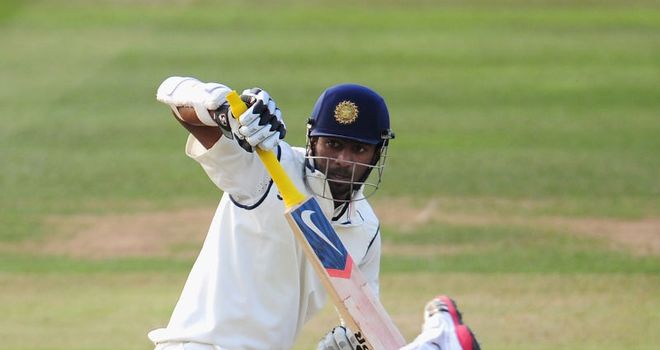 India are still hoping Zaheer Khan may be fit again in time for the second npower Test - but are confident they will be a match for England, with or without their left-armer.
Zaheer undertook only a light jog around Trent Bridge on Wednesday morning, while his team-mates held a full practice session, as he tries to recover from the hamstring strain which stopped him bowling in the second innings of the tourists' opening defeat at Lord's.
A team spokesman conveyed that Zaheer's condition is "improving considerably" and a decision on his fitness for Friday will be made on Thursday evening.
But young opening batsman Abhinav Mukund is confident in any case that India have the resources to cover if Zaheer is absent.
"He's been our strike bowler for a long time," said Mukund.
"But Ishant (Sharma) has been doing really well - he was the man of the series in the West Indies - and Praveen Kumar has taken five wickets (at Lord's).
"(Shantha) Sreesanth is waiting in the wings as well, so it's not that we have a depleted attack.
"It's just that when you lose a fast bowler during a game it's a completely different scenario."
Big boots
Mukund himself has been asked to open in place of Virender Sehwag, while India's master blaster continues his recovery from shoulder surgery, and the 21-year-old left-hander responded at Lord's with scores of 49 and 12 in only his fourth Test.
"If you're looking at me to replace a person like Virender Sehwag, he's one of the greatest ever India openers - so they are going to be big boots to fill," he said.
"What I want to do is play my own game. I don't want to replace Sehwag or play like he does, because it's not possible.
"I just want to go out and play how I know. If it comes off it will help the team."
Mukund impressed some sound judges at HQ, but knows more is required - of him and his team-mates.
"I was very disappointed I couldn't carry on and make a big score," he said.
"But I was batting well, and am looking to take that confidence into this next Test.
"We were all disappointed. But there are a lot of good things we can take from that match, and move on.
"Being the world number one, the India team has conquered a lot of challenges on the way here.
"We've come here to take up this challenge, and will definitely give it a good fight."