Nixon targets winning end
Paul Nixon is hoping to end his playing career in a blaze of glory with Friends Life t20 success at Leicestershire.
Last Updated: 05/08/11 11:33am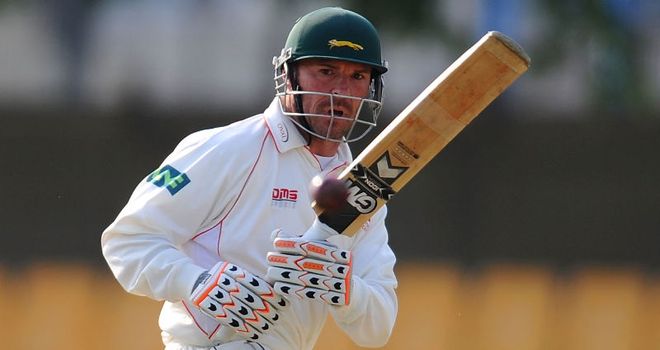 Veteran wicketkeeper Paul Nixon is hoping to end his distinguished playing career in a blaze of glory with another Friends Life t20 triumph at Leicestershire.
The 40-year-old will play his final game at Grace Road when the Foxes take on Kent in the quarter-finals of the 20-over competition live on Sky Sports on Saturday.
Nixon has lifted the title twice with Leicestershire during a professional career spanning 24-years and victory over the Spitfires would secure a trip to Finals Day at Edgbaston at the end of August.
As he prepares for life after cricket, Nixon told Sky Sports News HD: "I feel great until I look at a Tweet and an amazing message someone sends me and then I get quite emotional.
"24 years is a long time. I love what I do and I'm passionate. We've got to win at the weekend, Kent beat us in the last Championship game down at Tunbridge Wells so we deserve to have one over on them - this is our time now."
Emotion
Nixon made his first-class debut in 1989 and has scored over 22,000 runs in all forms of the game and claimed over 500 victims behind the stumps.
He was rewarded for consistent one-day performances with an England call-up at the age of 36, where he helped thrash Australia 5-0 and competed in the 2007 World Cup.
"I think any sportsman that shows his emotion, the English public really take to," he said. "Look at Ian Botham, Gazza or Daley Thompson, whoever shows their emotion people love.
"I think I've always showed my emotion and the British public like the story of an old journeyman finally getting his go."
Nixon lifted the Twenty20 Cup in 2004 & '06 with Leicestershire as well as claiming two County Championship wins in the 1990s.
Speaking on his greatest achievements in the game, Nixon said: "I think winning the Championship here in 1996 for the first time under James Whitaker with Jack Birkenshaw. I remember doing the conga with the spectators and players round the ground which was quite funny in the dark. Very special memories.
"Winning the Championship is the true test, Twenty20 Finals day is great, but winning the Championship at home and the way we did in 1996 - batting once on 10 occasions - was phenomenal."
Nixon plans to coach cricket and pursue a career in media after his final game for the club.