Zaheer suffers injury KO
Zaheer Khan has been ruled out of the remainder of the tour against England, with RP Singh called up as his replacement.
Last Updated: 08/08/11 7:58am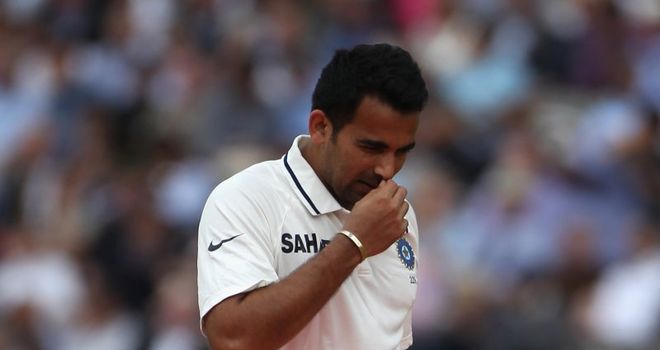 India's injury woes have continued with the news that key pace bowler Zaheer Khan has been ruled out of the remainder of the tour against England due to an ankle injury.
The left-arm seamer originally picked up a hamstring injury during the first Test at Lord's, but the BCCI has now confirmed that a right ankle problem requires surgery and he will immediately return home.
RP Singh replaces fellow left-armer Zaheer in the Test squad as the injury-hit Indians look to save the series with victory in the third Test at Edgbaston, starting on Wednesday.
The writing was on the wall for 32-year-old Zaheer when he bowled just three expensive overs during India's tour match with Northamptonshire on Saturday.
Recover
And he will now undergo rehabilitation on the ankle complaint which is expected to take between 14-16 weeks.
India, as well as losing the opening two Tests against England, have lost three players from their original squad after all-rounders Harbhajan Singh and Yuvraj Singh sustained stomach and finger injuries respectively at Trent Bridge.
A statement from the Board of Control for Cricket in India read: "Zaheer Khan is suffering from a recurrent right hamstring strain and a right ankle impingement.
"He will require a surgery for his ankle, followed by intensive rehabilitation for both the ankle and hamstring. He will need at least 14-16 weeks to recover completely.
"He will therefore not be able to participate in the ongoing Test series and subsequent T20 International and ODI series against England."
Singh, 25, last played a Test match in April 2008 and an ODI in September 2009.