Strauss wary of India backlash
England skipper Andrew Strauss remains wary of a series comeback from India despite being 2-0 ahead with two matches to play.
Last Updated: 09/08/11 5:38pm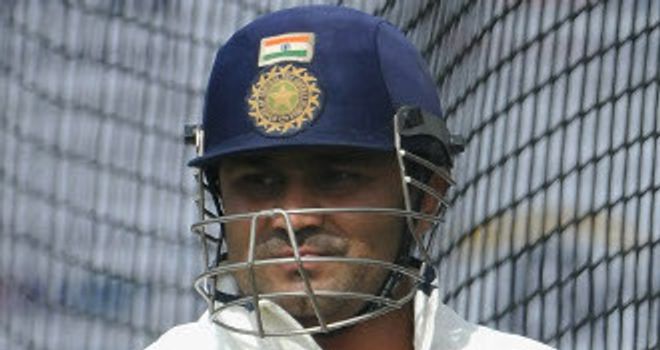 Andrew Strauss' England may be on the verge of history as the first from this country to top the world Test rankings - but they remain wary of an npower series comeback from India.
Strauss is conscious of the powerhouse talents which have propelled India already to number one in the International Cricket Council's tables - and does not expect them to go quietly.
England, however, will approach the third Test with confidence high following back-to-back victories at Lord's and Trent Bridge - and in the knowledge that one more in Birmingham will not only seal the series one match early but deliver the margin of success which will knock India off their perch.
While England have been hit by injuries to Jonathan Trott and Chris Tremlett here - Ravi Bopara replaced the former in their squad at the weekend and the Surrey fast bowler was ruled out only because of back trouble - India have endured many more problems so far on this tour.
Discounting the public disorder which has put all in Birmingham on edge and even caused some doubt as to whether the match might even go ahead on Wednesday, India have been beset by a string of injuries to key players and a spate of poor form for their captain Mahendra Singh Dhoni.
Vulnerable
Asked whether he senses the tourists may still be vulnerable, Strauss said: "We hope so. But when those sort of things happen on a tour, it can act as a galvanising effect - and India are a very strong side.
"They have shown that over the past two years - and even in the two Tests we have played, there have been moments when we have really had our backs to the wall.
"We're not expecting anything different in this match.
"We're going to have to work very hard and hope to earn the right to get on top of them. We're not approaching this Test match any differently."
Both teams have been at pains to insist they will not be distracted from the nuts and bolts of the next Test by the battle for world-beating status.
"That number one ranking comes as a consequence of playing good cricket - so all we've got to concentrate on is playing good cricket," added Strauss.
"Rankings are not at the forefront of our mind - what is at the forefront of our mind is starting this Test match well and hoping to get into a position to win it later in the week."
India, for whom Virender Sehwag is a potential saviour with his destructive opening batting on his belated return after shoulder surgery, are - by their captain's own admission - involved in one of their toughest ever assignments away from home.
"With the injuries, the fitness and the form, we have had quite a few things to worry about - so we can say it's among the most difficult tours," he said.
"It's difficult to exactly recall how you were feeling when you were in New Zealand, West Indies South Africa, Australia - but this is among the toughest. That's what you expect when you play at the top level."
India's immediate prospects are better, in terms of player availability, although it is thought left-arm seamer RP Singh - a replacement for the injured Zaheer Khan - may arrive too late, following visa arrangements, to play.
Preparation
England must ensure they have plans in place to try to shift Sehwag early, because he is not a player who will be easily contained if he stays in. Sehwag has had only one innings - he made only eight at Northampton last week - since the Indian Premier League.
Strauss said: "I've got no idea what his preparation has been like.
"But we know the quality of the player - that speaks for itself."
A pitch which looked alarmingly green today will presumably be less so after another cut and roll - but Strauss nonetheless appears to be anticipating an examination of batting techniques.
"They have got a lot of good batsmen in their ranks, but we back our bowling attack against anyone - especially in these sort of conditions.
"It is going to be a test for him, as it is for all the England batsmen."
Sehwag has been troubled by a hearing problem in recent weeks.
But Dhoni does not expect that to inconvenience him in the middle, and is naturally hoping Sehwag can make a big difference for the tourists.
"If he nicks one and doesn't walk it may be different," he joked. "But apart from that, I think he's quite good.
"He's practising every day, and I can see no good reason why he shouldn't play.
"He's a very dynamic player, who backs his instinct to play shots - irrespective of which bowler he is facing.
"He believes more in looking at the ball and just giving it the treatment it deserves.
"We all know an aggressive opener can have a very big impact on the opposition bowling attack - so he's a very good player to have in the side."