Stevens likes look of Stokes
Darren Stevens has compared England new boy Ben Stokes to Kevin Pietersen.
Last Updated: 06/09/11 1:16pm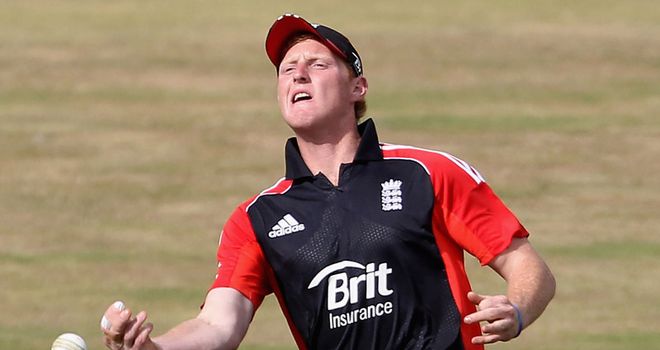 Evergreen Kent all-rounder Darren Stevens has compared England new boy Ben Stokes to Kevin Pietersen and backed the Durham man to light up the international arena.
Stokes, 20, is currently part of England's squad for the one-day international series against India in place of Pietersen, who has been rested for the five matches.
Having made his international debut against Ireland a couple of weeks ago, the all-rounder was included on his home ground in Saturday's series opener at the Riverside.
He was denied the chance to impress that day as rain forced the encounter to be abandoned, but 35-year-old Stevens is confident Stokes will shine in international cricket.
Bully
"I think he is a fabulous player," said Stevens. "He reminds me of a young Pietersen.
"KP was a bully and Stokes is similar; he is a big lad and he has an aura when he stands there.
"He stands there and hits the ball so hard for a young lad. For his sake, I hope he can stay fit because he is a sensational player."
Stokes is carrying a finger injury at the moment, which means he will be unable to bowl for the remainder of the season.
However, in the coming years, England will be hoping to benefit from the other string to the youngster's impressive bow, which Stevens believes takes Stokes to the next level.
"Having the bowling will definitely help him," he added. "My batting has really struggled over the last few weeks in the Championship and my bowling has been keeping me going.
"For him, if he can stay fit and get his bowling going, it just gives him that extra string to his banjo."
Optimism
Stokes is just one of several young players giving England's selection panel cause for optimism at the moment, with James Taylor, Jos Buttler and Alex Hales three more of many names who look to have bright futures.
But there is another player, Adam Ball - Stevens' team-mate at Kent - who has impressed the veteran.
Ball, a fellow all-rounder, is currently captain of the England Under-19 side and Stevens believes his hard-working ethos can see him join the long line of impressive youngsters.
"On determination and spirit and everything that he puts in, Adam can go as far as he wants to," he added.
"He just needs to put his mind to doing one of his disciplines better than the other.
"He needs to either work really hard on his batting or work even harder on his bowling because I think he is a fabulous prospect.
"He is 50/50 with both at the moment and I think he needs to work more on one."