Kieswetter happy with role
Craig Kieswetter knows he is bound to be a 'hit-and-miss' weapon for England at the top of the order.
Last Updated: 10/09/11 10:11pm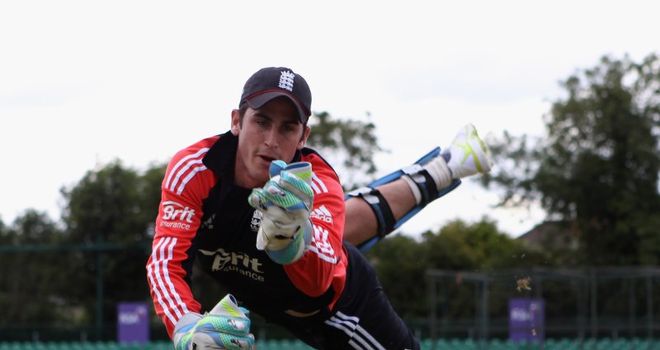 Craig Kieswetter knows he is bound to be a 'hit-and-miss' weapon for England at the top of the order.
The nature of Kieswetter's aggressive limited-overs brief means that, more than most, he has signed up to an agreement that he will often have to play fast and loose with his wicket.
Three half-centuries in nine attempts since his return to England colours this summer - including the one rattled up in only 41 balls at the Oval on Friday, to give England breathing space in an awkward run chase against India - is a handy ratio then.
Kieswetter also put England on the way to victory at the Rose Bowl on Tuesday, and can point to a degree of consistency to go with his career strike rate in excess of 91 runs per hundred balls.
"There will always be work, and the type of role I have to play will come off sometimes - and sometimes it won't," he said.
Thick skin
"I guess I will have to have a thick skin, but what is most important for me is to do my role and give the team my best."
Kieswetter's statistics are beginning to point to a quick-fix productivity that has appeared to prove beyond several others, including England's admirable Test wicketkeeper-batsman Matt Prior.
As he and England bid to wrap up the NatWest Series at Lord's on Sunday - they are already 2-0 up with two to play - he will be out to cash in again while the going is so good.
"It is always good to get scores back to back - you get a lot of momentum and a lot of confidence from that.
"So at Lord's ... try again."
Kieswetter is gearing himself up for a late-night dash back to London next Friday, for his second Lord's appearance in under a week.
Somerset take on Surrey in the CB40 final next weekend - barely 12 hours after England are due to complete their NatWest Series campaign in Cardiff.
"(I'll have to) get a helicopter or a private plane!" Kieswetter joked.
"I might get hold of Caddy [former Somerset and England bowler Andrew Caddick] - he has got some helicopters!"
Kieswetter said he was thankful to England for making him available to his county.
"It was up to England, Somerset and myself. I was always going to want to play, and England have been very giving in allowing me to do that," he said.
He will be hoping to renew his association with Marcus Trescothick, a batsman lost to England but who continues to plunder county runs and who has been a huge help to Kieswetter.
"He has been one of the greatest opening batsmen for England - the way that he gives his information to everyone else is in a mature, responsible way which allows players to develop.
"Tres is Tres, and he will never be one to push or force information down my throat or anyone else's - he lets players develop by themselves but he always there to help."
Advice
When Kieswetter needed help and advice after falling out of the England reckoning, Trescothick was among those who obliged.
However, he acknowledged that there was some important re-evaluation and soul-searching too.
"I have been through the mill - on the wrong side of it - as well, so I understand what happens when you go through poor runs," Kieswetter added.
"I guess it is more of a learning curve for the individual - you have got to look at your own game and where you are going, where you want to go and what you want - and you have to make changes according to that.
"I got my hunger back and my drive to score the runs, and the hard effort I have been putting in has been paying off. But it is still about working hard and trying to develop, trying to get better and trying to find that per cent to make me better than the next person.
"That is what I think international sport is about."