Bittersweet day for Bopara
Ravi Bopara was left with mixed feelings after his knock of 96 made sure England would win the NatWest Series.
Last Updated: 11/09/11 9:43pm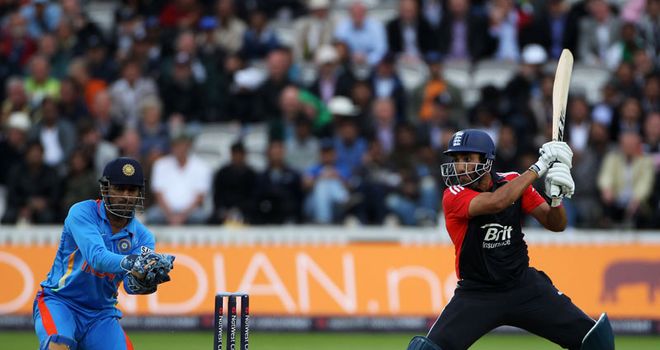 Ravi Bopara was left with mixed feelings after his career-best knock of 96 made sure England would win the NatWest Series.
The Essex right-hander eclipsed his previous one-day international best of 60 in the fourth match of the series at Lord's, though it was not quite a match-winning effort.
Bopara holed out looking for a maximum to take him through to three figures in a thrilling finish that was ruined by heavy rain.
His dismissal proved to be the final action of the game and meant England had slipped back to level par on Duckworth-Lewis. With no further play possible, the game finished as a tie.
Extremely disappointing
"It's extremely disappointing that we didn't end up winning," Bopara said.
"I never quite knew when to accelerate, with the weather and big black clouds lurking round the back there.
"Then when you lose a wicket the D/L goes up - but nevertheless we won the series."
"I knew (the D/L score) over by over, not ball by ball.
"Looking at pieces of paper gets too confusing, so I rather go by overs.
"But after Swanny got out, I wasn't thinking of just knocking it about - in case we left too much for ourselves - so I took on the shot, and it didn't come off.
"The fielder looked very casual at one stage, and I thought 'Well, it's gone over him then'.
"But he just back-tracked, and when it was about 15 yards away from him I knew he's going to get a hand to this - so let's hope he puts it down.
"I saw on the board what we needed at the end of the over, Duckworth-Lewis-wise. But once Swanny got out I was just thinking one thing - 'let's finish the game off, just get on with it'."
While he was unable to see the team over the line, Bopara could at least console himself with the fact that England now hold a 2-0 lead in the series with only one game left to play.
"I'm just down that I didn't finish the game," he added. "I want to win games for England, not tie games for England.
"It didn't happen today. But the bigger picture is we've clinched the series - and that's more important."
Skipper Alastair Cook will now get to enjoy a second successive series win since taking over as captain after England beat World Cup runners-up Sri Lanka earlier this summer.
"I'm delighted. We have played two very good sides this summer," Cook told Sky Sports.
"To win the two series in fantastic. It is all about winning no matter how you get there.
"It's also been impressive to see the strength of character to get over the line in these games."
Broad injury
Cook also revealed England would know the extent of Stuart Broad's triceps injury in the next 48 hours.
Broad was unable to finish the final over of India's innings after pulling up with the injury, which could rule him out from skippering England in next week's two Twenty20 internationals against West Indies.
"He went for a scan on his triceps," England's one-day captain added. "It is such early days so we are not sure (the extent of the injury). We have our fingers crossed for him.
"We'll know in the next 48 hours."
India counterpart Mahendra Singh Dhoni was philosophical after his side were narrowly denied a first win over England on tour.
"I won't really get down about it," he said. "That would have been our first win of the series. We have not really won anything.
"Things have not been on our side. It has been a tough series for us, nothing has gone our way but we take it with an open heart.
"We will give it our best shot (in Cardiff)."