Moore eyes more
Stephen Moore is looking on Lancashire to build on their LV= County Championship win and claim more trophies next term.
Last Updated: 16/09/11 4:22pm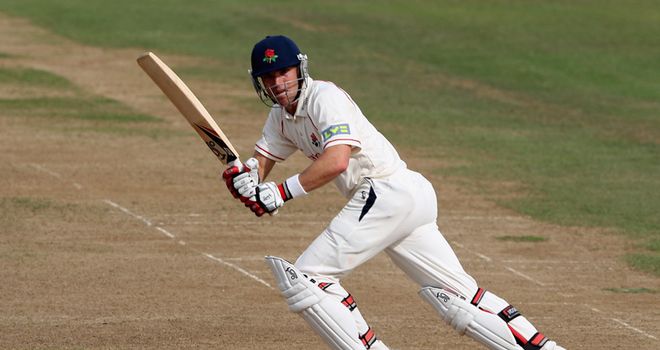 Stephen Moore is looking on Lancashire to build on their historic LV= County Championship win and claim more trophies next term.
Lancashire captured the title for the first time since 1934 with an eight-wicket success over Somerset at Taunton on Thursday.
Moore hit 71 in a run chase to help clinch the victory and now the experienced opening batsman is looking confidently to the future.
The 30-year-old said: "We haven't trained as hard as we did last winter and worked as hard as we have all season for this to be a one-off.
"We have a fantastic dressing room full of young players desperate to improve and build from here. We will now go away and prepare just as thoroughly for next season when we intend to defend the title and challenge hard in the other competitions.
"There is a spirit in the squad which has enabled us to pull games out of the fire.
"That will be there again next summer and the confidence we will gain from winning the Championship will only strengthen us further."
Sentiments
Those sentiments were backed up by Lancashire coach Peter Moores and captain Glen Chapple.
Former England boss Moores said: "I believe this success will only encourage the players to work even harder because they will want more of it.
"We won 10 games out of 16 and dominated two of those we didn't win. We won at all sorts of grounds in varying conditions and to do that you need a group of players who stay committed throughout the season.
"That's exactly what we have. Our team spirit is summed up by everyone at the club, not just the players, and we look forward to building on that and being a strong force again next season."
Chapple, who will have turned 38 by the start of next season, added: "We are basically a young team, with just a few old guys like me clinging on, and the way the team have bonded is very encouraging for the future.
"The Championship is a very difficult trophy to win, but we have kept our cool and our belief. Success breeds success so hopefully we have put in place something that will serve Lancashire cricket well for years to come.
"When I was young I was lucky enough to join a really good Lancashire team and won four trophies in no time. You never forget those early successes and our current young players have won the biggest trophy of the lot.
"Those lads may be young, but they have proved how tough and resilient they are. Winning the title couldn't be any sweeter, but doing it with a group of players who were written off at the start of the season is even better."
Hamstring problem
Chapple hobbled through the Somerset game with a hamstring problem, yet still led from the front and bowled his quota of overs.
He said of his injury: "I thought I had torn it on the first day, but you can't bowl with a torn hamstring and I am only human, so we'll have to see what the scan shows.
"It may suggest I was faking the injury! To be honest, I couldn't care less what it shows now. Credit our physio, some decent strapping and some tablets for getting me through.
"There were so many highlights in the season. Beating Yorkshire twice in close games stands out, but I could think of a lot more if I really tried. The lads have been magnificent."
One of the younger players, 23-year-old Karl Brown, who was unbeaten on 33 when Steve Croft hit the winning runs against Somerset, said: "I doubt that any team has worked harder than us to get to where we are.
"After a few games this season we definitely believed we could win the title. We have gone out there to enjoy our cricket, knowing there would be pressure days like we have had against Somerset.
"Peter Moores says you have to embrace pressure and that you play cricket for days like today. I'm sure we can put a few good seasons together now and hopefully we will win the title again in the near future."