Trescothick eyeing final fling
Somerset captain Marcus Trescothick expects to play in Saturday's Clydesdale Bank 40 final but "won't be fully fit".
Last Updated: 16/09/11 4:50pm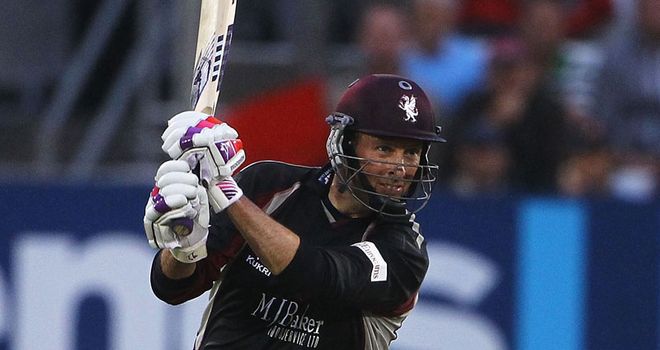 Somerset captain Marcus Trescothick expects to play in Saturday's Clydesdale Bank 40 final against Somerset but "won't be fully fit".
Trescothick has been sidelined since injuring his right ankle in Somerset's final group game of the competition in late August.
But the former England opener is confident he will return on Saturday, albeit well short of full fitness.
Trescothick revealed before Somerset's final training session on Friday that he is still a month short of a full recovery but such is his desperation to play he has spent the past week sitting in an oxygen chamber for twice-daily sessions.
Even then the 35-year-old admits he is set to rely on pain-killers and the adrenaline of playing in a showpiece final to get through.
Somerset have been runners-up in five competitions in the past three years - including losing finalists in the 40-over competition last year - to underline Trescothick desire to lead his side.
"At this stage yes (I will play) as long as I don't get any problems or aggravate it overnight," he said.
"I won't be fully fit. I'd need another three or four weeks to heal properly, but I can get through and do what I need to.
Limited
"It is a little bit limited in certain things. You get on and try and get around them. It's as good as I need to be.
"It's felt okay this week. I've done this oxygen tank which is a little bit different, but you try everything you can to get back for such a special game such as this.
"I'll take a few painkillers and anti-inflammatories - hopefully that bit of adrenaline can push me on."
Somerset have been arguably the best county side in limited-overs cricket in recent years, however, their poor finals record means they have been left frustrated.
As well as last year's 40-over defeat to Warwickshire at Lord's they have lost the past three Twenty20 finals and finished runner-up in the LV= County Championship last term.
Trescothick believes it is only a matter of time before Somerset end their final hoodoo.
"It's never nice coming second as we know. We've done it a few times in the last couple of years," he added.
Inspiration
"Hopefully the boys can use that inspiration to overcome it."
Despite Somerset's poor finals record Surrey captain Rory Hamilton-Brown believes his young side will go into the match as underdogs.
The Oval-based county confirmed their return to the Championship top-flight on Thursday after four successive wins and, while Hamilton-Brown admits his side are on a roll, he does not think their four-day form will have any bearing on Saturday's outcome.
"It's nice to be on a roll. We're coming off some great results and we've had some fantastic performances in this 40-over competition as well," he said.
"Couple that with the past month and we're in a pretty good place as a team.
"But the four-day form won't have a bearing. We haven't won a trophy yet this year and that's ultimately the goal of any side.
"I'd like to think we are underdogs to be honest. Somerset have had a lot of success over the past couple of years in one-day cricket. Within our dressing-room we think we are good enough to win."