Ravi revelling in all-rounder role
Ravi Bopara believes his contributions with both bat and ball will be "vitally important" when the ODI series against India begins.
Last Updated: 10/10/11 1:51pm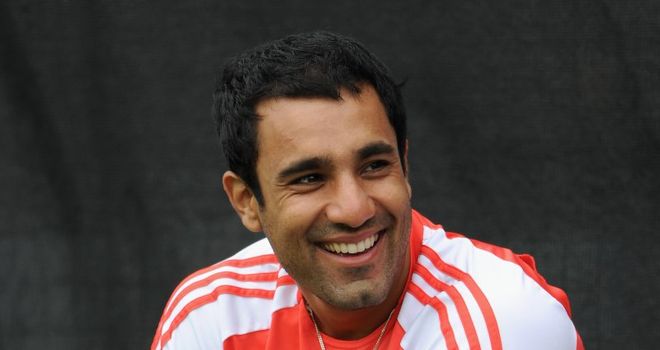 England all-rounder Ravi Bopara believes his contributions with both bat and ball will be "vitally important" when the five-match one-day series against India gets under way.
Bopara warmed up for Friday's series-opener in Hyderabad with a crucial half-century in the opening tour match and he is now one of England's most in-form players heading into battle with the world champions.
But, after a taste of what may be to come - his 73 came on a slow and awkward surface at the Rajiv Gandhi Stadium - Bopara knows his medium-pace bowling could be equally as important as his batting.
The Essex man proved an important bowler in the narrow World Cup victory over West Indies in Chennai last spring, which extended England's stuttering campaign as far as the quarter-finals.
Difficult
"It's important for me to get my bowling right on this tour," he said.
"At some stage, it is going to be called upon - and I'm going to have to do a good job.
"This Indian side do have a very good batting line-up and are playing in their own conditions, and they'll make it difficult for us as bowlers.
"That's where my job is going to be vitally important."
Bopara is well aware too, though, that it will be folly to pre-judge the surfaces which will be prepared for this month's ODIs and one-off Twenty20.
He has learned from personal experience in the Indian Premier League, and watching the Champions League too, that conditions can go to extremes.
"The pitches out here can change a bit," he said.
"Sometimes they can be unbelievable, the best batting pitches you could ever see. But then again they can be very, very tough - quite sticky and you have to graft for your runs.
"Watching some of these IPL games on TV, racking up 200 and people chasing them down, it seems like there's going to be some great pitches.
"But then again, I've seen other parts of the country - like Chennai - where batting can be so difficult, where it's turning, very slow, and skidding low."
Harder
That was the order of the day in England's opening foray - a largely unimpressive 56-run victory, and a match in which they got their first opportunity to use a new ball at either end throughout, as prescribed by the International Cricket Council's new playing conditions.
For Bopara, it did not make a "massive difference".
He added: "The ball stayed a lot harder. But as a batter, once you get into your stride, I actually forgot about the two-ball thing.
"I totally forgot... I thought we were playing with the same ball.
"But the ball stays a little bit harder, so it might push the scores up."