Kieswetter - No h-arm done
Craig Kieswetter inisists he will be fit for England's forthcoming ODI series against India, despite suffering an injury to his forearm.
Last Updated: 10/10/11 3:44pm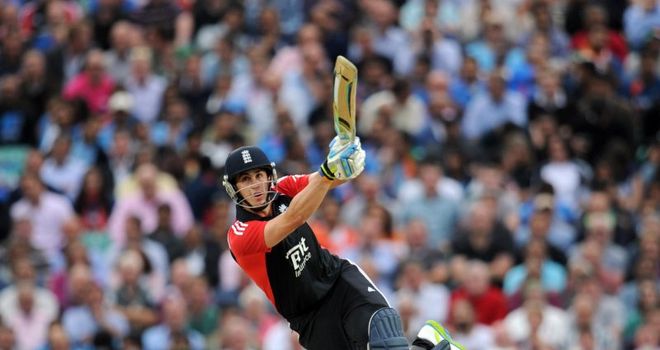 Craig Kieswetter inisists he will be fit for England's forthcoming ODI series against India, despite suffering a nasty "friendly-fire" blow during Somerset's Champions League semi-final defeat on Saturday.
Kieswetter's left forearm has been left badly bruised after being hit by a powerful straight-drive from his batting partner Jos Buttler against the Mumbai Indians.
The England wicketkeeper is, however, available for selection and comes into contention for Tuesday's final warm-up match before the five-match ODI series against India.
The Somerset gloveman enjoyed a long net session with his team-mates on Monday and then a wicketkeeping drill, suggesting he will return to the top of the order alongside captain Alastair Cook and replace Jonny Bairstow behind the stumps.
Prospect
"I feel fighting fit," he said. "I'm a bit of a late arrival with Somerset in the Champions League, but there's no better preparation than being out in the middle playing."
Kieswetter returns to the England fold in decent batting form following his Champions League exploits with Somerset, and he is now relishing the prospect of transferring his well-being to the England cause.
"I'm feeling really good, got through the training session today, and I'm excited about this upcoming series," he added.
"Obviously the tempo is a little bit different, but there's no better method of preparation than being out there in the middle in a match environment.
"It's going to be a great series and one I'm looking forward to."
His arm is sufficiently recovered for it to become the subject of light-hearted recollection, too.
"It's probably the cleanest ball I've ever been struck with!" Kieswetter said. "It was a pity, but I'm fine."
The onus is on Kieswetter, who bats alongside Cook and above Jonathan Trott at the top of the order, to play his strokes with powerplay fielding restrictions in place.
However, Kieswetter insists he is much more than a one-trick pony and will be content to do any job the team requires during the tour.
"Obviously, there's a lot been said about opening up and trying to get the side off to a steady start," he said. "But whatever my role is in the team, I'll be trying my hardest to achieve that.
"The way Alastair Cook is playing at the moment is fantastic, and it seems the roles are reversed. I'll be doing whatever I can and trying to dovetail with the captain."
Kieswetter may well have attracted the attention of potential Indian Premier League franchises for the next round of auctions early next year, and could be about to keep them interested for the rest of the month.
Addictive
But he insists he is in no hurry to fit in an IPL stint between club and country engagements next spring.
"At this stage of my career I'd rather be playing for Somerset," he added.
"Obviously, the IPL is a hell of a tournament to be playing in and playing against some of the IPL teams, we got a bit of a taste of what it is.
"It's really addictive. I'd love to be part of it at some stage of my career, but I haven't really thought about it in the short term."
The emergence of exciting Yorkshire talent Bairstow, principally in front but also behind the stumps, means Kieswetter may have something to think about closer to home anyway.
Asked about Bairstow's potential for England, he said: "It certainly makes us a lot more dangerous as a side. It seems we're getting all bases covered, which is really good for English cricket.
"There's a lot of really good young wicketkeepers and obviously Jonny Bairstow has come through and certainly made a massive impact.
"It pushes me to train harder, to try to get better and to put out some more consistent performances."