Rayner arrives, Dalrymple departs
Middlesex have signed all-rounder Ollie Rayner on a permanent deal from Sussex, while Jamie Dalrymple has left the club.
Last Updated: 12/10/11 10:44am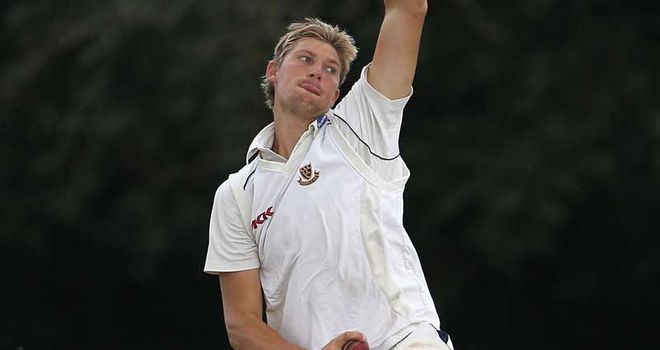 Middlesex have signed all-rounder Ollie Rayner on a permanent deal from Sussex following two loan spells.
The 25-year-old played 43 first-class matches during six seasons at Hove - scoring over 1000 runs and taking 95 wickets with his off-spin.
But having been shipped off to Lord's over the summer, Rayner has now been allowed to make it his home on a full-time basis.
Sussex's professional cricket manager Mark Robinson said: "We are all sorry to see Ollie leave as he has been a part of the club since an early age, but we recognise his desire to play more cricket in all forms of the game.
"We'd like to take this opportunity to thank him for all his hard work during his time at the club and we wish him all the best at Middlesex."
Middlesex have parted company with former England all-rounder Jamie Dalrymple, though.
Passion
Dalrymple, 30, played an integral role in helping Middlesex gain promotion from Division Two of the LV= County Championship as title-winners, however, the former Glamorgan captain had expressed his desire to take on greater responsibility, a request Middlesex were unable to grant.
Middlesex managing director of cricket Angus Fraser explained: "His passion lies in leadership and man-management roles and these are not positions that are currently available at Middlesex.
"I'd like to take this opportunity to thank Jamie for all his input into Middlesex over the course of 10 seasons in total and to wish him well for the future, whether that is in the game or elsewhere."
Dalrymple added: "I'd like to thank Middlesex and Angus Fraser for the opportunity to return to play this season after the difficulties I had last winter.
"Furthermore, I'd like to say how much I enjoyed playing and working with the
squad, both young and old, and particularly contributing to a Middlesex team that gained promotion from Division Two as champions.
"Cricket has been my passion for many years now and my experiences so far have shown me how much I relish the challenges of leadership and management.
"Unfortunately that opportunity is unavailable at this time. I now have a chance to consider whether I want to keep playing, to look for a leadership role within the game or to move on to something completely different."