Gayle centre of attention again
Chris Gayle is dominating West Indies cricket despite not being part of the side to face Bangladesh.
Last Updated: 27/10/11 9:28pm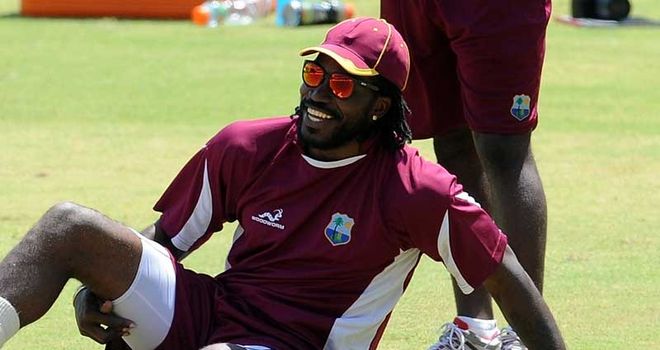 Chris Gayle was dominating West Indies cricket despite being 10,000 miles away from Dhaka, the venue the second Test against Bangladesh, which begins on Saturday morning.
The 32-year-old opener has been persona non grata in the West Indies set-up since criticising the board and coach Ottis Gibson in a radio interview in April.
It means Gibson is without his most destructive batsman in Bangladesh, where rain ruined the first Test in Chittagong, which was drawn.
Last week the West Indies Cricket Board (WICB) called on their former captain to retract his criticisms if he wanted to be brought back into the fold.
But Gayle, currently captaining Jamaica in a regional tournament in Guyana, was quoted on the Jamaica Observer's website as saying: "I think they (WICB) are playing mind games with Chris Gayle.
"I have told them that I want to focus on winning this tournament for Jamaica and I will deal with the apology issue at the end of this competition.
"They need to say exactly what Chris Gayle should apologise for. What in the interview?
Sad
"I don't think the board wants to solve this issue.
"This needs to be closed as soon as possible and they need to be clear on what I should apologise for.
"This whole thing is sad and I am getting fed up with my name being all around, questioning my commitment to West Indies cricket.
"Over the years I have shed blood, sweat and tears for West Indies cricket and it's sad that some would question my commitment to West Indies cricket.
"I stand for what I believe in. That's the type of person I am. Playing again for the West Indies is in their (WICB) hands."
In Gayle's absence, neither Lendl Simmons nor Kraigg Brathwaite did much to impress opening the batting in the first Test.
West Indies were bowled out for just 244 in the first innings replying to the hosts' 350-9, albeit in difficult circumstances having seen the second and third days washed out.
Only captain Darren Sammy, batting eight, reached 50, a statistic the team will need to improve if they are to force a victory in Dhaka.
Bangladesh will hope for more of the same from Elias Sunny, who took seven wickets on debut, and Mushfiqur Rahim, who impressed in his first Test as captain.