Katich carpeted over Clarke row
Simon Katich is in hot water with Cricket Australia over comments made about the board and Michael Clarke.
Last Updated: 29/10/11 11:20am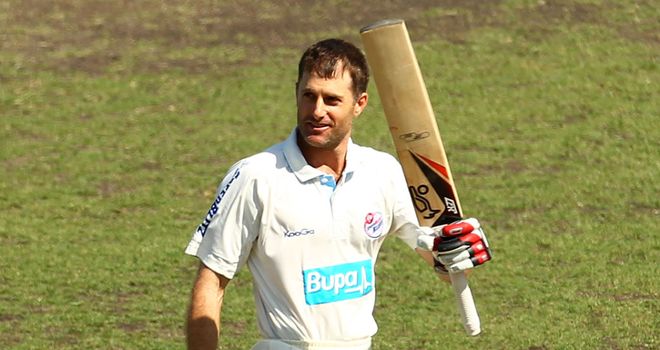 Simon Katich has been reported under the Cricket Australia Code of Behaviour provisions, following comments made about the board and captain Michael Clarke.
The 36-year-old Western Australian, who has made 56 Test appearances for the Baggy Greens, has been vocal about his frustrations at losing his place in the team following last winter's Ashes defeat.
His latest outburst came on Friday when he insisted he would not reclaim his spot owing to the presence of Clarke as captain.
The two had a well-publicised bust-up in 2009 and, although Cricket Australia said that the appointment of John Inverarity as the new full-time selector would open the door for all players, Katich does not believe that will apply to him.
"It's pleasing to hear, but I think you don't have to be Einstein to figure out that it's not just the selectors that had a part in sending me on my way," he was quoted as saying in the Sydney Morning Herald.
Referring to his and Clarke's fall-out, he added: "To be brutally honest, obviously what happened in the dressing room here a few years ago didn't help my cause.
No expectations
"And, obviously, the captain and coach are selectors. Just because [Inverarity] is going to be chairman of selectors, or whatever role it is, I wouldn't have thought that'd make too much difference."
As a result of those comments, he has now been reported by Cricket Australia.
"CA (Cricket Australia) emphatically refutes any suggestion that Michael Clarke influenced the independent selection panel's recommendations for the 2011-12 CA contract players' list, a list that did not include Katich," chief executive James Sutherland stated.
"The NSP (National Selection Panel) made its recommendations based on its independent assessment of Australian cricket's player needs for the next 12 months and the suggestions made by Katich are completely erroneous, inappropriate and unfair to Clarke, the selectors and to CA.
"Without compromising my confidential understanding of the selectors' confidential thinking, I can state their recommendations were completely independent of outside influence.
"I was particularly disappointed at the comments yesterday after the discussions we had with Katich in mid-2011 on inappropriate public comments he had made then."
During his Test career Katich scored 4,188 runs for Australia, at an average of 45.03.