Sehwag laments batting no-show
Virender Sehwag admits the India top-order need to start firing after West Indies claimed a surprise 16-run victory in the third ODI.
Last Updated: 06/12/11 9:00am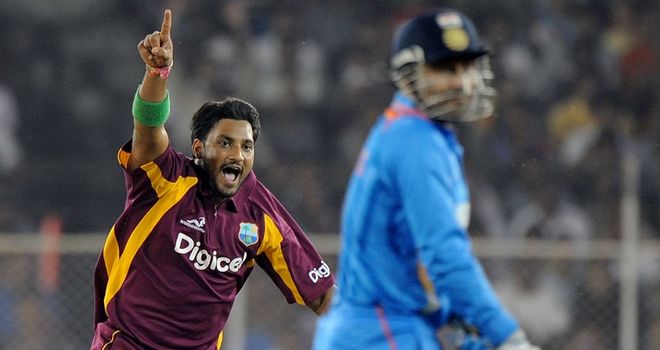 Stand-in captain Virender Sehwag admits the India top-order need to start firing after West Indies claimed a surprise 16-run victory in the third one-day international.
West Indies kept the five-match ODI series alive with a morale-boosting win in Ahmedabad on Monday as India fell short in pursuit of 261.
Openers Sehwag and Gautam Gambhir failed to get off the mark as they were dismissed by consecutive balls from Ravi Rampaul while Parthiv Patel could only manage 39.
Rohit Sharma (95) was the only India batsman to score more than Patel as Virat Kohli (20) and Suresh Raina (two) also failed.
It was the third match in a row that the top three had failed to give the hosts a decent start and stand-in captain Sehwag feels they will need to step it up in the final two games.
Difficult
"The total was okay to chase but we lost couple of early wickets with me and Gautam getting out back-to-back in the second over," he said at a post-match press conference.
"And after that we did not have a good partnership in the top order. If we lose early wickets it is difficult to chase.
"We have to look at our top order. We have to click and fire. We have to give a good start as a team so that we can achieve any target or set any target for the West Indies in the coming games."
He added: "It is not only Raina who is not scoring runs. It is myself, Parthiv and Gautam who are not scoring runs. Only Rohit and Kohli are scoring.
"We are top-order batsmen and it is our job to play well and give a good start. We need to look back at our batting performances. We are playing good cricket since sometime, but today we were not able to play well. We hope to do well and not let down our fans."
The Windies lower-order hammered 93 runs in the last seven overs to give their bowlers 260 to defend, but Sehwag believes that's not where the game was lost.
Talented
"The last five overs did not make much of a difference as they have good hitters and we were expecting them to fire in the series," he said.
"They batted well, we tried everything, slow, back of length good length, yorkers but they connected everything."
One player deserves all the praise he can get is in-form Rohit. The 24-year-old batsman has scored 257 runs at an average of 128.50 in his three visits to the crease in the series.
"Rohit is a talented player," Sehwag said. "He is performing very well. In fact he is the only one who is performing consistently. Hope he continues with his form," he said.
"It is difficult to bat with tail-enders, but he knows what to do and how to rotate the strike and take runs. Rohit had good partnership with (Ravichandran) Ashwin. And (Abhimanyu) Mithun and (Umesh) Yadav also played some good shots. We thought both would win the game but unfortunately we lost it."