Marsh back in the frame
Australia batsman Shaun Marsh is hoping to prove his fitness in time to play in the Boxing Day Test against India.
Last Updated: 22/12/11 12:01pm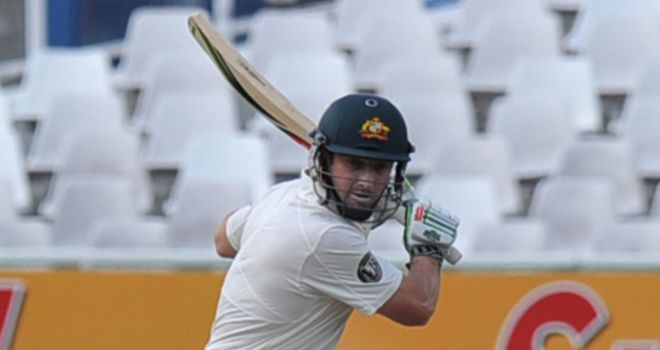 Australia batsman Shaun Marsh is hoping to prove his fitness in time to play in the Boxing Day Test against India.
Marsh's hopes of featuring in the traditional MCG showpiece looked over two weeks ago as he continued to struggle with the back injury he suffered playing for Australia in the first Test against South Africa in Cape Town last month.
Marsh's Western Australia coach Lachie Stevens even hinted a fortnight ago that the medical staff treating Marsh were struggling to accurately work out why the injury was still so painful.
But the 28-year-old batsman, who appears in direct competition with Dan Christian for a place in the side, said a breakthrough in the last 10 days had produced remarkable results.
Rehab
"It's been a big build-up for me the last few weeks to try and get myself in this position," Marsh said ahead of his stunning knock of 99 not out for Perth Scorchers in their Big Bash win over Melbourne Renegades.
"I went back to my specialist back home and we changed my rehab up a little bit.
"There was things there that weren't quite working and we changed a few things around and that helped a fair bit.
"The one thing with backs I guess is they might be good one day and they might be bad the next day.
"I've obviously jumped the hurdle there and hopefully I can just continue now and be injury free."
Marsh said the back injury has been an ongoing concern over the last few years but he felt he'd been managing the injury well before an accidental hit during the first Test against the Proteas set it off again.
And once the pain returned, it came back with a vengeance.
Struggling
"It was a bit unfortunate when I was in South Africa I got hit in the groin area just before lunch and that sort of seized my back up a bit," he said.
"I couldn't move and every time I did move it I was struggling.
"In previous times I could move around and actually do things by myself, obviously still in pain but I never, never had help before to get out of a bed.
"The night that I did. I had Michael Beer and (Michael) Hussey and Alex Kountouris picking me up and taking me to the toilet and it wasn't pleasant at all.
"I guess it was tough there for a few days and it was a tough month for me to try and overcome it really."