Hussey expects Sydney spin
Michael Hussey thinks the Sydney pitch will regain its spin-friendly reputation in the New Year Test against India.
Last Updated: 01/01/12 1:55pm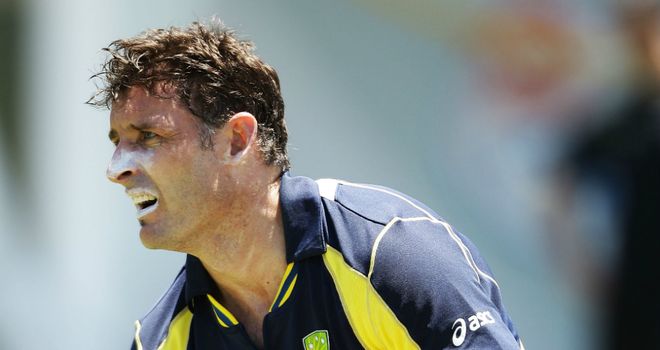 Michael Hussey thinks the pitch at the Sydney Cricket Ground will regain its spin-friendly reputation in the New Year Test against India.
Seam bowlers have dominated the previous two Tests at the venue, against Pakistan in 2009 and England last year, but Hussey is not expecting that to continue.
"The last few years have been really seamer friendly and there have been overhead conditions to help that as well," he said.
"It looks definitely a lighter colour and generally that's the way it's gone over here, it has slowed down a little bit and helped the spinners as the game's gone on."
Australia lead the four-game series 1-0 after their fast bowlers dismissed India for 169 in pursuit of a target of 292 in Melbourne.
The dry surface means spinner Nathan Lyon, who took just one wicket at the MCG, is almost certain to retain his place and fit-again seamer Ryan Harris, recalled in a 12-man squad, will be surplus to requirements.
Milestone
The match is the 100th Test to be held at the SCG and provides India batsman Sachin Tendulkar with his latest chance to score 100 international hundreds.
Tendulkar has been stranded on 99 since last March but has happy memories of the SCG, where he averages 221 in four matches including scores of 148 not out, 241 not out and 154 not out.
"I can assure you that everyone in our dressing room does not want him to make a 100," Hussey said.
"I am a bit nervous because the stars seem to be aligning with Sachin needing one more 100. (It's) the 100th Test match in Sydney, he's made runs here before.
"It's a little bit ominous but hopefully we can make him wait until after this series and he can get a 100 in the first game of the next series that he plays."
Pressure
Tendulkar's team-mate Rohit Sharma said the batting great was not putting himself under any extra pressure.
"I'm sure he's also not thinking of that," said Sharma. "As we know, Sydney is his lucky ground so hopefully it happens here."
The last time the teams met at SCG was in 2008 when a row, involving Harbhajan Singh being accused of racially abusing Andrew Symonds, soured relations between the sides.
"That was a long time ago and the personalities and teams have changed quite a lot, particularly in our team," Hussey added.
"That's gone, that's in the past. I think the players that were involved in all the controversies have moved on, even played together."