Pakistan hope for fresh start
Pakistan skipper Misbah-ul-Haq wants his side's cricket to do the talking and hopes England will grant them a "clean slate".
Last Updated: 10/01/12 4:00pm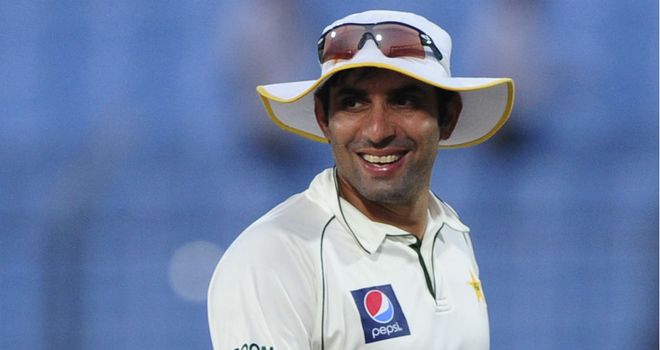 Pakistan skipper Misbah-ul-Haq wants his side's cricket to do the talking and hopes England will grant them a "clean slate".
It is 17 months since former captain Salman Butt, along with Mohammad Asif and Mohammad Amir, engaged in a corrupt plan to deliberately bowl no-balls for financial gain against England at Lord's.
It is barely three months since those same players, already serving sizeable International Cricket Council bans, were jailed for their crimes.
With a week to go before England and Pakistan meet for the first time in a Test since that Lord's fiasco, Butt's successor Misbah-ul-Haq was the man charged on Tuesday with convincing his questioners at the ICC offices in Dubai of his and his squad's collective good intentions.
Aided and abetted by team manager Naveed Akram Cheema at an arrival press conference for the three-Test series in the United Arab Emirates, Misbah was both charming and convincing.
His task was made no easier by the selectors' apparent own goal in re-selecting Wahab Riaz and Umar Akmal - the former embroiled in an ugly spat with England batsman Jonathan Trott back at Lord's during the poisonous one-day series which followed the initial crisis in 2010.
Both pace bowler Riaz and batsman Akmal were mentioned in the London trial which found Butt, Asif and Amir guilty - and they may yet face ICC sanction themselves.
Misbah, though, is hoping England are prepared to take him and his players at face value.
"I think both teams know we just have to forget the past," he said. "Nobody is worried about what happened in the past; everybody is just focusing on the future and the present."
It is a moot point how badly cricket, as an aspiration, has been affected in Pakistan by Butt and his co-conspirators' fall from grace.
"It's not our area of concern," said Misbah. "Our area of concern is to play good cricket, fair cricket - and that's what we can do.
"I think we are doing that. In a year and a half, our performances show that - the way we are behaving on the field, the way we are conducting ourselves.
"It's true to say that is the example we are setting. I think we've proved we are doing it in a good way."
Stable
The evidence, an untypically stable - and successful - Pakistan over the past 15 months, supports Misbah's optimistic thesis. Cheema too spelled out, and enlarged upon, the party line.
"Whatever has happened in the past has happened. The team is focusing on the present and future.
"At the same time, the Pakistan Cricket Board has introduced a code of conduct - an anti-corruption code - and all these guys have been told. We are following this code in letter and spirit.
"I think with those rules and regulations in place, the chances [of this happening again] are not there. I'm absolutely clear, absolutely confident about that."
The inclusion of Wahab - omitted while legal proceedings were ongoing against his former team-mates - will remain an uncomfortable echo of the past for many.
But Cheema is defiant. "As far as Wahab was concerned, I think all those who were involved in the unfortunate incident have been imprisoned.
"There are no charges as such [against Wahab] - so I think that is what it is.
"Nothing special has been pointed out against these guys - neither from the ICC nor elsewhere - and at the same time, until something is found, these are mere speculations.
"Why is he [Wahab] involved in this? He has not been investigated. As far as the PCB is concerned and Wahab is concerned, there are no allegations which we have received."