England not worried about Ajmal
England batting coach Graham Gooch says his charges will not be losing sleep about Saeed Ajmal's top-secret new mystery delivery.
Last Updated: 12/01/12 2:13pm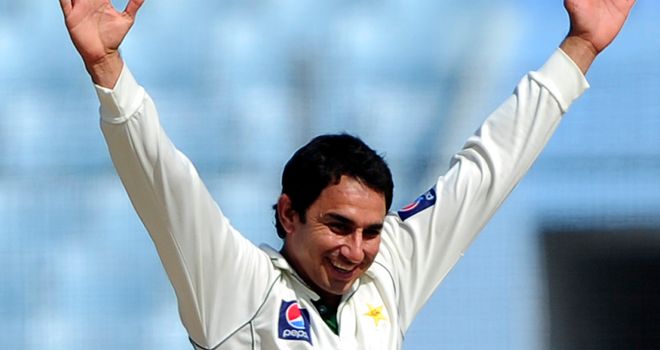 England batting coach Graham Gooch says his charges will not be losing sleep about Saeed Ajmal's top-secret new mystery delivery.
Ajmal has made much of the 'teesra', to be unveiled in the forthcoming three-Test series against Pakistan, yet the tourists still found the going tough against Yasir Shah's conventional leg-breaks on the opening day of their warm-up match against a Pakistan Cricket Board XI at the GCA ground.
Only Alastair Cook (133) had got the better of Yasir (5-76) but Gooch nevertheless made it clear England are not stressing about Ajmal.
Gooch has significant respect for the off-spinner, who already has a 'doosra' in his armoury and gave England plenty of trouble with that on Pakistan's infamous Test tour of 2010.
But the former captain knows from his own rich experience as one of England's greatest batsman that words can sometimes be cheap in international cricket.
"He's the top wicket-taker of 2011 in Test cricket, so it's going to be a good challenge for us," said Gooch.
"But we'll wait and see [about the teesra]. Saying one thing and doing it are two different things in my book."
Cynical
Gooch recalls his own battles with Australia's master leg-spinner Shane Warne and thinks words are not necessarily borne out by reality.
"I'm always a little bit cynical," he continued. "I played against Shane Warne most of his career, the greatest spin bowler I've ever played against.
"He'd always come up with 'I've got this ball - the zooter'. So what is this ball, the 'zooter'? It's the ball that just goes straight on actually, if I remember rightly.
"It's all a little bit smoke and mirrors, isn't it?
"Just remember, you don't play the bowler and what he says; you play the ball that comes out of his hand."
Opener Cook played a 260-ball innings full of fine footwork, shot selection and concentration against Yasir and seamer Mohammad Talha (4-42) in a total of 269-9 declared.
But England again lost wickets in clusters further down the order and currently house a clutch of batsmen with more failures than successes to their names in the UAE.
Gooch reckons there is no reason to worry too much yet about the collective form of his batsmen - and every reason to be impressed by Cook.
"He's come up with some runs in a part of the world where it's a bit slow and you've got to get into the tempo of the play and work a bit harder," he said.
Concentration
"All our guys would like to spend as much time as he has in the middle. But credit to him - he's shown his powers of concentration once again.
"To bat pretty much all the way through the innings is a good effort, so I'm sure he'll be pleased with himself.
"He's been a bit of a rock for England in the recent past, and he wants to carry on - as do all the other players."
Gooch acknowledges England face a tough test of their world-beating credentials in these foreign climes, but expects them to show their class.
"We know the challenges ahead, and Pakistan are a very talented side," he added.
"They've had some very good results recently, and it's going to be tough cricket over here. We'll need to be at our best to win this series.
"I don't have concerns. But everyone would like to spend time in the middle, and if they miss out they might feel they're a little bit short on confidence.
"But you've got to believe in yourself, think back to when you've done well.
"We know conditions are a little bit alien to what they are in England, but the trait of a good side is to be able to perform in all parts of the world."