'Make or break' for Saha
Kiran More is confident India wicketkeeper Wriddhiman Saha will do a good job as MS Dhoni's replacement in Adelaide.
Last Updated: 19/01/12 4:08pm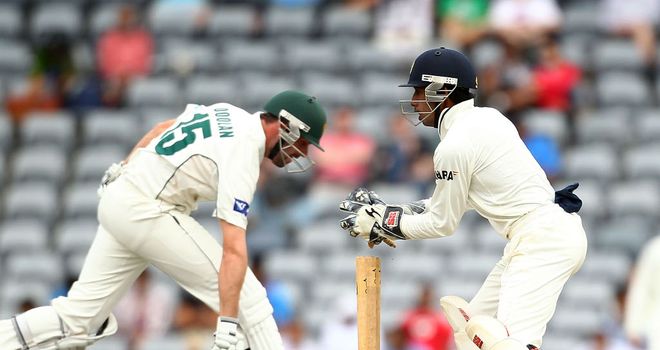 Former wicketkeeper and chairman of selectors Kiran More stepped up in support of Wriddhiman Saha, who has been thrust into India's starting XI in the wake of Mahendra Dhoni's one-match ban.
Dhoni has been suspended from playing in the final match of a series India trail three-nil after his side maintained a slow over-rate during the third Test in Perth. As this is his second contravention of the ICC code of conduct within 12 months, he will not play in the Adelaide clash.
The ICC executive board last year discussed the issue of slow over-rates and accepted the recommendation of the ICC cricket committee that a captain of an international side should be suspended for one match if his side is guilty of two minor over-rate offences in the same format over a 12-month period.
In accordance with ICC code of conduct regulations governing minor over-rate offences, players are fined 10 per cent of their match fees for every over their side fails to bowl in the allotted time, with the captain fined double that amount. As such, Dhoni was suspended and also fined 40 per cent of his match fee, while the other players received 20 per cent fines.
Saha, meanwhile comes into the side short on match practice and time behind the stumps. He played his one and only Test match to date as a specialist batsman against South Africa in 2010, while the 27-year-old's last first-class fixture was all of two months ago.
"I believe this is a make-or-break chance for Wriddhiman. Replacing someone like Mahendra, though for just one match, is not an easy job. But if he can manage a decent performance - keep well and bat for about two and half hours and score a 50, his place as second wicketkeeper to Dhoni will be sealed," insisted More.
Dhoni recently hinted that he will retire from Test competition to concentrate on the shorter formats of the international game come 2013. With Dinesh Karthik and Parthiv Patel out of favour, opportunity knocks for Saha to cement himself as next in line for the nation's first-choice wicketkeeping-berth.
"Wriddhiman is a technically correct 'keeper. But Test cricket is a different ball game. He has been on a number of Test tours and must have adjusted to dressing room environment by now. A good show in Adelaide will mean that India will have an ideal replacement, if Dhoni calls time on Test cricket in 2013," added More.