Panesar - Swann still No. 1
Monty Panesar still considers himself England's second spinner despite claiming a five-wicket haul on the opening day of the Sri Lanka tour.
Last Updated: 15/03/12 3:55pm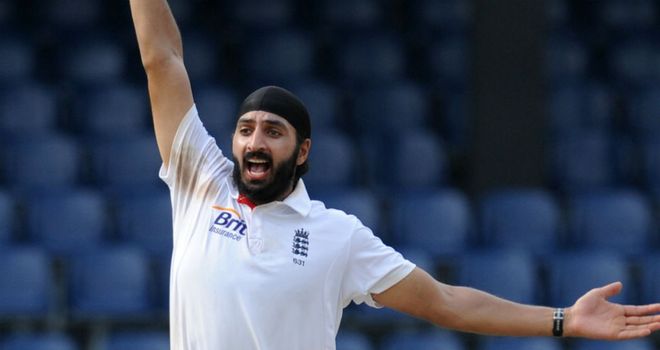 Monty Panesar still considers himself England's second spinner despite continuing his comeback with another five-wicket haul on the opening day of the Sri Lanka tour in Colombo.
Panesar has been in a rich vein of form since being restored to the international set-up this winter, celebrating five-fors in each of the four matches he has played.
That run includes 5-57 against a PCB XI in Dubai, a total of 14 wickets in two Tests against Pakistan and now 5-37 against the Sri Lankan Board XI, who were bowled out for 169 on day one of their tour match with England.
In that period Panesar has seemed a more potent threat than Graeme Swann, who returned 0-47 at the Premadasa Stadium on Thursday.
England currently appear committed to playing two spinners in Sri Lanka but will likely drop to just one in the summer, but Panesar is not laying claim to Swann's place yet.
Partners
"Yes, he's the number one spinner. Absolutely," the 29-year-old said.
"We work together as partners out there and I'm guided by him. I ask him, 'should we do this?' and, 'what shall we do here?'
"We work very well out there in tandem. It's something we did quite well at Northamptonshire together and we're reconnecting out here."
He did not strike until his 15th over against the Sri Lankan Board XI, but went on to claim five of the last six wickets - which he believes is a sign of his new-found calm approach.
"I think you've just got to stay disciplined, not look to over-attack," he said.
"Before, when I was younger I used to (attempt too much), now I don't think like that. I'm a lot more patient, just trying to be disciplined.
"If it does happen quite early then I try not to get excited and start trying to bowl magic balls. You can get carried away.
Pressure
"It's a place you can see a couple turn quite big and you want to over-attack because you think you can get a few wickets. But they're very good players here so you have to hold on, create pressure and not get carried away.
"I just focus on a simple process of trying to bowl maidens - I don't try and do anything expansive."
England started the day by losing Stuart Broad to injury when the seamer pulled out after spraining his ankle while tripping over a boundary rope.
However, England are not concerned about his involvement after this match and Panesar is confident his spell on the sidelines will be brief.
Panesar said: "It was just a slight trip, he should be all right by tomorrow morning and he's icing it now. It's early in the tour so it's probably a sensible decision to rest it."