Lee laments rule changes
Brett Lee believes fast bowlers are being handed a raw deal by the new initiatives in one-day international cricket.
Last Updated: 15/03/12 5:25pm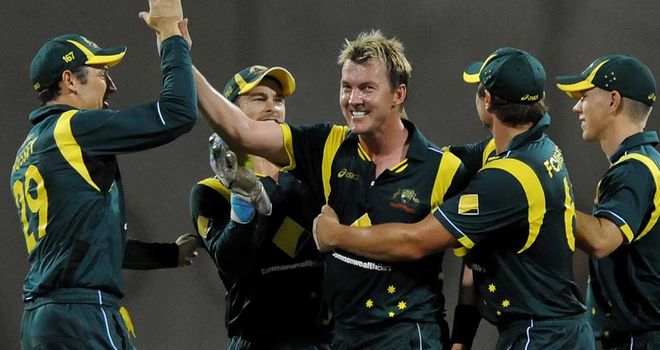 Australia paceman Brett Lee believes fast bowlers are being penalised by the new initiatives in one-day international cricket.
Speaking ahead of Australia's five-match series in West Indies, the 35-year-old hit out at the recent move to use two new balls in ODIs, while also claiming that groundsman around the world are preparing pitches to reduce the impact of the quick men.
Lee, who has 212 ODI caps, is most concerned with the use of two new balls, saying it had removed a key weapon for fast bowlers - reverse swing in the latter overs.
"I'm not a massive fan of it to tell you the truth," he said.
"I think the only thing a bowler could enjoy is at the Gabba if it's a juicy green-top, you can nick them off for 80-odd if it is swinging and bouncing from both ends.
Adapting
"But to me now it's totally changed the way that one-day cricket's played.
"It has taken a lot of the weapons out of the game that a fast bowler uses and that's bowling at the death in the late overs when the ball's not turning around (with reverse swing).
"That to me is not enjoyable, but you've just got to roll with what you've got.
"If I had it my way I'd go back to the way the old rules were, because we are playing on wickets these days that aren't really conducive to bowling fast and you need everything you can as a fast bowler to try to take wickets."
Australia, who will be led by Shane Watson in the Caribbean in the absence of injured skipper Michael Clarke, will have had just an eight-day turnaround from the end of their summer schedule when they meet the West Indies in the opening ODI in St Vincent on Friday.
Lee does not think quickly adapting to the new conditions will be an issue, however, because most wickets around the world are so similar.
"You might look out there and say it'll be a slow, low wicket, but it won't be too different to what we played on in Adelaide (the final game of the Commonwealth Bank Series on March 8)," Lee said.
"The wickets we're playing on most of the time around the world now are low, slow wickets - we are used to playing on that throughout the world."
Happy
The opening three games of the series are at the Arnos Vale Ground and West Indies skipper Darren Sammy admitted his side enjoy the venue.
The Windies have lost just three ODIs at the ground since it was first used in 1981, although the last of those was against Australia four years ago.
"So far St Vincent has been a very good ground for us, as a West Indies team we always get results in our favour here, and for me personally it is a happy hunting ground," Sammy said.
"The last three games we've played here we won all three - we're looking to repeat that and start this series off on a winning note.
"We know we're playing Australia and we're not going to go out and play names, we're just going to play good, positive cricket, and hopefully we can come out on top."